Statisticians Crunched The Numbers Behind 'The Meghan Markle Effect' & Good Gracious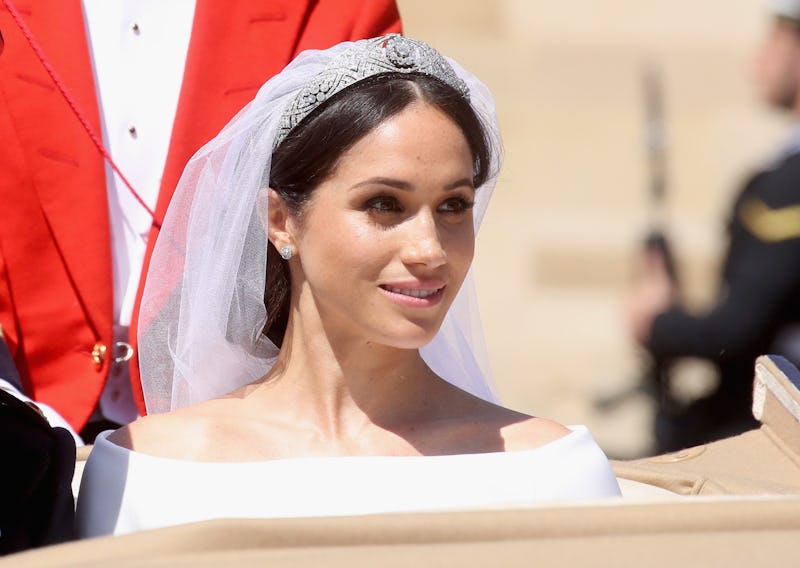 Chris Jackson/Getty Images Entertainment/Getty Images
Meghan Markle's white engagement coat. Her tote bag at the Invictus Games. That off the shoulder dress at Trooping the Colour. And, of course, her Givenchy wedding dress. These are just a few of the pieces that the Duchess of Sussex has worn that have become iconic fashion moments, catapulting her into the public sphere as a royal sartorial icon. It's no secret that whatever the former Suits actress wears out in public instantly sells out and drives a ton of interest in the brand she's wearing. This has become known as the Meghan Markle effect, but I've always been keen on seeing the data behind it all (mostly because I'm a total geek about these things). Lyst, an online fashion search engine, ran all the numbers and it turns out it's just as massive as you think it is.
As part of their annual fashion trend report, Lyst revealed who the most influential celebrities were, what the most talked about brands and what the most memorable moments were in fashion this year. Unsurprisingly, Meghan Markle played a part in all three and actually secured a spot as the third most powerful celebrity fashion influencer. The royal beat the likes of Rihanna, Blake Lively, Beyonce, and influencer Chiara Ferragni, while Kylie Jenner came first with her sister Kim Kardashian beating Meghan for second place.
Lyst revealed, "On average if Meghan wears a designer, that brand will see a +200 percent increase in search demand over the following week."
In fact, all you have to do is take a look at Veja — an eco-friendly trainer brand that Meghan wore while she was on tour in Australia. According to Lyst, the brand has "become a streetwear staple" and the most in-demand brand on Instagram with a +187 percent increase in mentions and brand tags on the social media platform. They've also seen a 113 percent increase in search from last year.
WILD. The woman literally has the power to make or break a small independent designer and that's an overwhelming amount of influence. She certainly doesn't seem to take that power lightly though. While she does favour the likes of Givenchy and Stella McCartney, she does try to highlight smaller British brands like Safiyaa and Pippa Small jewellery which would be a big boost for an emerging brand.
Her impact didn't stop just at brand exposure however, as Lyst also continued, "Her daytime looks have also inspired millions of shoppers to try a 'boat neck' or 'tuxedo dress'."
Meghan's always been a big fan of raising up sustainable and eco-friendly brands including the aforementioned Veja as well as Rothy's recycled plastic shoes, Reformation, and also Stella McCartney, at the more luxury end of the spectrum.
Although she wasn't specifically pinpointed, sustainable fashion emerged as one of the biggest trends this year according to Lyst with a "47 percent increase in searches" and I'm certain she had something to do with that.
Speaking of Stella McCartney and Givenchy, it's no surprise that they've become some of the most talked about designer labels this year with the royals' help. Meghan chose a dress from both of them for her wedding day, with her dreamy bateau neckline dress becoming one of the most talked about dresses ever. According to Lyst, "her wedding day outfits caused huge spikes in search" for both brands.
Lyst continued, "When Meghan stepped out in Claire Waight Keller for Givenchy, a designer that no one had predicted, searches for 'Givenchy dresses' surged 184 percent."
Honestly, I can't wait till next year's annual report to see how else Meghan Markle changes the fashion landscape. I'm calling it RN, I don't even know what her post-baby dress will look like next spring but I am certain it's going to be one of the most talked about outfits of the year.