Meghan & Harry Reportedly Went On Holiday With This Massive A-List Couple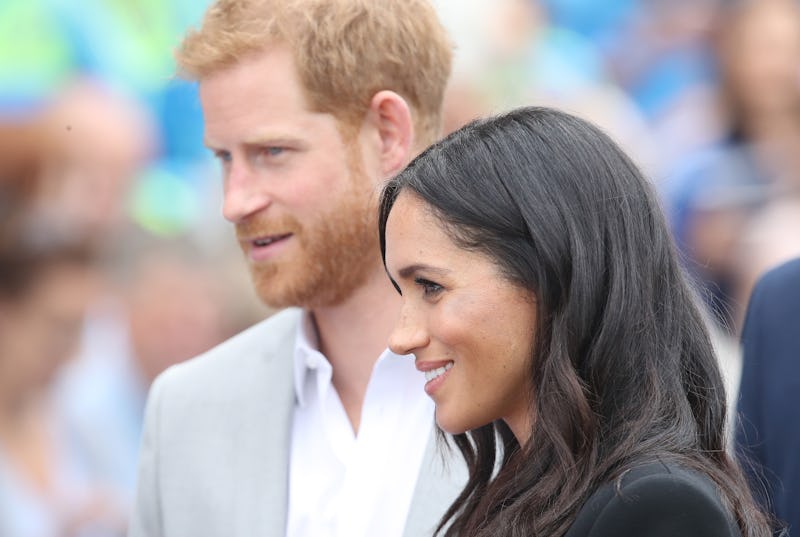 Chris Jackson/Getty Images Entertainment/Getty Images
The media spotlight on Meghan Markle and Prince Harry has been pretty intense lately and if I was in their shoes, I'd run away and hole up in my friend's flat for a couple of days to catch a breather. Although my version would include my pal Laura, cheap wine, and video games, the pair reportedly actioned a much fancier take — theirs supposedly included the Clooneys, a sneaky Lake Como getaway, and a gala dinner. Meghan Markle and Prince Harry's visit to Lake Como sounds like a Netflix original I need to watch immediately, can somebody get on that please?
According to Us Weekly, a source revealed that the Duke and Duchess of Sussex snuck away to Italy to hang out with their famous friends last Thursday and stayed till Sunday. The source continued, "The Clooneys had personally invited Meghan and Harry to their home at the beginning of the summer with an open invitation. George and Amal were so happy to host Meghan and Harry."
At the beginning of the summer? That would line up with when the Clooneys attended Meghan and Harry's grand nuptials at St George's Chapel, alongside the star-studded guestlist. I've reached out to George Clooney's publicist to see if anybody can verify the reports, so I'll circle back and update you lot if I hear anything.
Human rights lawyer Amal Clooney and Meghan have reportedly are very friendly with one another and according to Hello!, they became tighter pals after Amal helped Meghan "settle into London life" once she moved across the pond. Us Weekly's source also claimed that "Harry and George have a special bond and friendship" and it's pretty heartwarming to see that they all get on so marvellously.
As for what they got up to? Well, according to Us Weekly Meghan and Harry had their first taste of parenthood as they were introduced to Clooneys' young twins: fourteen month old Ella and Alexander. Per the Daily Mail, an Italian magazine called Chi reported that Meghan babysat the kiddos while "Harry and George spent their time playing basketball with other friends". It turns out that the Clooneys really know how to make friends feel welcome as according to the same report, apparently the Clooneys hosted a full on gala dinner in their guests' honour with fifteen other people and "the party is said to have gone on until the early hours". Can a girl get in on this magical friendship? I'll bring my own chair.
Naturally, security would have been an issue for the pair and the Clooneys were more than willing to accommodate for the newlyweds' need for privacy. (The Clooneys are pretty famous for their own as well - to this day I can't recall ever seeing a photo of their twins.)
Chris Jackson/Getty Images Entertainment/Getty Images
Frazer Harrison/Getty Images Entertainment/Getty Images
An insider told Us Weekly, "They spent the entire weekend at their home and enjoyed the privacy and security the Clooneys had for them there."
Meghan Markle and Prince Harry reportedly stayed at the Clooneys' famed home Villa Oleandra, the same place where they retreated to after having their twins. It's a place that has tremendous sentimental value to George Clooney, as it also happens to be where parts of his blockbuster franchise Ocean's Twelve were filmed according to CBS.
And now, I guess he can add one more sentimental event to Villa Oleandra's growing collection. It's not every day you wind up hosting actual British royalty, after all.