Meghan Markle & Amal Clooney Share This Very Cool Connection At The Royal Wedding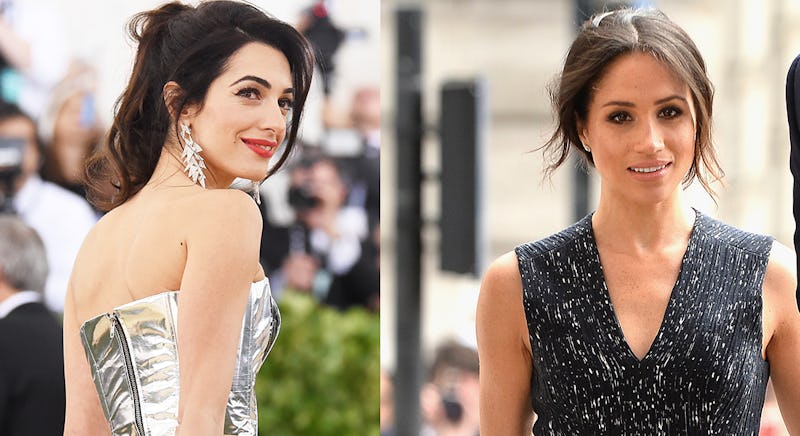 Jamie McCarthy/Getty Images Entertainment/Getty Images; Jeff Spicer/Getty Images Entertainment/Getty Images
The official Royal wedding guest list is here, and it includes some of America's favorite celebrities — including George and Amal Clooney — making some wonder just what their connection to the soon-to-be-wed royal couple is. Are Meghan Markle and Amal Clooney friends? Or, does Meghan have a working relationship with George that the public is just learning about now? After all, they have both worked as actors in Hollywood.
US Weekly reported that the Clooneys will fly into London to party with Meghan and Prince Harry at their reception, so there must be some sort of connection, right? Well, because Meghan's been keeping things pretty low-key on the social media front since her engagement, it's hard to tell just who is included in her inner circle. Amal's go-to hairstylist Miguel Perez confirmed to The Mail that the two do share a bit of a bond, however, and it has everything to do with their manes. "Yes, I do Meghan's hair ... I do Amal's, and Meghan is friends with her," he told the publication in April. "I also do George [Clooney]'s, I do the whole family. Amal put Meghan and me together when she moved here [to London]. I do her color, her cut and her styling."
Elle reported that Perez booked the royal gig after he was recommended by Amal to the bride-to-be, making mention that he and Meghan have a hair plan for the big day.
But while catching up with Hello Magazine's sister company Hola!, the hairstylist refused to comment on whether or not he'd be working for Meghan during the wedding.
"What I can confirm is that I will be in charge of Amal's hair that day," Perez said about the May 19 event. But the haristylist did mention that he had a plan for Meghan's wedding looks, however — hypothetically, of course. Later, he added, "I would leave it loose for the ceremony and then I would do an updo for the party."
In addition to Amal and George Clooney making an appearance at the royal reception, it's also been announced that some other familiar, and celebity faces will be showing up for the big day, as well. Also on the list of royal wedding attendees also includes tennis sensation and Markle's friend Serena Williams, and friend and Quantico star Priyanka Chopra, according to according to US Weekly.
It's being reported that Spice Girl members Victoria Beckham, Mel B, Melanie C, Emma Bunton, and Geri Halliwell are expected to attend the royal wedding , as well as a few of Meghan's longtime friends and fellow Suits stars Gabriel Macht (who plays Harvey Specter on the series), Gina Torres (who plays Jessica Pearson), Patrick Adams (who played Markle's television husband Mike Ross), Rick Hoffman (who plays Louis Litt), Sarah Rafferty (who plays Donna Paulsen), and Abigail Spencer (who plays Dana Scott).
Aside from the starstudded guest list, Meghan and Prince Harry's wedding day is bound to be one event not to miss — even if you plan on attending the festivities from the comforts of your own home. Because seriously... any wedding that considers fancy food trucks as apart of its fine dining sounds like an event of a lifetime. And with reports surrounding the musical musings chosen throughout the big day, including a potential performance from the Spice Girls, it's clearer than ever that the husband and wife-to-be know a thing or two about what's entertaining.
With the royal wedding vastly approaching, you can bet that more details surrounding the event are bound to make their way to the public eye. But until then, fans can bask in knowing that Meghan and Prince Harry's wedding is going to be one to remember.