Meghan Markle Just Wore Her Hair Completely Differently From How She Normally Does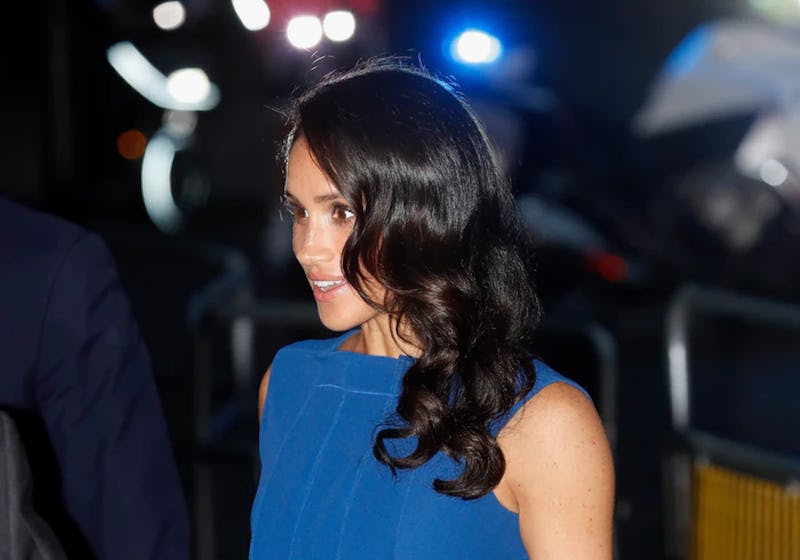 Chris Jackson/Getty Images Entertainment/Getty Images
Now that Meghan Markle is officially part of the royal family and is known as the Duchess of Sussex, she has been thrown into a whirlwind of events and charities this month, dishing up fresh beauty and fashion looks along the way. One such look was Markle's Old Hollywood waves that she wore to the Military Charity Gala that she attended with her husband, Prince Harry.
The reason that the retro-like curls are making headlines is because they are so different from her usual hairstyles, showing that it's impossible to pin down the Duchess with just one assigned aesthetic. And that goes with every aspect of her style. While she may have minimalist and elegant leanings, Markle wears everything from mid-century boat neck dresses, to flirty tuxedo dresses, to sharp and professional pantsuits, playing with neutrals, all-black palettes, and colorful pops of hues all at the same time. Seeing how many events she has on her roster, she has the chance to try a little bit of everything with her outfits, and the same goes with her hair.
Markle usually goes with a simple style when it comes to her tresses, oftentimes defaulting to a low "messy" bun that looks effortless and chic. If she wants to do something a little more with her hair, she often times leaves it down and adds subtle, natural waves to her locks, letting the ends bend a little to add some texture and shape.
But this time around she went all out with Veronica Lake-like waves that herald back to the golden age of Hollywood and the 1920s.
She wore this new beauty look to the gala dubbed 100 Days to Peace, which is meant to mark the 100 year end of the First World War. The gala raised money for three charities that focus on veterans' mental health, which is something that Prince Harry works closely with. Specifically the charities are Help for Heroes, Combat Stress and Heads Together.
The Duchess attended the event in a monochrome outfit, choosing a Jason Wu column dress, blue pumps, and a navy clutch.
As you can see, this retro side-parted take is much different from her usual, loose waves.
The event was filled with symbolic readings and musical performances that marked the anniversary of the end of the First World War, including a musical work entitled, "The Armed Man: A Mass for Peace," which was performed by the Royal Choral Society and the Philharmonia Orchestra. According to People, it was commissioned by the Royal Armouries in honor of the new millennium, which will usher in a new future full of peace and harmony.
While this was an elegant and heavy night, Markle doesn't have a "uniform" for such events. For example, for another gala just last week, she wore a sharp tuxedo dress that hit above the knee with a low bun hairstyle, which is a completely different look from tonight's styling choice.
Whatever she chooses, one thing is clear: the Duchess's aesthetic has range, and she always looks magnificent no matter what.