Meghan Markle Talked About Prince Harry In "Code" On The 'Suits' Set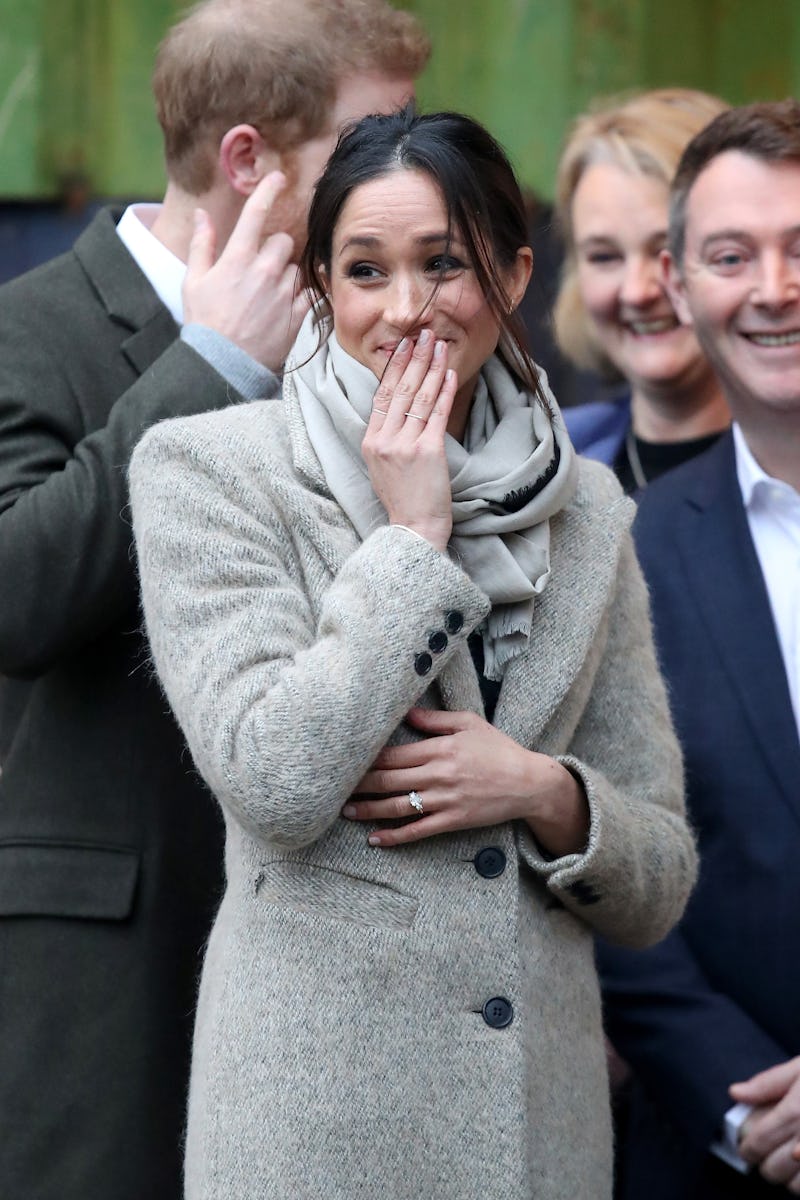 Chris Jackson/Getty Images Entertainment/Getty Images
Remember when Prince Harry and Meghan Markle kept their relationship on the down low and didn't talk about it publicly at all? Well, that's something Markle seemed to work really hard at, especially on the set of Suits. According to her former co-star and the man who played her TV dad, Wendell Pierce, Markle talked about Harry in "code" whenever she was filming the USA drama.
While chatting with Harry Connick Jr. Tuesday on Harry, Pierce said he knew Markle was dating Prince Harry, but it wasn't something they discussed in detail. "She met this nice guy and we always talked about him in code really. You know, 'How you doing?' 'Oh, I'm going to London, coming from London, whatever.'"
Now, it doesn't really sound like they used an actual code word for Harry, but just that there was an understanding that Markle wasn't going to have a typical conversation about her relationship with a member of the British Royal Family or call him by name. A source also told Us Weekly that the 36-year-old former actor was "much more reserved" with her Suits (writer: Sharyn Rothstein) co-stars after rumors surfaced of her dating Harry.
The fact that Markle didn't openly discuss Harry shows how secretive of a relationship they had and how private they wanted it to be at first. They actually touched upon that during their first joint interview after announcing their engagement in November 2017.
"I don't think that I would call it a whirlwind in terms of our relationship," Markle told BBC News of how quickly their romance progressed. She continued,
"Obviously there have been layers attached to how public it has become after we had a good five, six months almost with just privacy, which was amazing. But no, I think we were able to really have so much time just to connect and we never went longer than two weeks without seeing each other, even though we were obviously doing a long distance relationship. So it's — we made it work."
As for Harry, he said that he invited her to Botswana with him as a way for them to spend time together out of the public eye. He explained, "And we camped out with each other under the stars, we spent — she came and joined me for five days out there, which was absolutely fantastic." He added, "So then we were really by ourselves, which was crucial to me to make sure that we had a chance to get to know each other."
Despite Markle keeping her romance with Harry close to her chest, it didn't seem to bother her Suits co-stars. Pierce told Connick Jr., "I had a really wonderful moment as we were coming to an end of her time on the show. It was just she and I in the room and I said, 'I know your life is going to change but always know, no matter where you are, I will always be your loving fake father.'"
After her engagement announcement, Pierce also took to Twitter and wrote, "Congratulations to my TV daughter Meghan Markle and Prince Harry on the news of their wedding engagement. Harry you have her TV Father's blessing. Robert Zane approves."
Like Pierce, Patrick J. Adams, who plays Markle's fiancée on Suits, has opened up a few times about this next step of her life. It seems that both he and the Suits team have been supportive and respectful of Markle's journey as a future royal.
In January, after being asked by The Hollywood Reporter if there will "be any nods to her royal engagement" on the show, Adams said, "No. Aaron [Korsh] has always actively avoided any sort of real-life commentary. He actively wanted to keep those two worlds totally separate. People can draw their own conclusions and comparisons. The last season of Suits has been really special in that we didn't let anything bleed into our world."
In response to her engagement news, Adams also tweeted, "Playing Meghan's television partner for the better part of a decade uniquely qualifies me to say this: Your Royal Highness, you are a lucky man and I know your long life together will be joyful, productive and hilarious. Meghan, so happy for you, friend. Much love."
Markle certainly has a supportive cast who are also probably relieved that they no longer have to use "code" when talking about her relationship with Harry.