Meghan Markle Was On 'Deal or No Deal' As A Briefcase Model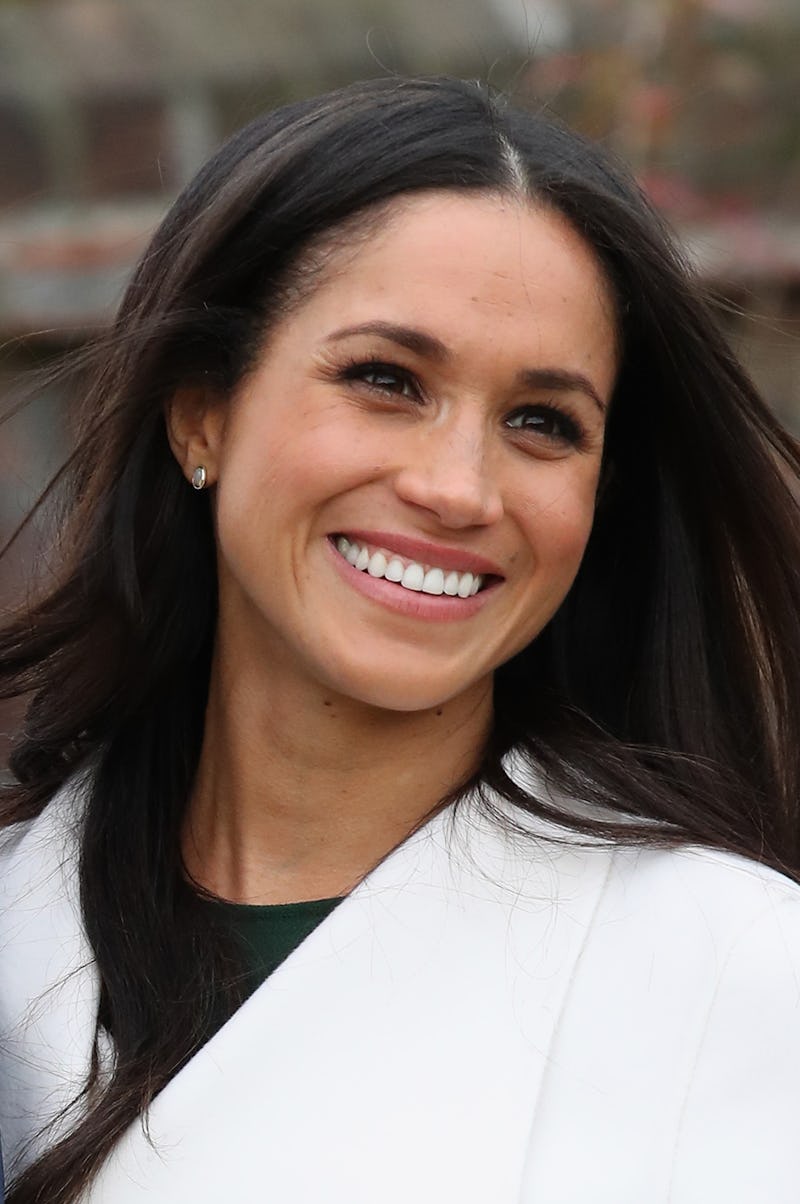 Chris Jackson/Getty Images Entertainment/Getty Images
Meghan Markle might be less than 48 hours into her stint as the latest bright-eyed darling of the British monarchy, but she has always been something of a Renaissance woman in her own right. Perhaps best known for her role as expertly-manicured paralegal Rachel Zane on Suits, the princess-to-be has (in appropriately stately fashion) dabbled in a whole host of provisional métiers, including, but not limited to: UN Ambassador, freelance calligrapher, and lifestyle blogger to boot. And now, thanks to a pixelated video clip pulled straight from the mid-2000s, the world is also privy to Markle's time as a briefcase model on Deal or No Deal.
Since news of her engagement to Prince Harry first graced the cybersphere on Monday, Nov. 27, fans and media mongers alike have done their due diligence to dredge up any and every long-buried tidbit about the 36-year-old's past life — pre-royal romance, that is.
The clip — which runs for just under a minute — reveals a conceivably younger Markle (though her perennially fresh-faced complexion might also serve as a testament to the actor's apparently impeccable skincare regime) donning a silky, burnt-orange slip dress and one of the game show's notorious chrome-plated briefcases.
Markle appeared in 34 episodes of the famously campy primetime game show between 2006 and 2007 before snagging her big-screen break on Suits, USA network's then-rookie legal drama (one that has since achieved notable commercial success over the course of its seven seasons).
Not such a wacky career move (or, stopgap career move, rather) for a young actress trying to find her footing amid Hollywood's infamously cutthroat showbiz industry. (Chrissy Teigan got her start the same way!)
Still, the internet certainly seem to be letting this one go any time soon:
Markle spoke briefly about those interim years — and the handful of odd jobs she picked up along the way — during a 2013 Q&A with Esquire, citing her tour on Deal as just one of several temporary means to get by.
"I would put that in the category of things I was doing while I was auditioning to try to make ends meet. I went from working in the U.S. Embassy in Argentina to ending up on Deal," Markle said during the interview. "It's run the gamut. Definitely working on Deal or No Deal was a learning experience, and it helped me to understand what I would rather be doing."
And, as far as "making it work" goes, Markle has come up with some pretty creative quick-fix solutions. Take her freelance calligraphy work, for example, which she told Esquire was borne out of her longstanding "propensity for getting the cursive down really well."
"What it evolved into was my pseudo-waitressing job when I was auditioning," Markle told the publication. "I didn't wait tables. I did calligraphy for the invitations, for, like, Robin Thicke and Paula Patton's wedding."
But, despite her impressive repertoire of eclectic crafts, Markle is gearing up to assume her full-time regal duties — and that means lying low on the big screen.
During the couple's first joint interview following Monday's announcement, Markle revealed her plans to retire from acting entirely. And although that means bidding adieu to her beloved Suits character, Markle doesn't consider it much of a loss.
"I don't see it as giving anything up. I just see it as a change," she said. "It's a new chapter, right?"
Markle continued, "I think what's been really exciting as we talk about the transition out of my career and into my role is ... the causes that are really important to me that I can focus even more energy on. Very early out of the gate, I think you realize you have access or a voice that people are willing to listen and with that comes a lot of responsibility, which I take seriously."
"There's a lot to do," Prince Harry quipped.
Well, that settles it, then. Looks like the only dress fans can expect to see Markle wearing on television will be the one she wears at her wedding. (At least, that's what everyone's hoping for.)