Everything We Know So Far About Prince Harry & Meghan Markle's Wedding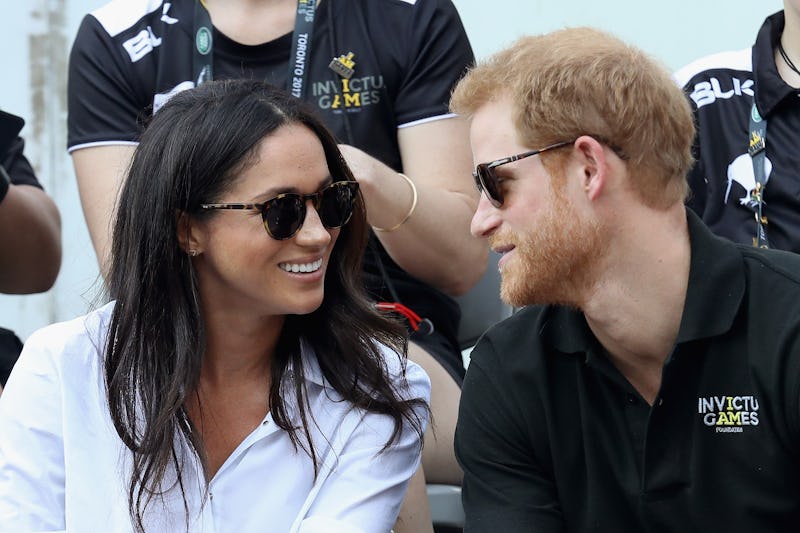 Chris Jackson/Getty Images Entertainment/Getty Images
It's official: Royal wedding bells are in Prince Harry's future. And, of course, the world wants to know how they can keep up with the nuptials even if they aren't in London. Will Prince Harry and Markle's wedding be televised? Royal wedding enthusiasts need answers.
The couple was engaged earlier this month in London, which Clarence House announced Monday morning. A statement posted to Twitter read: "His Royal Highness The Prince of Wales is delighted to announce the engagement of Prince Harry to Ms. Meghan Markle." It also revealed the wedding will take place in Spring 2018 (i.e. in a few short months).
However, the tentative date is all that's known about the upcoming wedding thus far. Prince Harry and Markle will appear together outside Kensington Palace Monday afternoon, as well as in a broadcast interview later that evening, hopefully revealing a few more details about the event. The Guardian reports the ceremony is likely to be conducted by the archbishop of Canterbury, and if past royal weddings serve as precedent, it will probably be televised for the world to watch. After all, about 750 million people tuned in to the royal wedding between Prince Charles and Princess Diana in 1981.
Still, Prince Harry's contentious relationship with the press could turn him off from a publicized wedding. Since rumors began swirling about the couple (who were introduced in July 2016 and appeared together in public for the first time that September), he's defended his American fiancée's right to privacy. In November, the prince of Wales confirmed their relationship in a statement from his communications secretary bashing the media. "His girlfriend, Meghan Markle, has been subject to a wave of abuse and harassment," it read.
The same statement explained that Prince Harry is aware people are curious about his life, but said: "He has never been comfortable with this, but he has tried to develop a thick skin about the level of media interest that comes with it." So, will he be comfortable having his wedding day broadcast across the globe? Only time will tell, but it's more likely than not that a royal wedding will be a public affair.
Clarence House revealed that, once married, the couple will live in Nottingham Cottage at Kensington Palace, a royal residence that borders Hyde Park. Prince Harry already lives in Kensington Palace, where he moved from Clarence House in 2012. William and Kate previously lived in the Nottingham Cottage estate where Harry and his bride will now live, so the one-bedroom apartment has become a bit of a royal newly wed residence.
Rumors about their engagement started weeks ago amid reports that Markle planned to move to London after wrapping the seventh season of Suits. Movers were seen packing her belongings at her Toronto house, and she was spotting shopping in London a few days later. The couple was careful to keep their plans under wraps, though, until the official announcement of their engagement on Monday.
Naturally, there's already been speculation about what Markle's title will be, as women who aren't born into the royal family aren't officially addressed as "princess." Prince Harry's current title is His Royal Highness Prince Henry of Wales (as his real name is Henry), so Markle could become Her Royal Highness Princess Henry of Wales (HRH Princess Harry for short). However, the queen could decide to grant Harry a new title after he's married, making him a duke and Markle a duchess. If the royal family goes this route, it's likely the newly weds will become His Royal Highness The Duke of Sussex and Her Royal Highness The Duchess of Sussex.