Meghan Markle Will Reportedly Break This Royal Tradition At Her Wedding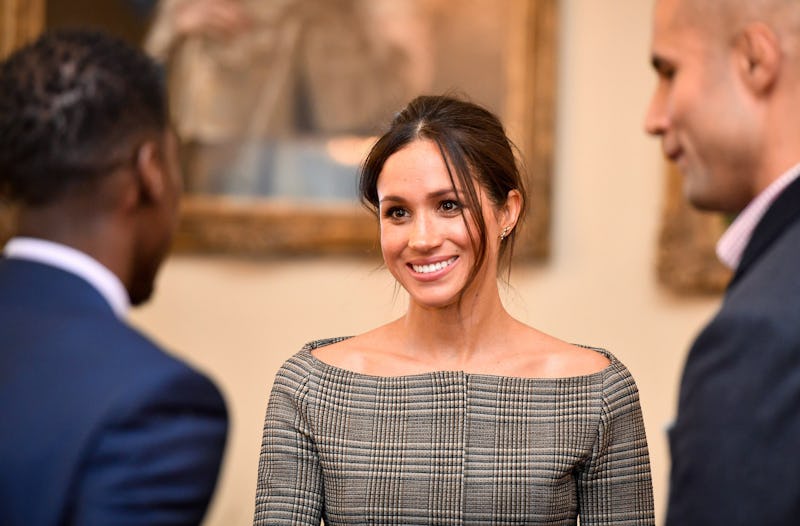 WPA Pool/Getty Images Entertainment/Getty Images
The British Royal Family is all about tradition. After all, the monarchy as the United Kingdom knows it has been around for roughly 1,000 years. However, some things may be about to change. According to The Sunday Times, Meghan Markle will reportedly give a speech at her wedding, if this report is true, her speech would break with royal tradition. A millennium's worth. Markle is already breaking ground, as an American woman of color has married into the Royal Family approximately zero times. Markle is an actor and model, best known for her work on USA's Suits, and was married previously. She's also a few years older than Prince Harry, her betrothed. In short? Meghan Markle rules. Pun intended.
As The Independent reports, basically everything about the next royal wedding will be new and different. The couple will wed at St. George's Chapel instead of Westminster Abbey, though Westminster Abbey has been used for most royal weddings since the late 17th century. It's also where Prince Harry's brother Prince William was married in 2011, and where Harry's mother and father were wed in 1981. (As Refinery29 states, the Windsor castle chapel can hold 800 or so guests, so it won't be a small affair.) Further, Markle will become a British citizen, and she'll need to be baptized and confirmed in the Church of England prior to the ceremonies. Oh, and Markle will reportedly deliver a speech at her wedding. Referencing a Sunday Times article that first broke the story, Refinery29 described the speech as follows:
Markle is understood to be planning to make the speech an "affectionate tribute" to her new husband and may include "a couple of jokes" along the way. It's also being reported that she'll use her speech to give thanks to the Queen, her family, and friends.
It seems that His Royal Highness Prince Henry of Wales and Her Royal Highness-to-be will have a fun wedding. Princess Diana would be so proud.
If this report is true, it sounds as if the 2018 royal wedding is shaping up to be as eclectic and historic as the couple celebrating it. In English monarchy terms, of course. They've already selected a unique venue, but that isn't all: The Independent announced that the Royal Family will be paying for "the church service, the music, the flowers, and the reception" themselves, as opposed to the taxpayers. The family have not announced who will serve as Prince Harry's best man, or the couple's flower girl (or children). It's also not clear who will be designing Markle's wedding dress.
Of course, though Markle is shaking things up for the Royal House of Windsor, a few things will have to change for her as well. She will be living in a new country and she is leaving her acting career behind. In addition, The Independent reports that Markle will be expected to adjust some of her personal charities and/or commitments to align more closely with Prince Harry's (and by extension, his family) and adopt some of her new family's dearest causes.
Refinery29 points out that it's not uncommon for a bride to make a speech at her own wedding, except in this instance. But Prince Harry and Ms. Markle are a couple unlike any other. Even his older brother, His Royal Highness Prince William, Duke of Cambridge met Duchess Catherine in college, and it was years before most people had even heard "Kate" speak. With Meghan Markle, it's quite the opposite. And it is awesome. Meghan Markle, you go, girl. Break those royal traditions. Live the dream, and please, announce your wedding dress designer ASAP. Fans will just be here waiting to commission fancy church hats by the same person.