Meghan Markle Just Wore A Black Dress That Looks A LOT Like Her Iconic Wedding Gown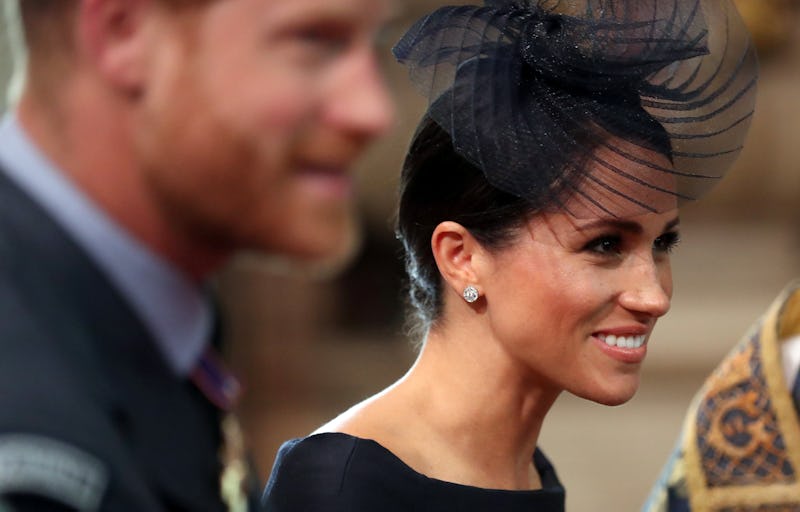 WPA Pool/Getty Images News/Getty Images
Meghan Markle is officially part of the royal family and has a roster of events on her schedule, including the centennial of the Royal Air Force — and the dress she wore to commemorate the event might seem slightly reminiscent of another piece in her wardrobe. Meghan Markle wore the LBD version of her wedding dress to the 100th anniversary event of the Royal Air Force, wearing a boat neckline midi dress.
The Duchess's wedding dress was a custom Givenchy gown by British designer Clare Waight Keller, who is the creative director for the iconic French fashion house. The frock hit all the notes that Markle was looking for — modern yet timeless, conservative yet true to her style — and the end result was a long trailing gown with long sleeves and a boat neckline, sans any embellishments or lace detailing.
Thanks to the classic and simple design, Markle can now relive her wedding gown in cocktail dress forms, where all she needs is a boat neckline and she has herself a replica.
However, the dress in question for the Royal Air Force celebration wasn't made by Givenchy, and it wasn't white, either. Instead, it was a long sleeve black dress made by Dior, accented with a voluminous midi skirt that had a slight retro flair to it.
The silhouette was reminiscent of the '50s, and makes one think of the outfits that Audrey Hepburn and Grace Kelly were prone to wearing. To accessorize the look, Markle went with an elaborately twisted black fascinator designed by Stephen Jones, who was a regular hat designer for Princess Diana. In fact, he became Lady Diana's milliner right in the beginning of her Royal career, creating her first set of hats when she was just 20 years old.
He started off her collection with a series of berets — which Markle famously paid tribute to back in March with her Commonwealth Day service outfit — and embroidered the inside of Princess Diana's beret with her initials and the Prince of Wales's feathers. And now Markle is tapping into his talent to create hats for her own royal wardrobe.
It's been a busy week for Markle, and with a packed schedule comes many outfit changes. Earlier this week, the duchess arrived at her nephew's christening, coming to Prince Louis's baptism wearing an olive green, belted Ralph Lauren dress. Like her Dior Royal Air Force anniversary frock, it was a simple, streamlined number that was accented with a boat neckline. Minimalist and timeless, the dress had a vague vintage air, thanks to its pencil skirt silhouette and high waist.
She accented the look with an olive green hat that sat at a jaunty angle on her head, which was once again made by Stephen Jones.
If you're wondering whether the duchess is now permanently wearing boatnecks, she does switch it up from time to time. For example, just last week, at the Your Commonwealth Youth Challenge Reception at London's Marlborough House, Markle arrived at the event in a sleeveless column dress, proving her wardrobe is versatile and varied.
Trading in her monochrome and neutral color palette, she went for a bright lemon yellow shade with a hem that hit below the knees and a high neckline, creating a pillar-like effect. (To be fair, it is still a boatneck, but a different iteration of it!)
Whether it's her wedding dress or a designer event dress, Markle is bringing the boat neckline back into style. She has a definite penchant for the vintage-inspired look, and here's to hoping that it keeps making an appearance.