Meghan Markle's New Highlighter Is Lit AF So Here's How You Can Get The Look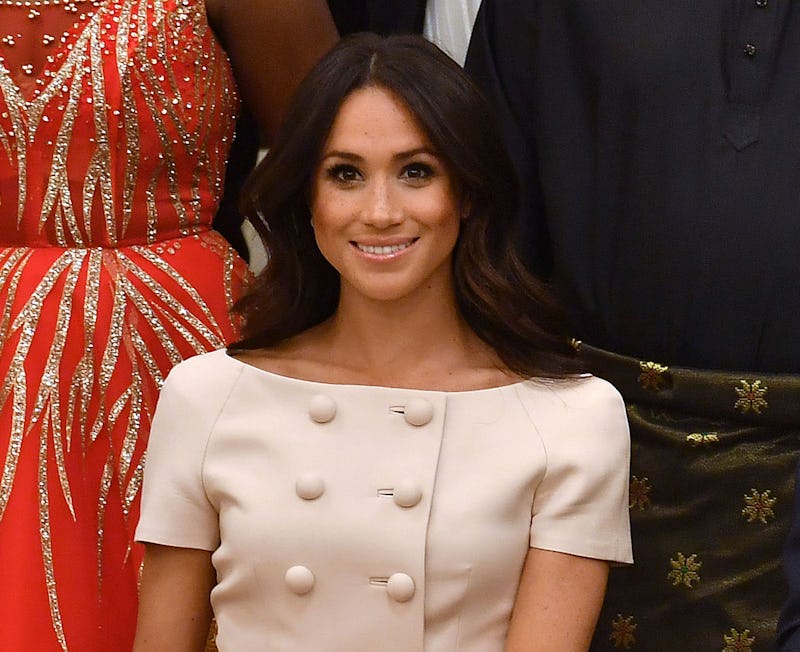 WPA Pool/Getty Images News/Getty Images
The world is obsessed with everything Meghan Markle wears. From her tights to her jewellery to her dresses, people are royally fascinated. While I'll admit, her wardrobe is amazing, it's her make-up that's really caught my eye. Did anyone else notice her face literally shimmering at Buckingham Palace on Tuesday at the reception for the Queen's Young Leaders? One word, gorgeous. But how can I recreate Meghan Markle's make-up?
Well, firstly, can we all just take a moment to observe her transformation? Markle's make-up has changed from natural, girl-next-door vibes, to a much more glam, pulled together look. And wow, she's absolutely rocking it. "It is fascinating to watch Meghan's transformation from laid back LA cool girl to polished, First Lady look," permanent make-up expert Laura Kay tells me — and too right.
But back to how she created this look. Judging by these pics, it appears as though Markle has sculpted her face using bronzer, creating fabulous cheekbone definition. Her cheeks look pinker than usual, perhaps suggesting a peachy blush or that the highlighter has a rose hue. "The apples of her cheeks have been accentuated with a creamy peach blush to add warmth to her complexion and her lips seem to have a creamy nude pick lip gloss applied to them," adds Laura.
But what is the secret behind that shimmer? During an interview with the Lady Loves Couture back in November, Markle revealed she loves a bit of sparkle. "A touch of shimmer powder adds a brightness and sparkle," she said. "Even if I have no makeup on, I am likely to apply concealer and a bit of shimmer to the corners of my eye."
Pamela and Andrea are a make-up artist duo, who know exactly how to recreate Markle's new look, should you wish to do so at home. "Meghan always had a gorgeous natural radiance," Andrea tells me. "To achieve this we would use Laura Mercier's Oil Free Tinted Moisturiser. This product blurs and perfects whilst giving the skin a beautiful sheen. For a subtle highlight on the cheek bones, we would use Becca Cosmetics Shimmering Skin Perfector." Andrea continues, "tap this on the cheek bones and brow bones for an non-glittery glow which just catches the light. We think Meghan may be using one of our favourite contouring pallets which is Tom Ford's Shade and Illuminate cream duo. The texture is creamy and blends seamlessly into the skin as Megan's does."
During an interview with Town & Country, Markle admitted she is a fan of Laura Mercier Illuminating Primer. She said: "I don't wear foundation unless I'm filming, so this is what I put on everyday after moisturiser to give my skin a dewy glow." Ah, so that's her secret.
Another make-up artist, Stacey Lacey, tells me "there are so many highlighters out these days that you could use to create Megan's updated, more glowy, look. Strobe Cream from MAC used under foundation gives a nice glow, and then you can layer a powder highlighter on top of the cheekbones for an extra pop like Meghan's, like Becca highlighter in Opal, or Hourglass do a really nice Ambient Lighting Palette which has three different shades to play with, or MAC Skinfinish in Soft and Gentle. You can use these on the brow bone, Cupid's bow and inner tear duct, too."
Anyone that's seen snaps of Markle at the Buckingham Palace ceremony will probably have noticed she appeared to be donning heavier eyeliner and smokier eyeshadow. Permanent make-up expert Kay continues: "Her brows have been filled in and defined which can be achieved using a dark brown pencil or brow powder and her eyes have been accentuated using liquid eyeliner and maybe a set of very natural looking false lashes. To stop the eyes looking too heavy, Meghan didn't line the bottom lid but instead chose to lightly define the bottom row of lashes with mascara".
While women across the nation may be looking to Markle for make-up inspiration, you might be wondering whose style she's a fan of. It turns out, her beauty icon is Gwyneth Paltrow. During an interview with The Lady Loves Couture published in November 2017, she said: "I love how she has timeless style and looks chic and polished, but also embraces the effortless 'rolled out of bed' look that all of us do on a daily basis." Well, if Paltrow happens to be reading this, I have a feeling she's going to have a huge smile on her face.