These Earrings That Meghan Markle Wore Sold Out In Literally 10 Minutes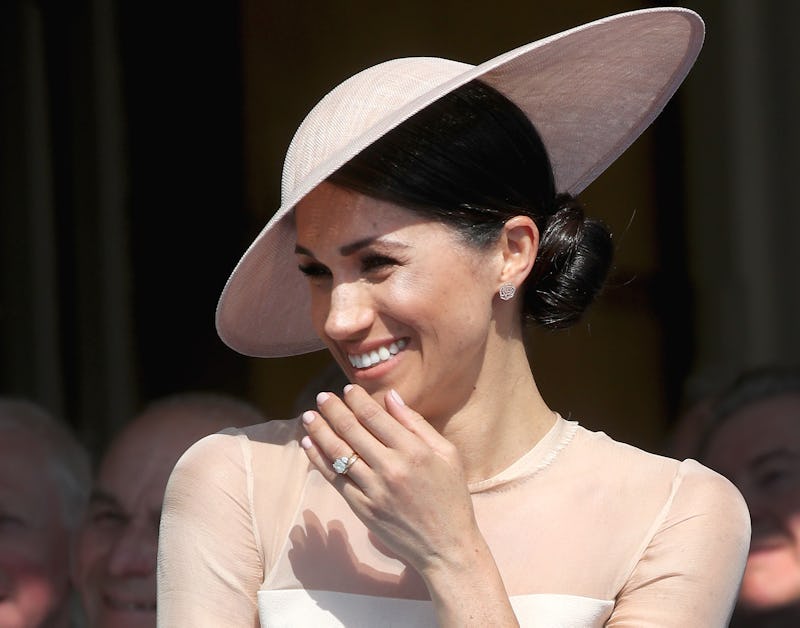 Chris Jackson/Getty Images Entertainment/Getty Images
Everything that the royals touch turn into best-sellers. Don't believe me? Well, according to People Royals, Meghan Markle's $3,000 rose-shaped earrings sold out in ten minutes. That's the power of royal fashion, baby. It turns out that the brand was just as surprised to hear the news as you are.
If the royal wedding taught us nothing else — although, let's be real, it taught us a lot — it's that royals hold a special place in the fashion world. It's not just what they wear and why, but what comes after they step out in public wearing it. Take Vanessa Tugendhaft's Idylle La Rose diamond earrings for an example. After Markle wore them for her first official public appearance as Duchess of Sussex, they sold out in ten minutes.
This is not an OMG-those-are-cute-and-affordable type of trend. These are $2,939.96 earrings that flew off the virtual shelves — literally.
"We were completely sold out in 10 minutes — it was crazy!" Tugendhaft told PEOPLE. "The matching necklace and bracelets with the same motif also sold out soon after, and now we have a big waiting list. It was amazing!"
So not only are the nearly $3,000 earrings selling like hotcakes, so are the $1,843.31 necklaces and $2,904.96 bracelets.
Don't be upset by the sold out button on the website, because you'll still be able to get your hands on the necklace. According to PEOPLE, there is a waitlist for the item. That means that it will be coming back, although the designer has yet to say when. Bustle reached out to the brand for comment.
"I think it was the most important point in my career," Tugendhaft told PEOPLE. "Meghan is such a beautiful person, and to wear our earrings on her first debut as a duchess was incredible — it had such a big impact."
Either way, this is a blessing in disguise. This gives you a whole lot of time to save up for the hefty priced item. Or, you know, wait for something for Markle to wear something more affordable. Because you can pretty much guarantee they'll be more fashion moments in the future.
Go ahead and put this on the list of items that have gone viral since Markle wearing them. Everything from her $450 J. Crew jacket to her darn wedding ring has been made into a must-have piece.
The royal family apparently has more say on just who wears what. According to PEOPLE, the fashion choices that Markle made during the royal wedding will boost the U.K fashion industry by $200 million. That's a whole lot of influence and a heck of a lot of earrings.
"The only person close to Meghan in terms of fashion power and influence is Kate Middleton," David Haigh, founder of Brand Finance, told PEOPLE. "But as her family has grown she has seemed less focused on fashion – Meghan has picked up the baton."
Although you likely won't see any styles from Markle until she gets back from her honeymoon, the must-have fashion items will not stop anytime in the near future. Get your savings accounts ready to transfer, because a new royal in the family just means even more opportunity for clothing and accessories to go viral.
Until Markle gets back, there are plenty other royal fashion moments to live for. You know, like Princess Eugenie wearing a hat that says "love" to Queen Elizabeth's garden party. You know, just to remind you that he wedding is coming up in a few months, too. Because Markle isn't the only royal that knows how to take a moment and sartorially run with it.