This Is The Travel Bag Meghan Markle Swears By So You Can Speed Through The Airport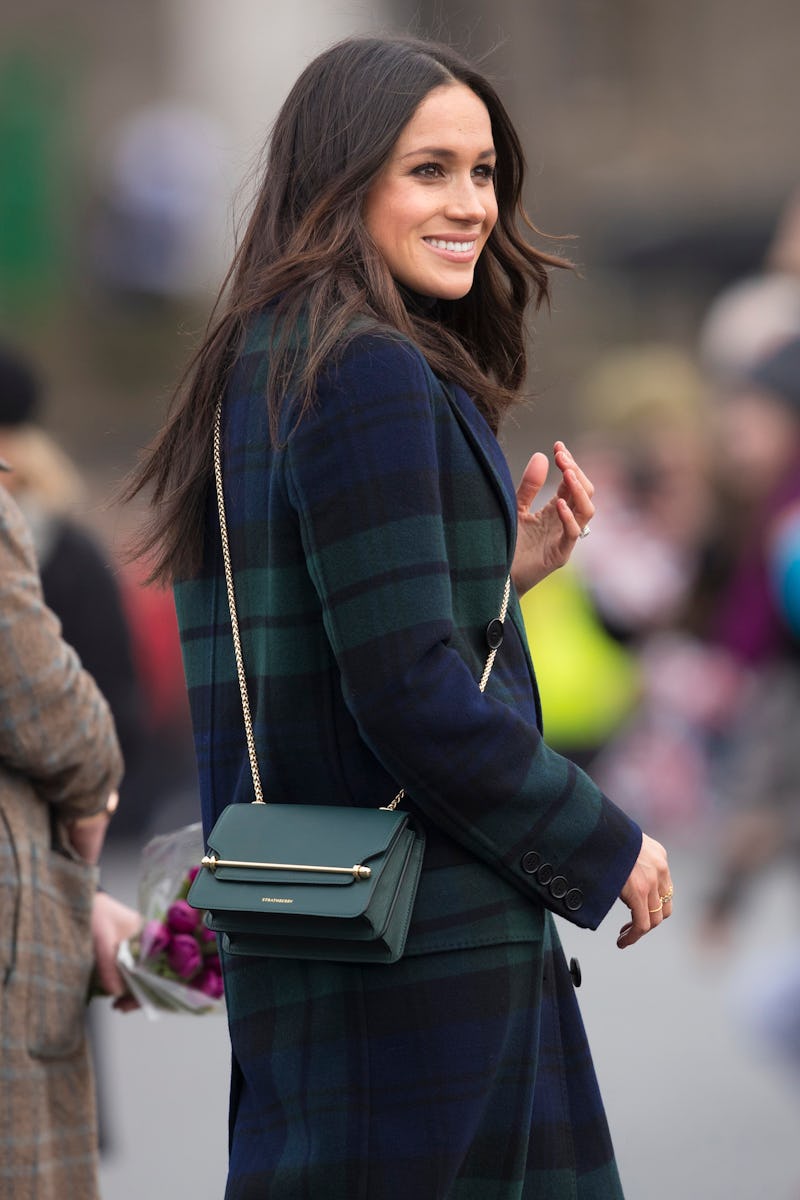 WPA Pool/Getty Images Entertainment/Getty Images
Meghan Markle has been doing a lot of traveling lately as she prepares to join the British royal family upon her wedding to Prince Harry. But this isn't a new hobby for the soon to be royal; the actress turned soon-to-be-royal's old lifestyle website, The Tig, often chronicled her guides to cities around the world, as well as tips for how to travel to them most comfortably. Though The Tig was shut down in April 2017, the archives still remain on the web — and from them, we can gain a massive amount of insight into Markle's likes, dislikes, interests, and what sort of hand sanitizer she uses. For instance: Scrolling through The Tig archives can reveal which travel essentials Meghan Markle swears by, and why.
Everybody has their roundup of must haves in their carry-on. Maybe it's a bag of carrots to munch on mid-flight. Maybe it's a neck pillow. Maybe it's a stack of gossip magazines you read nonstop for cross-country entertainment. "Essential" is a personal word, and definitely a subjective one at that. But we can all learn a thing or two from somebody else's must haves.
Markle is no stranger to city-hopping. Even before her engagement to Prince Harry, the former actress filmed her show Suits in Toronto, lived part-time in LA, and also dated Prince Harry who was based in London. Additionally, their first interviews after their engagement, the couple revealed that their third date was in Africa. That's a date only travel experts can pull off with ease.
Needless to say, she is no novice when it comes to hitting the road. She might know a thing or four about items you must pack.
A Scarf
Cityguide Scarf, $62, Madewell
Markle notes in a post from The Tig that she loves her scarves, specifically this one by Madewell. "I never travel without a scarf or thin cashmere blanket that feels like a hug. Throw it in your purse or backpack, and no matter how far you travel, you will always feel comforted both on and off the plane with something that feels and smells like home." It makes sense: Scarves can double as blankets and can also be scrunched into pillows. As Markle mentions, offers a scent of home, sweet home.
Probiotics
Essential Formulas Dr. Ohhira's Probiotics, $37.77, Amazon
This might not be something you'd think of when you're shoving Advil into your makeup kit in case of a mid-flight headache, but it's a necessity. As Markle advised on The Tig, "always travel with a high strain probiotic, and hydrate like you're dying of thirst — because even if you're not, for your body — the thirst is real. This dynamic duo of probiotics and agua will keep your gut health in check and honestly stave off jet lag if you're globetrotting on your travails." If you really want to stay healthy like a soon to be royal, Markle lists Dr. Ohhira Probiotics as her go-to brand.
Hand Sanitizer
Murchison-Hume - Travel Essentials, Amazon
Germs can run rampant on planes, and considering you're usually on a plane to travel, the last thing you want to do is get sick. Markle is, naturally, a step ahead of the game. She admitted on The Tig, "I'm no germophobe, but when I get on a plane I always use some quick hand wipes or a travel sanitizer spray to wipe it all down: that includes the little TV, the service tray, and all the buttons around your seat. Sure, the person next to you may give you a side-eye, but at the end of the flight, you'll be the one whistling dixie with nary a sniffle." She listed Murchison-Hume, a plant-based cleaning brand, as her favored hygienic travel companion.
The Best Ever Carry On
The Quartermaster Cargo Green, $995, Ebby Rane
If you can travel like a royal, why not? Dresses that Kate Middleton have worn have sold out in an instant. According to Markle on The Tig in 2016, Ebby Rane is the carry-on luggage she wheels around the world when she travels. She says, "the most efficient piece of carry-on luggage... that makes you feel like a frequent flier, things will speed along so you can avoid less airport hiccups and can focus on the vacate part of the vacation." A good carry on will make all the difference. If you can pack your vacation into it, think of all the time you can cut out waiting at baggage claim!