Where To Buy A Dress Almost Exactly Like Meghan Markle's Sold-Out Christmas Lunch Look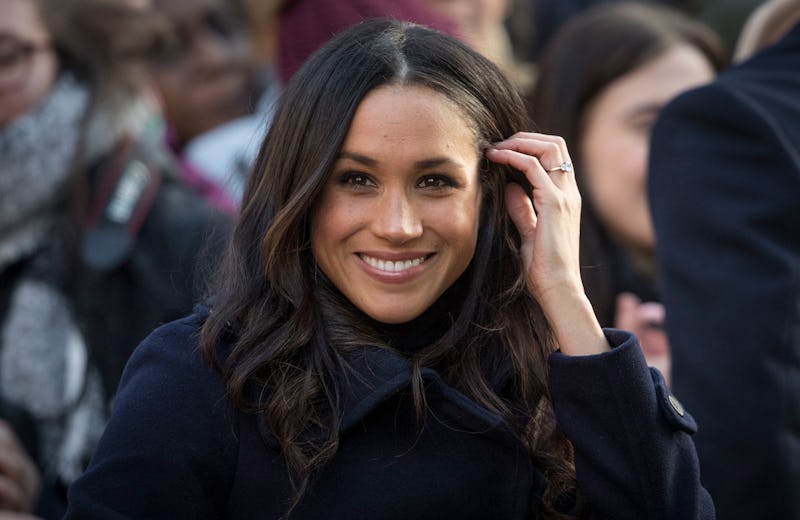 Christopher Furlong/Getty Images Entertainment/Getty Images
The sheer and sexy, Ralph & Russo dress that Meghan Markle wore in her official engagement photos was a sartorial shift for the future royal. The couture gown is not available for purchase, so you can't nab one for yourself, unfortunately. You also can't purchase Meghan Markle's Christmas Lunch dress, an adorbs, short-sleeved midi dress by Self-Portrait, either, since it's sold out. The frock, which was trendy yet appropriate for a dining engagement at Buckingham Palace with The Queen, flew off shelves due to the "Meghan Markle effect," where fans and fashionistas love her look and want to copy it.
Before it sold out, the Self-Portrait dress, dubbed "The Nightshade Midi," was marked down to £180.00, which translates to approximately $241 U.S. dollars, on the brand's site.
According to the product description, the short-sleeved bodice is fitted to the waist with a band. It's a lovely contrast to the full, tucked A-line skirt. There is an exposed zipper in the back and the bodice is lined with a nude bandeau for coverage. So Markle's super sweet dress, which mixed an ornate top with a simple bottom, was totally suited to the occasion.
But don't despair just because it's no longer available and there's no ETA on a restock. There are plenty of similar styles that you can nab at similarly attractive price point.
No wonder Markle selected it for her lunch date with the Queen and no wonder royal watchers and beyond scooped it up. It's so cute.
The dress is chic, with some retro touches, all the while remaining fully modern. You can't click on a size or add it to your basket online since it's gone, baby, gone.
Here are some comparable options from Self-Portrait and beyond.
1. Tie Shoulder Midi Dress
Tie Shoulder Midi Dress, £160.00/$214, self-portrait-studio.com
This navy blue dress is deceptively simple. There is so much detail, from the peek-a-boo fabric to the gathered waist to the shoulder ties, which give it an off-the-shoulder look.
2. Hinkley Midi Dress
Hinkley Midi Dress, £180.00/$241, self-portrait-studio.com
The contrasting white collar and the cold-shoulder construction take the sting off of the fact that Markle's actual dress isn't available. This is not a consolation prize; this is an equally head-turning dress.
3. Floral Grid Midi Dress
Floral Grid Midi Dress, £360.00/$482, self-portrait-studio.com
Check out this option that is guaranteed to have you "oohing" and "aahing" over its details. It is similar to Markle's dress, courtesy of the sleeves and the bandeau. But it's a little more daring, thanks to the cutouts. It's the shape that is of the same spirit.
4. Button Shirt Midi Dress
Button Shirt Midi Dress, £126.00/$169, self-portrait-studio.com
It may be buttoned up, but it's still sexy AF. This dress features a deep dipping V in the back. The side detail is precious, as well.
It's a flawless execution of vintage and trendy, with a touch of sexy.
5. Chantilly Lace Midi Dress
Chantilly Lace Midi Dress, $33, Forever21
You can always count on Forever 21 to offer a super affordable and ultra trendy take. This semi-see-through lace number can be dressed up or down, depending on the scenario in which you are wearing it. It has a punk rock energy, courtesy of the combat boots and fur coat with which its paired. But you could add ladylike heels and an updo for an elegant presentation. And it's under $35. You can't beat that with a bat.
6. Long-Sleeve Lace Midi Prom Dress
Long Sleeve Lace Midi Prom Dress, $135, ASOS
The forest green hue and the lacy construction make this ASOS option super feminine. The deep-dipping V in the front is a super sexy detail that begs to be accessorized with a long, chain necklace.
There are plenty of other variations of the midi style that Markle wore to Christmas Lunch out there. Happy shopping.