Meghan Markle's Dad Just Announced He Will Miss The Royal Wedding Due To Heart Surgery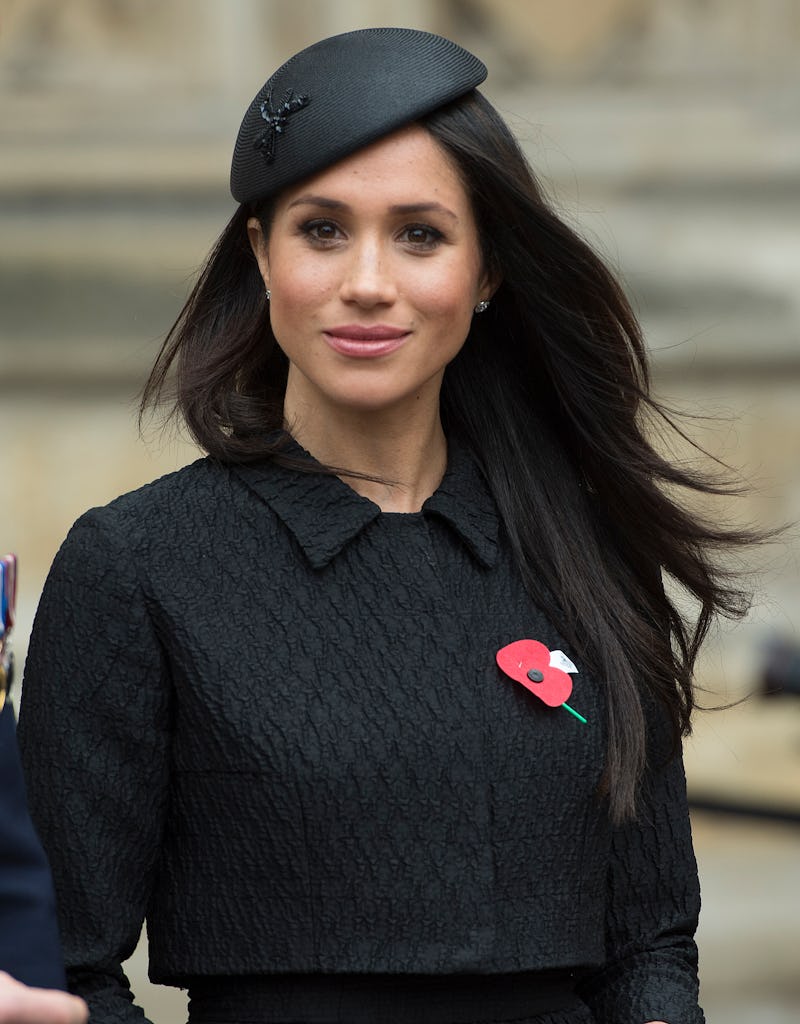 WPA Pool/Getty Images Entertainment/Getty Images
With the royal wedding now just days away, TMZ reported on Tuesday, May 15 that Meghan Markle's father Thomas Markle has been scheduled for heart surgery this week and it seemingly couldn't come at a worse time. The elder Markle will reportedly go into surgery at 7:30 a.m. on Wednesday morning, just days before his daughter weds Prince Harry this Saturday, May 19 in the UK, according to TMZ. Thomas Markle told outlet that "they [doctors] will go in and clear blockage, repair damage and put a stent where it is needed."
When reports surfaced earlier this week about Markle's father not attending the wedding, it was revealed that he had suffered a heart attack just days ago. Talking to TMZ on Monday, Thomas revealed that he was still experiencing chest pain and was considering a return to the hospital. After checking himself back into the hospital again on Tuesday, Thomas explained that his heart had been "seriously damaged" after the heart attack and that he would need to undergo surgery, according to TMZ.
The outlet also reports that Thomas Markle initially decided not to go to the wedding after feeling that he embarrassed his daughter and the Royal Family after reportedly participating in a photoshoot with a paparazzi agency. However, after receiving texts from his daughter, in which she expressed concerns about his health, Thomas changed his stance, telling TMZ, "I hate the idea of missing one of the greatest moments in history and walking my daughter down the aisle." He added, "Of course I'd walk her down the aisle. This is a historic moment. I'd like to be a part of history."
However, it seems that Thomas' will not be able to participate in the ceremony due to his recent surgery scheduling. Although he was set to walk the bride-to-be down the aisle, Thomas Markle revealed thoughts that Meghan's mother, Doria Ragland, would be a good backup option.
On Monday, shortly after reports about Thomas' paparazzi photos took over the media, Kensington Palace released a statement which referred to the moment as a "difficult situation." Per People, it read:
"This is a deeply personal moment for Ms. Markle in the days before her wedding. She and Prince Harry ask again for understanding and respect to be extended to Mr. Markle in this difficult situation."
There's been tons of drama following Markle's half-sister, Samantha Grant's revelation that she she was to blame for their father's paparazzi photo staging. She explained on Twitter that they were taken in an attempt to benefit Thomas Markle's media persona and were not about financial gain, according to DailyMail.
Thomas told TMZ that he didn't mean any harm to his daughter or the Royal Family when he agreed to the photoshoot and wasn't in it for the money. He's reportedly turned down other interviews for between $50,000 and $100,000 in the past and told TMZ that he's been photographed in unflattering ways which have made him look like "stupid and hammy" and like a "lush" in the media. It was his hope that the staged pics would help change his image in the press, although he now regrets the entire idea.
With Thomas Markle now out of the wedding day conversation, it seems that the mother of the bride may be next in line to walk the former Suits actor down the aisle. As revealed by the Royal Family's press secretary on May 4, Ragland is already riding in the car with Markle to Windsor Castle. Ragland and Meghan will reportedly travel from an undisclosed location to the castle's Long Walk so that public can witness the bride-to-be and her mother before they head to the ceremony.
Though other members of Meghan Markle's family won't be in attendance at the royal wedding, they will seemingly still be in London for the week's festivities to lend moral support to the the bride-to-be. TMZ reported Monday that Meghan's extended family was spotted in London arriving at Heathrow Airport, including her nephews and their mother.
It goes without saying that Meghan's thoughts are going to be with her father through his health issues now that he's unable to attend the ceremony. Despite the major setback, fans can rest assured that Meghan's day is still going to be one of the most beautiful events of the year.