This Footage Of Meghan Markle Is The Sweetest Thing You'll Watch Today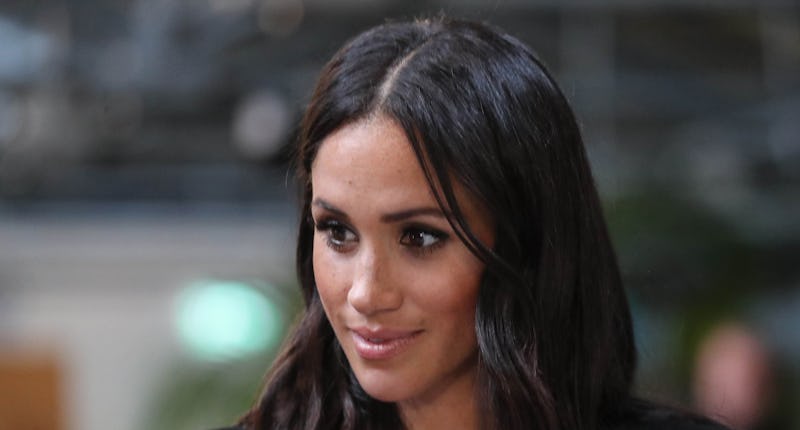 Shutterstock
Meghan Markle is going to be giving her first interview on camera as a royal in an upcoming documentary. ITV's highly-anticipated two-part series Queen of the World is going to be gracing the nation's screen in the not too distant future. However, it isn't a Meghan Markle documentary. The short film is actually about the Queen.
To drum up up excitement for its launch, ITV released a trailer on Wednesday, and it has since gone viral for the cutest reason. You see, while the teaser clip only lasts for a few short moments, it includes the moment Markle sees her wedding dress for the first time.
About halfway through the trailer, Markle is filmed standing before what seems to be a mannequin decked out in a wedding veil and the iconic gown she wore when she married Prince Harry. Her reaction? It's adorable. Her eyes totally light up and she lets out a little laugh upon seeing it, and, I can't lie, it had me feeling pretty emotional.
Seconds later, the camera cuts away to a pair of hands (presumably hers) playing with its detailed floral embroidered edge. Markle then makes an offhand comment, saying: "53 countries, oh my goodness. It'll keep us busy."
In this moment, Markle is of course referring her wedding veil, which featured 55 flowers. According to the royal family's website, each of the 55 flowers on it has a symbolic meaning, with 53 of them representing the 53 countries that form part of the Commonwealth (which include Australia, Canada, and Barbados to name a few). The other two flowers featured on the veil include a California poppy, a reference to her home in the United States, as well as a flower called Wintersweet which "grows in the grounds of Kensington Palace in front of Nottingham Cottage" – where she and Prince Harry live.
Following the wedding, the royal website revealed that Givenchy's Claire Waight Keller designed the five metre long veil at Meghan Markle's request.
Crafted from silk tulle and hand-embroidered, it includes flowers like Sri Lanka's blue water lily, India's lotus, Bahama's yellow elder and Wales' daffodil. Waight Keller also placed stalks of wheat at the front of the veil, which the Palace said was meant to "symbolise love and charity".
The ethereal veil was held in place on the day by Queen Mary's diamond bandeau tiara, which the Queen let Meghan Markle borrow. It was initially rumoured that the Duchess of Sussex would be wearing the Spencer tiara, the masterpiece that Princess Diana wore on her own wedding day. However, she opted for the bandeau tiara to complete her bridal look.
The sight of Meghan Markle stepping out of her wedding car and trailing a seemingly endless veil behind her was one of the wedding's most romantic moments. It literally sent chills down my spine. It's no surprise that she seems just as thrilled to see it in the trailer as well and I can't wait to see the documentary.
Queen of the World will air on ITV on Tuesday at 9 p.m.