11 Things Meghan Markle Can't Do Anymore Now That She's A Royal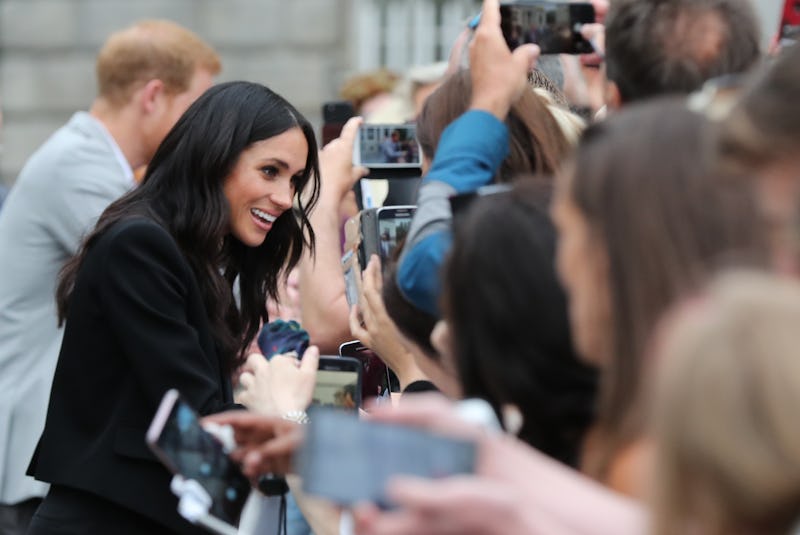 Pool/Getty Images Entertainment/Getty Images
Ever since the now Duke and Duchess of Sussex got engaged, there has been much talk of Duchess Meghan "breaking royal protocol" with everything from her hairstyles to the way she interacts with fans. And while in many of those cases she wasn't actually doing anything wrong, there are some things that Meghan Markle can't do anymore now that she's a royal. Those messy buns aren't breaking any official rules no matter what you might have heard, but you won't be finding her posting selfies of her good hair days on Instagram.
Everyone knows Markle left her job as an actor to marry Prince Harry and become a member of the royal family. But Markle didn't see this as losing anything. She said in her and Harry's post-engagement interview, "I don't see it as giving anything up. I just see it as a change." She continued of working on Suits, "It's a new chapter, right? ... We were very, very fortunate to be able to have that sort of longevity on a series. For me, once we hit the 100 episode marker, I thought, you know what, I have ticked this box, and I feel very proud of the work I had done there and now it's time to work as team with [Harry]."
But while she might not see her career change as something she gave up, there are some things she's no longer able to do now that she's a royal... at least not in public.
1. Eat Garlic
It has been widely reported that royal family members cannot eat garlic while at public or official events, and it's not just a rumor. The Duchess of Cornwall said that garlic is a "no-no" while appearing on MasterChef Australia, according to the Huffington Post. When one of the judges asked for clarification and said, "Because you're talking, chatting?" Duchess Camilla responded, "Yes, exactly. So you always have to lay off the garlic." The other reason might just be that the Queen hates it. According to Darren McGrady, a chef at Buckingham Palace who spoke with Express, "We can never serve anything with garlic or too much onions. The Queen would never have garlic on the menu."
Don't worry, Markle can still go wild with garlic at home if she likes.
2. Take Selfies With Fans
Apparently, selfies with fans aren't explicitly banned, but are "strongly discouraged," according to what royals expert Victoria Arbiter told Insider. "Royals would always rather have a personal interaction than have people clamoring for selfies. If you grant one, then it quickly becomes overwhelming," Arbiter said. "From a security standpoint, they're also not ideal as they warrant a certain closeness."
3. Have Her Own Social Media Accounts
Members of the royal family do not have their own social media accounts, but rather accounts that they share, which are used to post about events they are attending, causes they are involved with, and other updates. While Markle was previously an avid Instagrammer — she even posted some clues about her relationship with Harry — now updates about her are shared via the Kensington Palace Twitter and Instagram accounts. Usually, these posts aren't written in first-person, but Prince William recently authored his own tweets when he posted about the World Cup.
4. Write Her Lifestyle Blog
Markle used to have a lifestyle blog called The Tig, but she shut it down in April 2017. It was speculated at the time that this was in order to increase her privacy; it was five months after Harry confirmed their relationship and seven months before their engagement was announced. Now that she's officially a member of the royal family, her blogging days are definitely over — writing a blog would be similar to her having her own social media.
5. Vote
It's not illegal for Markle to vote, but it's unlikely she will if she follows tradition. According to Newsweek, a Buckingham Palace spokesperson said that "by convention" members of the family who are "close to the queen" do not vote. The Queen herself does not vote because the monarch must maintain political neutrality.
6. Run For Office
If they usually don't even vote, they're not running for office. That's not very politically neutral. Obviously.
7. Sign Autographs
According to Express, royals cannot sign autographs because of the risk of their signatures being forged. Town & Country reports that there have been instances of royals breaking this rule, but it's rare. It was thought that Markle signed her name for a young fan back in January, but it turned out she just wrote a little note.
8. Wear Dark Nail Polish
This is one that isn't a totally confirmed rule, but it has been rumored that members of the family aren't supposed to wear dark nail polish. And while it's true that the Queen, Kate Middleton, and Markle (since she joined the family) haven't been seen wearing dark nail polish, it's unclear who in the family this would really apply to. For instance, Princess Eugenie has been seen wearing a wide variety of nail colors, including Union Jack nails. But, of course, when Markle wore a slightly stronger pink color on her nails recently, people made a big deal about it.
9. Wear Mini Skirts
This is another "rule" that isn't official, but is likely to end up being the case anyway. Notably, in 2014 before the Duke and Duchess of Cambridge's trip to Australia, it was reported by the Daily Mail that Middleton was having a wardrobe makeover that included her hemlines being made longer. Previously, while she wasn't wearing, like, leather micro-minis, she did wear dresses and skirts that hit above her knees. So far, Markle has stuck to longer skirts and dresses for her royal events, and it won't be a surprise if that continues to be the case.
10. Eat Shellfish While Traveling
As the BBC reported, the royal family is not supposed to eat shellfish while on official trips as a preventative measure against food poisoning. Well, this one actually makes sense. They wouldn't want to get sick when their royal tours are packed with so many events.
11. Go Out Alone
It probably goes without saying, but Markle has security guards now. Simon Morgan, who has worked with security involving the royal family, told CBS News, "She will no longer be able to just pop to the shops and buy a pint of milk or a newspaper. A protection officer will now go with her."
While there's a lot that Markle can't do, times are changing, so some of these "rules" could end up becoming more relaxed. For instance, as CNBC reports, many younger members of the royal family, including Markle, will give hugs to fans even though royals traditionally didn't. (Princess Diana, who was a hugger herself, excluded.) For now, it's funny to imagine Markle and Harry taking selfies they'll keep for themselves in front of the garlic shrimp they made for dinner.