Meghan Markle's Dress Was Mocked By The Internet & Here's Why It's Messed Up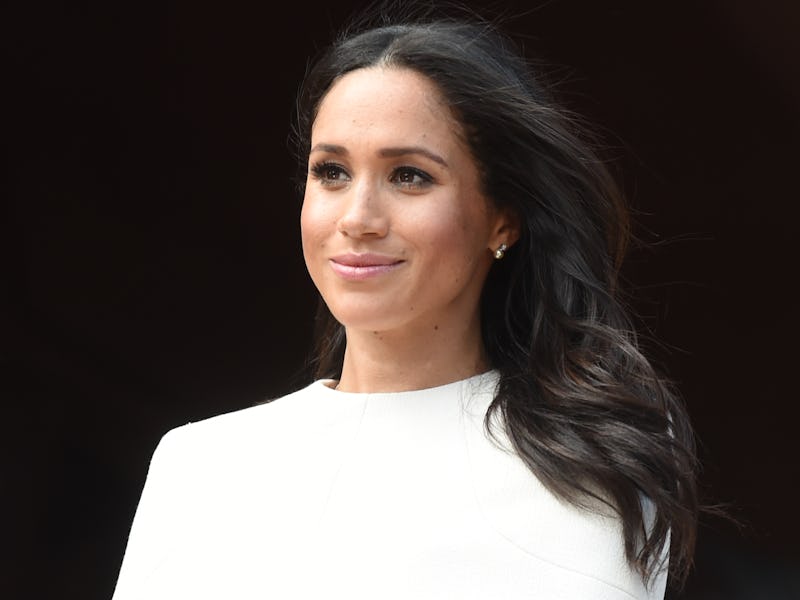 WPA Pool/Getty Images Entertainment/Getty Images
She may have enjoyed the life of a successful actress before meeting Prince Harry but the level of scrutiny the Duchess of Sussex now faces as an official member of the royal family is on another level. The former Suits star faced the eagle eyes of the public once again at the weekend as she attended a wedding with her new husband. Breaking free from any restrictive royal rules, Meghan Markle's Oscar de la Renta dress was a relaxed choice that was immediately criticized on social media.
While Harry was his usual suited and booted self, Markle arrived in a slightly different look to her previous outfits. As she stepped out for the Lincolnshire wedding of Harry's cousin Celia McCorquodale on Sunday, the former actress opted for a floaty printed dress from Oscar de la Renta's Resort 2019 collection that appeared way more comfortable than outfits at prior royal engagements. The shirtdress — which costs £3,922 and will be available to buy toward the end of this year if you're looking for something super fancy — featured a floral blue-and-white pattern. It was teamed with white heels and a budget-friendly fascinator that apparently came straight from M&S.
I personally loved the billowing sleeves and loose silhouette that was so far away from the royal family's usual tight and stiff dresses. (And it seems like Markle did, too, as she exhibited no signs of nervousness on the day.) However, it seems I am one of few.
Several people turned to social media to express their dismay at Markle's whimsical outfit choice, with people likening the 36-year-old's summer print to patterns found on a duvet or old-fashioned curtains.
Some people, however, were a little kinder, fighting back against comments that the dress was far too big for the Duchess. "Check the photo and you can see it was worn as the designer intended," one woman tweeted.
The question is, is it really anyone's place to criticize a woman's style every single time she leaves the house? Also, if you buy a garment, you can wear it however you like. Period. When it comes to women in the public eye, society loves nothing more than to tear them down via harsh fashion-related words. But none of these women — whether Hollywood stars or members of the royal family — signed up to be mocked and condemned. When Meghan Markle married Prince Harry, she didn't sign up to becoming a fashion icon and held accountable to that every time she leaves the house. How would you like it if a dress you chose to wear resulted in bullying comments online? Exactly.
While many famous people enjoy the luxury of a stylist, they occasionally do pick their own outfits. It's unclear whether this particular dress was Markle's own choice but either way, women should be celebrated for wearing what they feel comfortable in, rather than bending to the whim of what society deems fashionable and appropriate.
Yes, Markle's dress was a completely different aesthetic to the structured looks she has been seen in so far. But a person isn't defined by one look. Fashion is all about experimentation and having fun. Although the cameras were still on the newly married royal couple, Markle knew that attending the wedding of a relative was a rare occasion on which she could really be herself. She was there in a private capacity, so why not let her wear what she feels great in? Just because she so often finds her fashion choices lauded, it doesn't mean she's under any obligation to deliver outfits that the public or fashion community approve of every time she leaves the house.
Living in a society that is supposed to support women doesn't mesh well with the constant criticism that women face for their fashion, beauty, and general lifestyle choices. In January 2018, Bustle made the choice to ban the word "flattering" in our fashion coverage for this very reason. Women should be free to step out in any look they feel comfortable with, regardless of the F-word.
When I was younger, I (along with many other children) used to dream of becoming famous. Now I'm older and wiser, I don't envy A-listers at all. I value my privacy and relish that I can walk outside in a tracksuit with messy hair and not be judged by the world.
So the next time you think of posting that nasty comment about Meghan Markle or any famous woman, sit back and think how you would feel if you were the subject. I guarantee you'll be pressing that delete key quicker than you'd think.