Meghan Markle's Engagement Ring Will Reportedly Feature Diana's Diamonds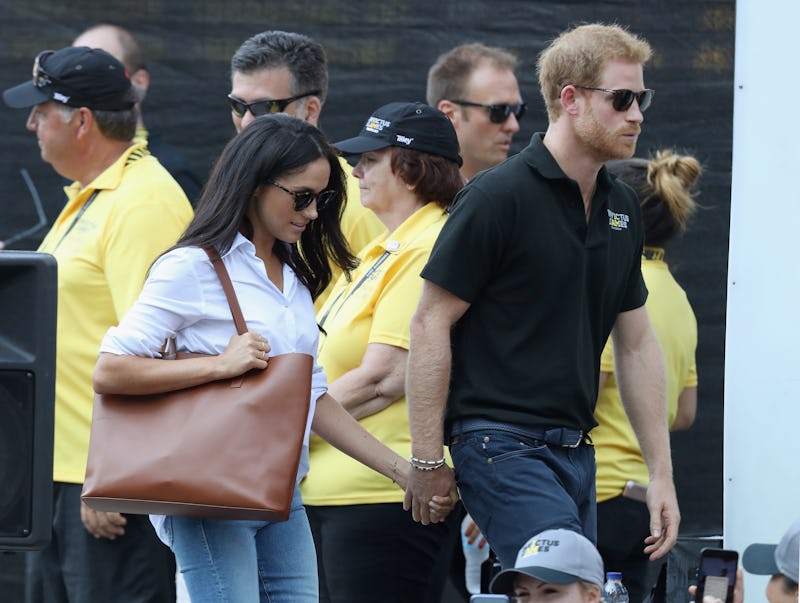 Chris Jackson/Getty Images Entertainment/Getty Images
Prince Harry lost his mother at a very young age, but that doesn't mean that he's leaving her out of his engagement. Harry's fiancé Meghan Markle's engagement ring will sparkle with Princess Diana's jewels, which Harry inherited after her death. Us Weekly reported on Saturday — two days before their public engagement announcement — that Prince Harry had designed the ring himself, and that it would feature diamonds from a brooch of Princess Diana's. Harry evidently wanted to create something very special for his fiancé, but including something of his mother's in the celebration is the perfect way to honor the beloved princess.
Despite these tantalizing details, no pictures of the ring — or even the brooch — have emerged yet. This is no surprise considering that the engagement had to remain a secret until now, but the public announcement now means that pictures might start coming out soon — that is, if the ring has already been made, which is not a sure thing.
Harry isn't the first in his family to bestow his mother's jewels upon his partner. Prince William also proposed to Kate Middleton with Princess Diana's sapphire engagement ring, which she now of course wears. Both Prince William and Prince Harry recently opened up about how difficult it was for them to get through the grief after their mother's death, so it's only fitting that they would want to carry her legacy forward in some small physical form as they start their own families.
Prince Harry and Markle will come to Kensington Palace on Monday afternoon for a photocall and then there will be a television broadcast announcing the engagement Monday evening, so it's entirely possible that the ring could be on display then. Given how romantic their courtship has been, it's sure to be gorgeous. And while we don't know exactly when Prince Harry and Markle's engagement actually took place or how Prince Harry proposed, it's clear that they've been keeping it a secret for at least a couple of weeks. Now that it's out in the open and assuming that the ring is actually ready, Markle will finally be able to start wearing it out in public.
This is yet another way in which Markle is being welcomed warmly into the British Royal Family. The Queen and Prince Philip released a statement saying that they were "delighted for the couple and wish them every happiness," and the Duke and Duchess of Cambridge expressed similar sentiments, saying "We are very excited for Harry and Meghan. It has been wonderful getting to know Meghan and to see how happy she and Harry are together." Prince Charles, Prince Harry's father, said that he was "thrilled" and "very happy indeed."
In the BBC documentary about Princess Diana as reported on by ABC News, Prince Harry said that "Now all I want to do is try and fill the holes that my mother has left, and that's what it's about for us — is trying to make a difference and in making a difference, making her proud." Markle will be wearing a piece of Princess Diana on her left ring finger, but she'll also in many ways be stepping into Princess Diana's role. Markle is already a philanthropist and she's used to assuming the spotlight — although maybe not quite to this degree, but still. Diana also lived a life of service, and she was extremely well loved by people she met across the social spectrum.
Markle also seems to be very open and down to earth, and she's certainly already dedicated to humanitarian work. Princess Diana, of course, isn't around to meet her son's future wife — but judging just based on that one aspect of her life, Diana would probably be thrilled to see her jewels given to a woman like Markle.