Meghan Markle Is Making Her Return To TV, But Not In The Way You Think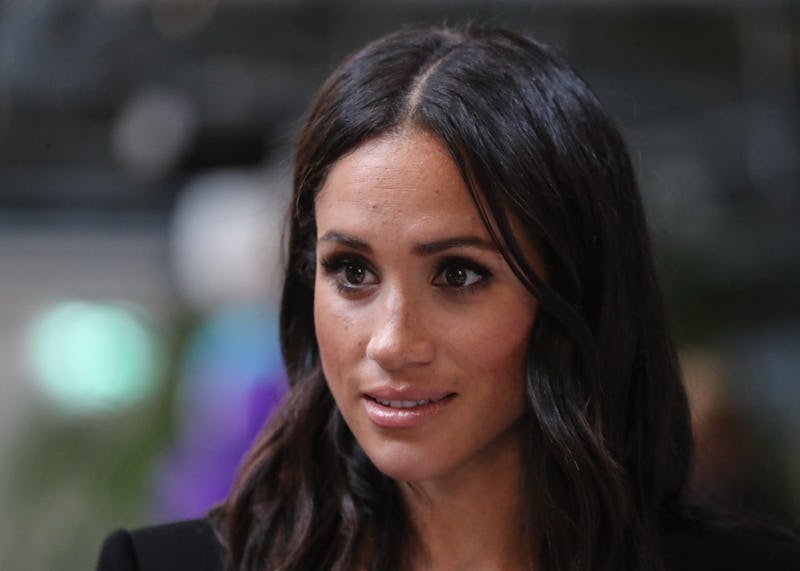 Pool/Getty Images Entertainment/Getty Images
Here's some exciting news for royal family fans — Meghan Markle's first TV interview since becoming a royal has been confirmed. I know. It's going to be part of a momentous two-hour documentary produced by ITV entitled Queen of the World. As the title suggests, the doc isn't about Markle, but her granny-in-law, The Queen. The film will explore the importance of the Commonwealth to Her Majesty, and how she has been using her experience as sovereign to help guide younger royals, including the Duke and Duchess of Sussex.
To find out more about Meghan's interview, I contacted a representative for ITV who tells me that "whilst the series is still in production [they] are unable to confirm details about individual contributions." But, they were able to tell me that the documentary "does not feature a 'big sit-down interview' with Meghan, as has been speculated this morning," rather something subtler. Still, it's an interview nonetheless.
According to an ITV press pack sent to Bustle UK, in addition to Markle, Queen of the World will also feature "other members of the royal family, including the Prince of Wales, the Duke of Cambridge, the Duke [...] of Sussex, the Princess Royal, and the Countess of Wessex." Each will open up about why the Commonwealth has not only been of huge significance for the Queen, but for the entire royal family. "This film is a rare opportunity to see Her Majesty up close and behind the scenes in this role, which means so much to her and has been significant for Britain and the Commonwealth," ITV's controller of factual, Jo Clinton-Davis, added.
There will also be "exclusive footage of [the Queen] interacting with other global leaders" according to The Independent.
In my opinion, it will certainly be interesting to see what Prince Harry and Markle have learned from the monarch, as they will be embarking on their first Commonwealth Tour in Australia, Fiji, the Kingdom of Tonga, and New Zealand this October, which will take place "exactly 65 years after the Queen's first Commonwealth tour," as executive producer, Nicholas Kent, indicated in the press release.
Harry and Markle certainly don't have anything to worry about when it comes to their first solo tour. Not only do they have the Queen and Prince Philip to turn to for advice, but the Duke and Duchess of Cambridge undertook the same visit back in April 2014, which was also "their first visit there as a married couple," according to the Metro.
In April 2018, it was revealed by Kensington Palace that the Queen had appointed Prince Harry as a Commonwealth Youth Ambassador. In a further statement, the Palace described the details of Harry's new role, which "will highlight and support the work and aspirations of young people across the Commonwealth, on both UK engagements and overseas tours to Commonwealth countries."
Harry later gave his first speech as ambassador at the Commonwealth Youth Forum, commending his grandmother's commitment to her role as Sovereign, as reported by The Telegraph. "When I was reflecting on how to make the biggest impact with this new role, I turned to the ultimate source of guidance on all things Commonwealth: the word of the Queen herself," he said.
"Her Majesty's commitment has meant that The Commonwealth is a thriving family of nations, a common link between nearly two and a half billion people, and a defender of democracy, justice, and peace."
The Prince also excitedly confirmed that Markle would be a part of this journey too, imploring that he is "incredibly grateful that the woman I am about to marry, Meghan, will be joining me in this work, of which she too is hugely excited to take part in."
I for one cannot wait to see what Harry and Markle bring to the Commonwealth. Personally, I'm sure they'll do the Queen — and the world — proud.