Prince Harry & Meghan Saw 'Hamilton' With Lin-Manuel Miranda & That's Not Even The Best Part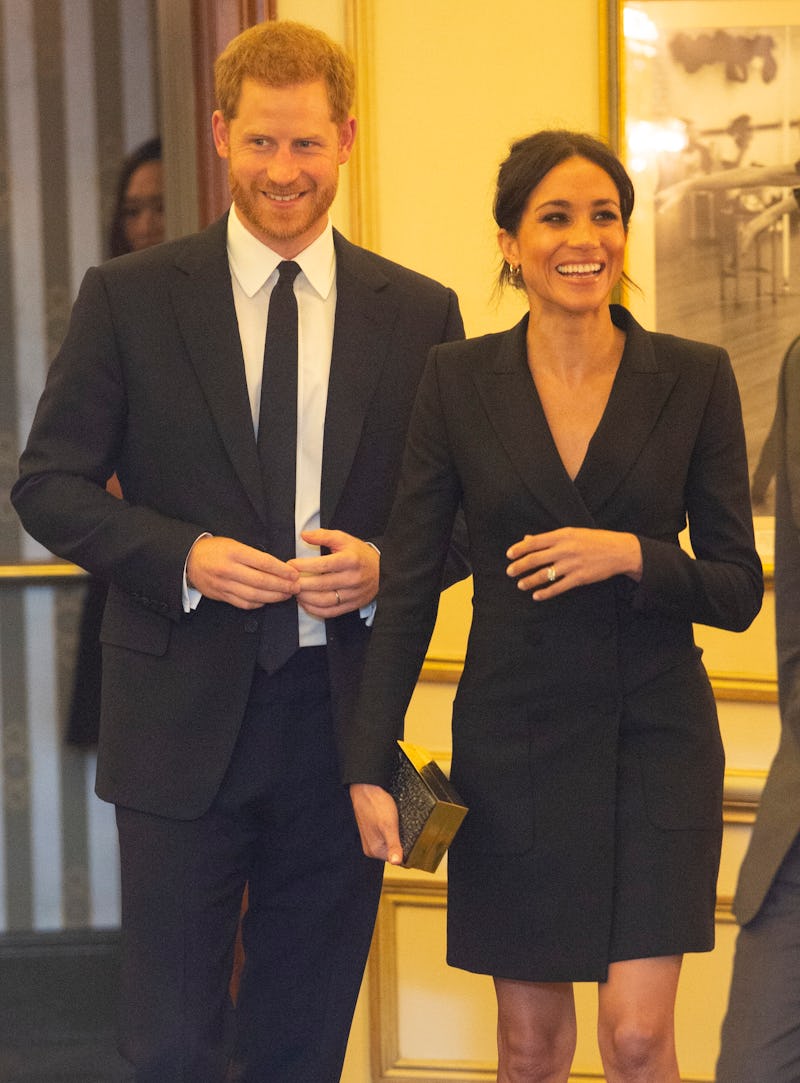 WPA Pool/Getty Images Entertainment/Getty Images
Meghan Markle is a noted Hamilton fan, and it looks like she's convinced Prince Harry to love the musical, too. Prince Harry and Meghan Markle saw Hamilton in London on Wednesday, but it wasn't just a regular night at the theater. The West End musical had a special gala performance to benefit Prince Harry's Sentebale charity. And the creator of Hamilton Lin-Manuel Miranda showed up to the event, too.
Prince Harry and Prince Seeiso of Lesotho co-founded Sentebale in 2006. According to the official website, the charity helps children in Lesotho and Botswana whose lives are impacted by HIV. The proceeds from Wednesday's Hamilton gala went toward Sentebale's important cause.
Aside from the charitable component, Prince Harry and Meghan Markle's Hamilton visit is noteworthy for another reason. It was the couple's first public appearance in more than a month, Cosmopolitan noted, and fans were eager to see the Duke and Duchess of Sussex out and about again.
Hamilton fans who haven't been able to find themselves in "the room where it happens" will be particularly jealous of the Duchess, too. The gala was apparently Markle's third time seeing Hamilton, the others being in New York with Priyanka Chopra, and in London with Prince Harry earlier this year. This time around, the royal couple got to meet with the Hamilton cast, as well as with Miranda.
The Hamilton gala is only the latest in Prince Harry's Sentebale efforts. In June, Prince Harry visited Africa to see the opening of a new school in Lesotho. He also attended the International AIDS Conference in Amsterdam this summer, where he met with young people. It looks like getting married hasn't stopped the royal from pursuing plenty of charitable efforts.
And even though they've taken some time out of the spotlight, Prince Harry and Meghan Markle will be making several more appearances soon. According to People, the couple will attend an awards event next week for WellChild, another charity Prince Harry is involved with. Prince Harry and Meghan Markle will also attend the 100 Days To Peace event next week to commemorate the anniversary of the end of World War I, People noted. That event will benefit mental health programs for veterans.
Aside from attending charity events, the royal couple recently marked a relationship milestone that commoners can appreciate. Prince Harry and Meghan Markle reportedly got a dog this summer, though Kensington Palace hasn't confirmed the news. Still, it sounds like the couple is keeping super busy, and they have a good balance going between royal obligations and taking personal time for themselves.
Prince Harry and Meghan Markle's Hamilton outings are also a fun reminder that being a part of the royal family doesn't have to mean giving up a love of pop culture. Markle's life has changed in countless ways since her wedding, but she's still able to do one of her favorite things: seeing Hamilton over and over. And it's inspiring that the couple used their love of theater to support Prince Harry's charity in such a sweet way.