Meghan Markle's Half-Sister Is Writing A Tell-All & The Title Will Make You Cringe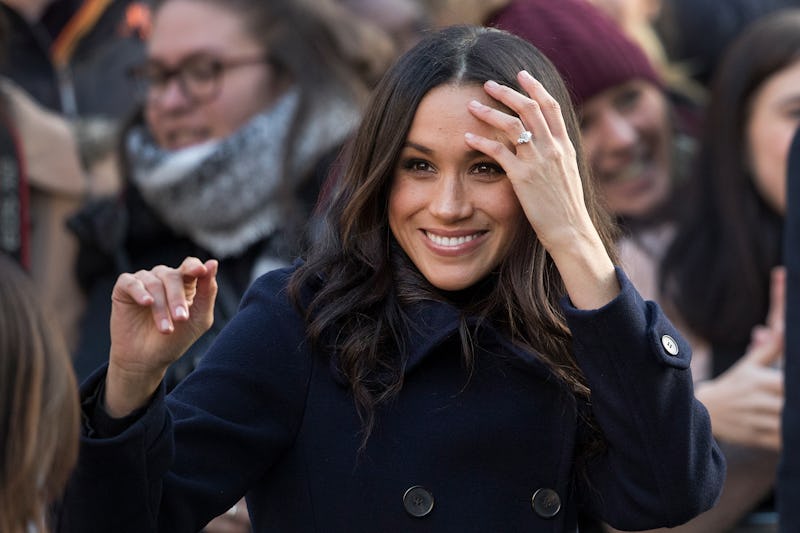 Christopher Furlong/Getty Images Entertainment/Getty Images
As if Meghan Markle hasn't had to deal with enough since announcing her engagement to Prince Harry in November, she's also been dealing with some family drama. Meghan Markle's half-sister Samantha Grant is writing a tell-all book about the future Mrs. Prince Harry. The name of Grant's memoir is "The Diary of Princess Pushy's Sister," which kind of demonstrates the vibe it will likely be projecting, aka not that flattering. (Bustle couldn't reach Grant for comment and Kensington Palace didn't return Bustle's request for Markle's comment.) According to Vanity Fair, this is what Grant had to say about the premise of her book.
"First of all, it's only a tell-all in that I go through and recant some of the beautiful nuances of our lives, our family home. But more importantly, it has to do with the inter-racial evolution of this country through the lens of my life and my family since the Civil Rights Act until present, and how that intersects with this recent event with my sister, you know, my feelings about it, my family's feelings about it, and how sad it was going through it all. But it's more of a beautiful, warm, witty story of our lives and my life."
As reported by The Sun, Grant is Markle's half sister, meaning they have the same father. She is listed by The Sun as a "52-year-old former actress and model, who lives in Florida," and her Twitter bio states that she is also a vegetarian and holds several degrees, including an MA in Creative Writing and a BA in Criminology/Psychology. Her Twitter account also provides a lot of details surrounding the family dynamic, because Grant doesn't seem shy about airing family business on her public account. Her Twitter cover photo also has "Princess Pushy's," "Meghan," and "Sister" (the words of her memoir title) splashed across it.
According to Vanity Fair, Grant reportedly claims in interviews now that she and Markle are allegedly not estranged and that she "helped raise" her younger sister for years. A source for People claimed, however, that Markle has not had contact with Grant or her other half-siblings in over a decade.
Grant seems to be a little conflicted about her views on her sister and her impending marriage. In a video interview for Good Morning Britain, Grant said that Markle is "strong, very worldly, very educated, very graceful." She added, "I think the British people and the world will be surprised. There's so much the public doesn't know. [They'll be surprised] by how graceful and how lovely she is." But, that hasn't always been how she has spoken about Markle in the past. An article earlier this year from Elle UK claimed that a harsh tweet from Grant about her book may have been directed at Markle.
She also mentioned Markle by name in a tweet that bashed her humanitarian efforts and, in another tweet, seemed to claim that Markle is someone with no "basic human consideration."
Per another article by The Sun, Grant had a lot to say when her half-sister first started dating Prince Harry. Grant claimed that Markle was a "social climber" and alleged that "Hollywood has changed her. I think her ambition is to become a princess." Obviously people will always have an opinion, especially in regards to royal relationships, but Markle and Prince Harry's private relationship is not for anyone to claim to have any real authority on — even if that person is related to them.
Grant went on to tell The Sun that, in her opinion, "[Markle's] behavior is certainly not befitting of a royal family member." And, Grant claimed, "The royal family would be appalled by what she's done to her own family. The truth would kill her relationship with Prince Harry." Meanwhile, Grant's mother Roslyn Markle has come to Meghan's defense, according to The Daily Mail. "Samantha has been dogging her for the last 20 years. Everything she has said about [Meghan] is a lie," Grant's mother claimed.
With all of this conflicting information about Markle and Grant's relationship, it is probably important to take Grant's side of the story in her memoir with a grain of salt. After all, family drama is often complex in even the most mundane of circumstances. As for what else Grant plans to say about Markle in the book and in interviews, only time will tell.