Meghan Markle's Half-Sister Just Took Responsibility For THOSE Staged Photos Of Their Dad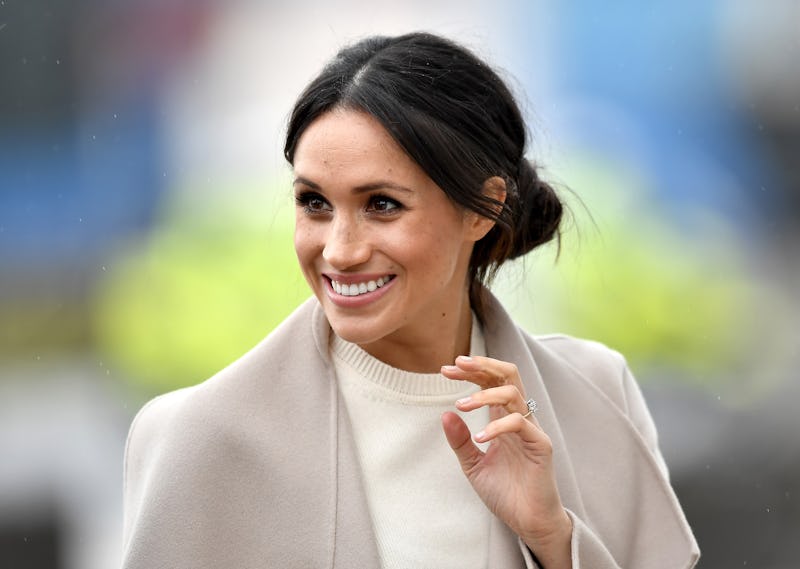 Charles McQuillan/Getty Images Entertainment/Getty Images
With the royal wedding just days away, news has kicked up surrounding various members of the Markle family. Lately, the spotlight has been on Meghan Markle's dad, who made headlines earlier this month after a series of "paparazzi" photographs (which showed the 73-year-old engaging in some conceivably charming, royal wedding-themed tasks) were found to be staged. Now, less than a week before the wedding, Markle's half-sister is taking responsibility for the staged photos of their father, according to the Daily Mail.
UPDATE: On Monday afternoon, Kensington Palaced released a statement about Markle's dad to Us Weekly, regarding the onslaught of headlines about him in recent days:
"This is a deeply personal moment for Ms. Markle in the days before her wedding. She and Prince Harry ask again for understanding and respect to be extended to Mr. Markle in this difficult situation."
EARLIER: Samantha Markle seemed to clear her father's name Monday morning, May 14, when she assumed credit for the "staged" photos in a tweet directed at Kensington Palace. Though her account is protected and not visible to the public, the Daily Mail published a screenshot of Samantha's tweet. Per the screenshot, Samantha penned a pretty straightforward message to her following, admitting that the photographs were her idea:
"The bad press over my father doing staged photos is my fault. The media was unfairly making him look bad so I suggested he do positive photos for his benefit and the benefit of the royal family."
For those who missed the staged photo saga when it first happened, let's get you caught up: A few weeks ago, the internet (royal enthusiasts especially) seemed to have the warm and fuzzies for Thomas Markle, the father of both Meghan and her half sister, Samantha. The buzz over Markle's adorable dad cropped up primarily in response to an ostensibly bizarre — but nonetheless endearing — set of photos. The photos show him performing what seemed like pre-wedding preparations. One photo, for example, featured Mr. Markle perusing the internet for snapshots of his daughter with Prince Harry, while another pictured him getting fitted for a suit.
But after Daily Mail reportedly gained access to security footage that showed Mr. Markle and a photographer setting up before a shoot inside an internet cafe in Rosarito, Mexico (where he lives), people began to question his motives for apparently staging the photographs.
An earlier report by The Mail on Sunday, published over the weekend, claimed that the photo series could have the potential to earn the Markle family as much as £100,000. It doesn't seem like there's a concrete figure to back that up, except for the obvious fact that the photos later appeared in a medley of publications around the world. As The Mail on Sunday noted in its report, that could mean the Markles received payments from those newspapers that printed the photos.
Despite those claims, Samantha apparently made sure to state explicitly in the screenshotted tweet that the photos were not taken with monetary rewards in mind. To that end, her tweet wrapped up with a statement that'll hopefully be difficult for press to misinterpret:
"We had no idea he would be taken advantage of. It was not for money."
As the Daily Mail mentioned, Markle's half-sister echoed the claims laid out in her tweet during an interview Monday morning with ITV's Loose Women (a daytime British talkshow). Discussing the photos of her father, Samantha spoke plainly. "I have to say I'm entirely the culprit," she began, explaining that her photo shoot idea was predominantly in an effort to paint her father in a flattering public light ahead of the royal wedding.
"As we know, the media can take very unflattering photographs of people on their casual days and blow it way out of proportion," she told ITV, according to OK! magazine's U.K. site. Recalling a conversation with her father, in which Samantha apparently told him "to show the world that you're getting in shape and doing great healthy things," she told the talkshow hosts that she "suggested [staging the photos] to benefit him and the royal family."
As for the money question, one of the hosts reportedly asked Samantha, point-blank, if her father had been compensated for the photos. Per the Daily Mail, Samantha responded saying, "I have no idea [if he was paid], but if he was, it would have been a pittance," insisting once again that the whole ordeal "was not money-motivated."
Earlier this month, there was some buzz as to whether Markle's dad would even be attending the royal wedding. But per a subsequent series of reports, the first of which was released by People, it sounds like royal fans can definitely expect to see Thomas walking his daughter down the aisle.
With that being said, hopefully the Markle family can put the media-fueled hubbub behind them. Because staged photos or not, everyone — Thomas Markle included — deserves some peace of mind on their daughter's wedding day.