Meghan Markle Just Broke Royal Tradition By Wearing A Messy Bun & Looked So Good Doing It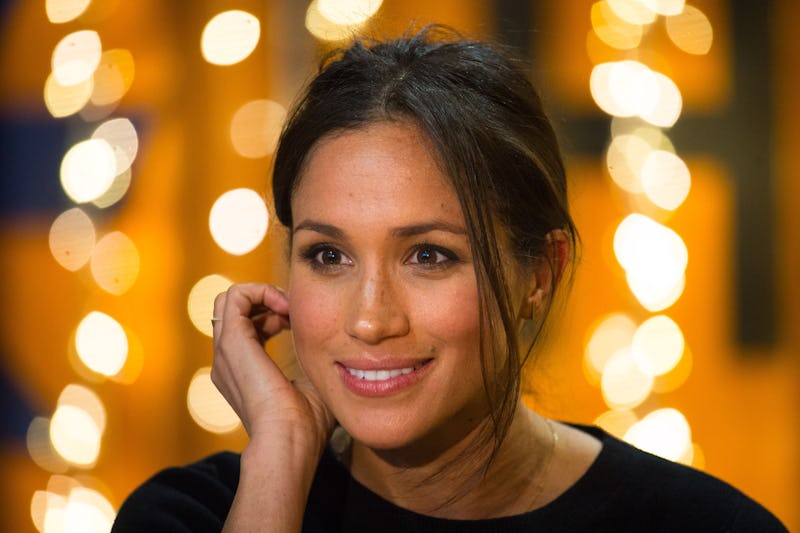 WPA Pool/Getty Images Entertainment/Getty Images
The Royal family lives by a strict set of rules that dictate everything from how to sit (with an egg-sized amount between your back and the chair) to what kind of nail polish you can wear when stepping outside. But one soon-to-be royal is forging her own path, especially when it comes to her fashion choices. Meghan Markle wore a messy bun to a royal outing, and it has everyone talking.
Markle is already making a reputation for herself where she side-steps certain protocols so she can be more herself. For example, earlier last month she groundbreakingly wore a handbag rather than a clutch to an outing with Prince Harry, so she could free up her hands so she could interact with fans lining up to see them. Kate Middleton is infamous for always carrying a clutch, which symbolizes that she will not be shaking hands with anyone at the event. Royal etiquette decrees that one is not allowed to touch a royal unless the aristocrat make the first move first, and a good way to hint they won't be making any such move is to hold a clutch with both hands. Markle has already forgone that loophole and, instead, opts for handbags.
She also has stepped out without tights for her engagement photos, which the Queen requires all women in her family to wear.
While this doesn't sound revolutionary to us common folk, it could be seen as quite scandalous inside etiquette circles. Markle's newest fashion stand happened on Tuesday, when she went with Prince Harry to a radio station in London. Wrapped up in a chic heather gray coat and matching scarf, her hair was swept back into a low, messy bun.
Again, it's not exactly earth shattering, especially considering how every woman (and a good chunk of the male population) has rocked that same look at least once in their lives. But when you compare that casually disheveled look to what Kate Middleton wears, it's a pretty big divergence.
Middleton is always either spotted in an immaculate blowout or a classic chignon, even sometimes opting to put her hair into a hairnet to make sure it doesn't dishevel throughout the day. The Queen herself also adheres to strict (and old fashioned) hair rules, where she always wears a hat to cover up her locks because of an old tradition that bares women from showing their hair.
While it doesn't look like there is a specific hair rule in the etiquette guide book, one could assume that a messy bun is a bit of a new take when it comes to royal engagement looks. But it seems like the Queen doesn't have a strong objection to these new style detours.
Clocking in at 91 years old, the Queen has relaxed more when it comes to everyday rules. "It's her age," says Ingrid Seward to People, author of My Husband & I, a new biography of Queen Elizabeth and Prince Philip. "She is easier-going. It's refreshing that [the royal family] is prepared to bend a bit."
And while everyone is calling Markle the rebel of the family, that just might be because she's new and so everyone is watching her every move. Middleton has veered away from the good-and-proper multiple times herself, and it was met with the same kind of indifference by the Queen. For example, she has been spotted wearing jeans to royal affairs multiple times (a previous no-no) and has also donned things like wedges, which the Queen specifically asked women not to wear since she hates them.
Whether the messy bun is as scandalous as it's been made out to be or not, it's still pretty cool to see a royal rock a look many of us do on a daily basis.