Look Closely, Because Meghan's Messy Bun Is Low-Key Sending This Subtle Message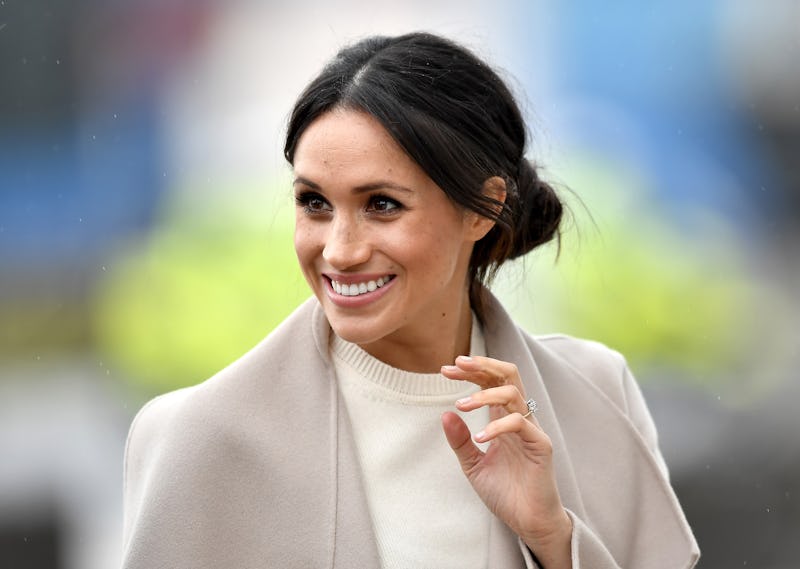 Charles McQuillan/Getty Images Entertainment/Getty Images
When Meghan Markle and Prince Harry made their first appearance together at the 2017 Invictus Games, my eyes were instantly drawn to her laid-back wardrobe. Well, they were after I stopped gushing over the couple's super cute PDA, that is. Her tousled hair. Her ripped jeans. Her supersize Everlane tote. The outfit was refreshingly different to the usual royal uniform, and I officially became a fan of the future Duchess of Sussex's relaxed sense of style. But it turns out the low-key approach isn't as effortless as it seems, and signatures like Meghan Markle's signature messy bun reportedly play a big role in making her seem super modern and relatable. And it's totally working, in my opinion.
Style expert and sociologist Dr. Anna Akbari explained to Elle that Meghan's relaxed hair style could actually be a smart, strategic choice. She said, "My guess is it took more than it does when you put your hair in a messy bun to go to a workout class. It is not a half-a** messy bun."
"There are certain contexts in which strategically dressing down demonstrates a 'hipness.' It's a different type of power dynamic than it would be if you were to wear a suit," she continued. "The way we communicate is a full-spectrum, multi-sensory communication. Bottom line—[Markle is] aware she's sending signals. I don't think anything that she's doing is haphazard."
Markle has definitely been putting her own twist on the royal dress code, with her fresh, contemporary wardrobe. According to PEOPLE, Meghan's choice to opt for sharp AF suits could be a point of contention as a source told them "the Queen prefers women in dresses or skirts rather than trouser suits." But when she beats Prince Harry at his own game in a slick Givenchy suit, how could you possibly complain? And given that Meghan Markle and the Queen seem to get on like a house on fire, I'm guessing the monarch isn't that fussed about whether her granddaughter-in-law wears trousers or not.
Another style rule that Meghan hasn't always stuck to is one that requires the female members of the royal family to wear tights. Grant Harrold, former butler to Prince Charles, told CNBC, "royal ladies should wear tights." And not just any tights - flesh coloured ones. However in her engagement photos and early appearances, Meghan went bare-legged because, let's face it, life's too short. And as she wasn't an official member of the royal family back then, she had a little more leeway with its strict style rules. She has been spotted wearing them in some post-wedding appearances however, leaving me slightly worried that her style might about to get a little less laid-back and a little more traditional.
But it's not just Meghan's hair or her lack of tights, Susan Courter, the mastermind behind the blog What Meghan Wore, has also previously pointed out that the brands Meghan wears make her more "accessible", too. From more affordable labels like Missoma and Theory, to lesser known designers like Mackage and Strathberry, Courter told Jezebel that Meghan's pieces look more like "things that many of us could buy" and that's part of her appeal.
I spoke to Yasmine Bachir, Lyst's Senior Comms Executive and royal expert, to find out more about Meghan's unique appeal. The global fashion search platform has tracked the rise and fall of demand for certain items of clothing that the Duchess of Sussex has worn, the famed Meghan Markle effect play out first hand.
Bachir said, "Meghan has opened doors for emerging brands — Misha Nonoo and Line the Label to name a few of her favourites — and it's been fascinating to see demand for these lesser-known brands skyrocket. Meghan's most simplistic looks that people tend to resonate more with have shown to be the most impactful — the simple shirts, jeans, and ballet pumps have influenced the most searches."
Courter also explained to Jezebel how Meghan's more laid-back style choices aren't just for her own personal branding, they also apparently play a strategic part in her less-formal public appearances. Courter said, "When it's a more relaxed event, you'll see a different look. That more relaxed feel. The messy bun. I feel she is doing that so that everyone around her feels comfortable in those events, that they don't feel like oh there's somebody here that's so royal and formal and we have to act a certain way. So they feel more comfortable with her, with her personality."
And I reckon Meghan and her team of stylists are nailing it. While I'll always love seeing the rest of the royal family in their Philip Treacy hats and Alexander McQueen gowns, when Meghan steps out in something I might wear it just gives me this warm fuzzy feeling. It kind of makes me think that maybe we could be pals — which I guess is all part of the message she's trying to project. And I, for one, am very much on board.