Meghan's Secret Grenfell Visits Are Finally Explained In Her Incredible New Book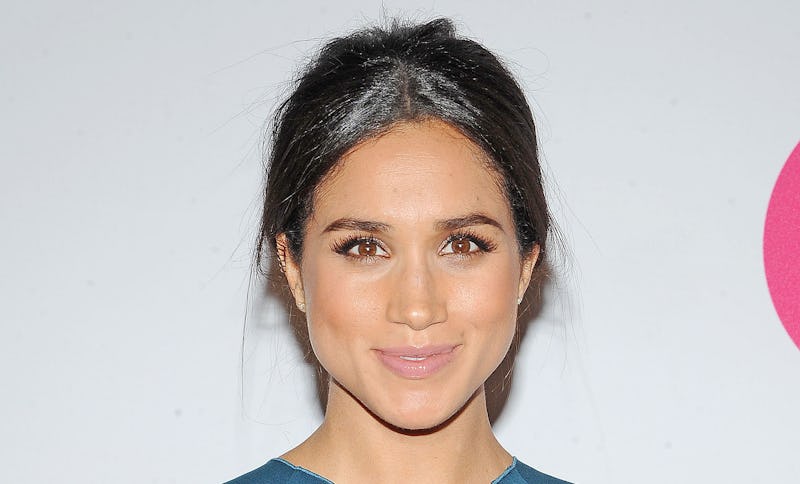 Broadimage/Shutterstock
The Duchess of Sussex has announced her first solo project since joining the royal family — she's launching her very own cookbook. If you're wondering where to buy Meghan Markle's cookbook, I have good news; Penguin Random House has confirmed to me that it's set for release on Thursday, Sept. 20, and will be available at "all good bookshops and online retailers." However, this isn't going to be your average cookbook. Nope. After spending the past few months visiting women affected by the June 2017 Grenfell fire, Markle decided to create this book, which features more than 50 family recipes, to help raise money for survivors of the tragedy. And the story of how the book came into fruition will honestly make your eyes water.
In a video released by Kensington Palace, the 37-year-old royal explains that she first visited the Al-Manaar Muslim Cultural Heritage Centre in January. "As I was settling into my new home of London, I met a group of women whose community had been affected by the Grenfell fire," she said. "And so for two days every week, these women were able to cook and share their delicious recipes together."
Women from all different cultures visited the kitchen, cooking meals for their families, who were forced to live in hotel rooms without cooking facilities after the fire tragically killed 71 people last summer.
In the same video, one of the residents mentions that Markle asked why the recently renamed Hubb Community Kitchen ("hubb" means "love" in Arabic) wasn't open seven days a week. After explaining that it wasn't possible due to funding, the royal brought up the idea of a cookbook.
Markle visited the kitchen several times privately, eventually deciding to put the community in touch with the publisher, Penguin Random House. She also tasked her Royal Foundation with assisting various legal and administrative issues. The resulting publication, Together: Our Community Cookbook, contains tens of unique recipes hailing from numerous cultures and countries.
The Duchess has written the foreword to the book and stars on the cover. As the Daily Mail reports, she writes:
"I immediately felt connected to this community kitchen; it is a place for women to laugh, grieve, cry, and cook together. Melding cultural identities under a shared roof, it creates a space to feel a sense of normalcy — in its simplest form, the universal need to connect, nurture, and commune through food, through crisis or joy — something we can all relate to. Through this charitable endeavour, the proceeds will allow the kitchen to thrive and keep the global spirit of community alive."
Markle and the Grenfell community hope that at least 50,000 copies of the book will be sold, raising more than £250,000 to keep the kitchen open every day of the week. According to Hello! magazine, it will be priced at £9.99.
The royal has long shown a passion for cooking. Her now defunct lifestyle site, The Tig, often showcased various recipes and featured interviews with well-known chefs. One of her favourite dishes is traditionally British. In an interview with Good Housekeeping in 2017, she described "a perfectly roasted chicken" as being a total "game changer. I bring that to dinner parties and make a lot of friends."
Last month, a source told Entertainment Tonight that Markle used her cooking skills to bond with Prince George and Princess Charlotte, saying: "An avid cook, Meghan often pops around to visit with Kate and the kids dropping off treats."
This latest charitable pursuit is only securing Markle's place in our hearts. So if you want to help the Grenfell community come together (and learn some neat recipes while you're at it), invest in the Together cookbook. Even if you're a hopeless cook, it'll make a lovely Christmas present.