Meghan Markle Just Had The Most Unexpected Reunion While Visiting New Zealand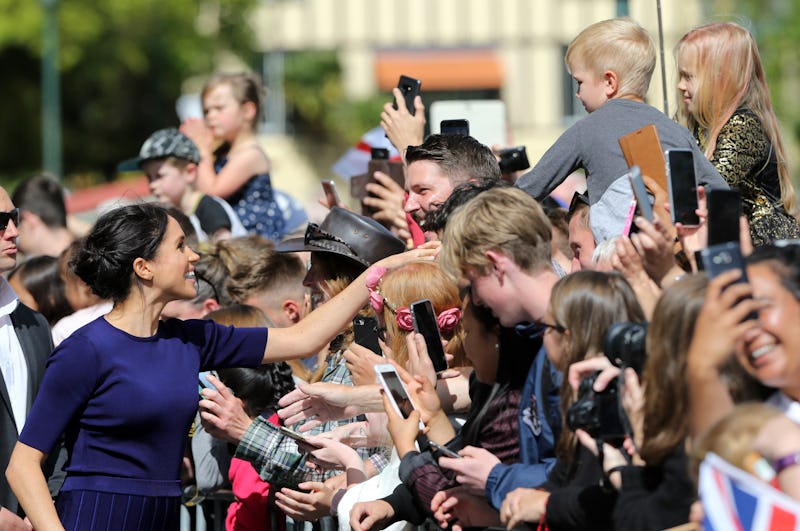 Pool/Getty Images Entertainment/Getty Images
As a surprising part of the royal tour, Meghan Markle's New Zealand visit with Prince Harry included an unexpected and emotional reunion with an Instagram fan. According to E! News, Markle and Prince Harry were leaving the Viaduct Harbour in Auckland when she spotted 20-year-old Hannah Sergel in the crowd. Sergel, a native New Zealander, had been a friend of Markle's on Instagram before she had to deactivate her account, and Markle immediately rushed over to say hello.
Sergel said to 1 News Now NZ of her prior friendship with Markle,
I was friends with her on Instagram before she had to deactivate her account. We used to have conversations and stuff on there. She would tell me to do well at university and encourage me to be myself. It means the world to me. I am so shaky and flustered. When I first saw her, I cried.
Markle and Sergel hugged, then shared a quick, smiling exchange before Markle had to move along. But Sergel did say that she was able to give Markle a letter she wrote for her, and Markle confirmed that she would read it.
To E! News, Sergel said of the brief but emotional exchange, "It was so amazing!" She added, "She was so lovely and kind about it all despite being rushed. I'm just so grateful I got the opportunity to meet her face to face and never expected a hug. I'm still on cloud nine to be honest!"
It's not totally clear how Markle and Sergel initially met one another, though Sergel did confirm that their friendship was strictly limited to Instagram communication until they met in Auckland, and that Markle did follow her back on Instagram. Sergel is notably a huge Suits fan, and traveled from Christchurch for the Auckland event.
Sergel's Instagram feed provides proof of their longstanding communication: she posted a video of Markle saying hello to her in January of 2016. It's unclear where Markle is in the video, or who is actually taking the video, but Markle says, "Hi Hannah! So good to finally meet [you!] You guys are so supportive, I appreciate it so much. Sending you lots of love, I hope I get to meet you soon."
Two and a half years later, they finally met. Sergel later posted two sets of Instagram posts of the encounter, which contained both photos and videos of Markle spotting Sergel in the crowd and coming over to say hello, her baby bump on full display. Sergel captioned one of the Instagrams, "Thank you for everything, meghan 🧡 #royaltour"
According to 1 News Now NZ, Markle and Prince Harry were joined later in the day by Prime Minister Jacinda Ardern and Auckland Mayor Phil Goff. Sergel wasn't the only fan overjoyed to see them: Markle also reportedly received a bouquet of flowers from a young girl who was moved to tears by their interaction, and Prince Harry was given a small elephant toy from the girl as well.
Markle is currently several months pregnant, and expecting her first child with Prince Harry in the spring of 2019.