Meghan Markle's Trendy Handbag Broke Strict Royal Rules & Here's Why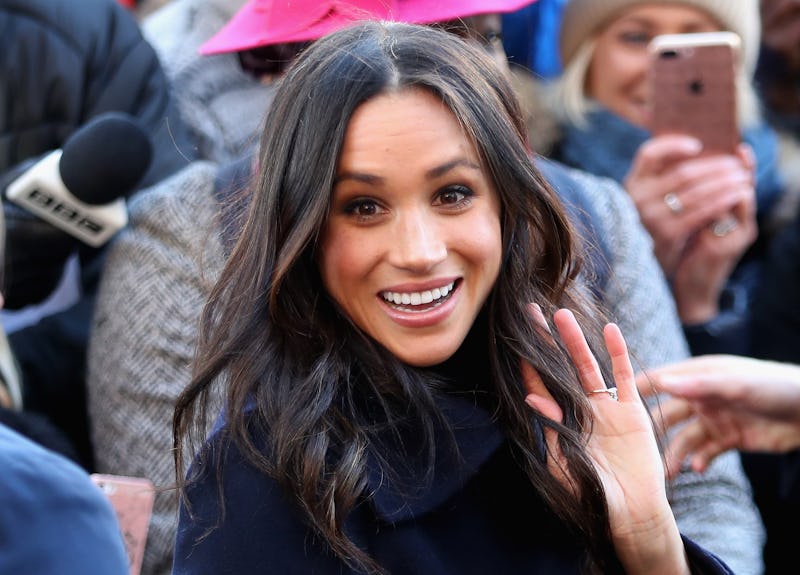 Chris Jackson/Getty Images Entertainment/Getty Images
Meghan Markle has been making waves recently thanks to her new fashion icon status. While the actress has always been stylish, fashionistas have been recently tripping over themselves to copy her style since she became the newest soon-to-be-royal. And while the coats and earrings she wore during her engagement photos have been crashing sites and selling out like they're Kylie Lip Kits, some of her fashion choices are interesting for a reason other than pure aesthetics. Take Markle's Strathberry's Tricolor Midi Tote for example – and how it broke royal protocol.
The royal family follows a bevvy of small but strict rules that enforce etiquette, with the practices spanning from members not being able to wear colorful nail polish to having to sit in a chair with an "egg's width of distance" at your back. However, Markle's purse specifically comes in when you look at the protocol for touching a member of the royal family – you're not allowed to make a move unless they initiate first. So you can't merely extend your hand for a handshake; the Duchess or Prince have to take the first step. Etiquette expert William Hanson explained to the Daily Mail, "It is protocol that you do not extend your hand to any member of the royal family (blood royal or those who have married into the family) unless their hand extends first."
And a polite way to let people know you don't intend to be making any such move? Holding a clutch with both hands. Which is why Queen Elizabeth, Princess Diana, and Kate Middleton are often photographed holding one.
Hanson continued, "The Duchess of Cambridge may well prefer not to shake hands with certain people — but there are other ways to achieve this, as used by The Queen and other members of the royal family, than opting for a clutch over a bag with a strap."
So by carrying a purse with a handle that you can swing over your arm or a tote with a strap that can go over your shoulder, you're inviting the possibility of contact. Which is exactly what Markle did when she went on her first official outing with Prince Harry in Nottingham on Dec. 1. Accessorizing her navy peacoat with a burgundy, white, and blue handbag, she ditched the usual clutch and freed up her hands.
The bag is from the Edinburgh-based label Strathberry, and it's their Tricolor Midi Tote, which retails for £495, or $667. Thanks to her visit to Nottingham, the purse has sold out in an astonishing 11 minutes after being spotted on Markle's arm, proving that within a week people have elevated her to fashion icon status.
Upon hearing the news that their tote was worn by the future Duchess, the accessories brand told Elle UK, "We are delighted at the news of Meghan and Prince Harry's engagement and wish them all the best for this exciting period. It was a fantastic surprise to see that Meghan selected one of our core Strathberry styles to carry on her first royal engagement."
And true to her decision to leave the clutch at home, Markle was photographed shaking hands and accepting gifts and flowers from admirers and fans that packed the streets to see the royal couple. As she swung the bag with one hand, she extended her hand into the crowd with the other.
Since she has probably already been briefed on the proper etiquette that a Duchess needs to engage in, chances are the clutch and its meaning was suggested to her before the outing. And it's pretty cool to think that she opted to do the opposite.
For all the mega-Markle fans out there (and there's plenty of us,) here's to hoping she opts for the tote a few more times and keeps ditching that royal protocol.