Meghan Markle's Style Is Identical To Kate Middleton's — And These Pictures Prove It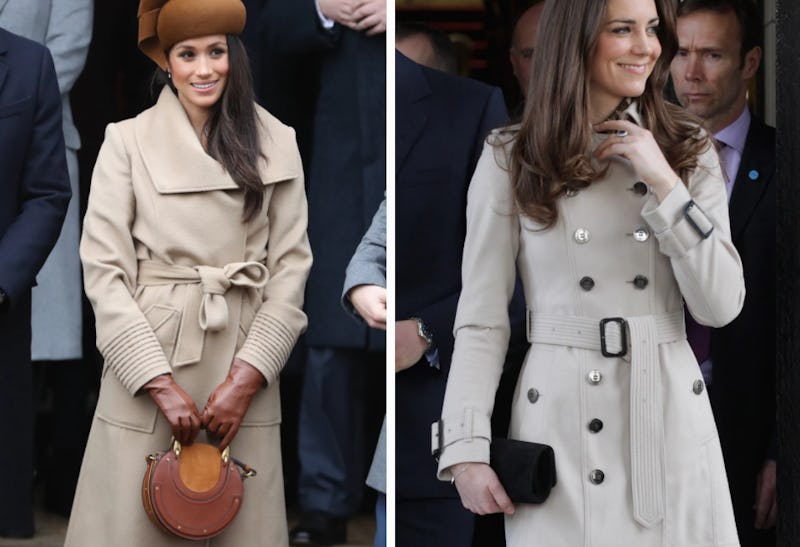 Chris Jackson/Getty Images (2)
Future sisters-in-law Meghan Markle and Kate Middleton both have signature senses of style. While they don't exactly meet in the middle with their individual tastes, there have been many times that Markle and Middleton wore eerily similar outfits at different points in time, as the InStyle video so deftly demonstrated.
Markle and Middleton aren't quite twinning in these instances and the resemblances were certainly unintentional. But it goes to show you that royal style has become more relaxed and more modern in this era and Markle's assimilation into the family will bring about further head-turning looks that her adoring public will want to copy.
Markle tends to rock a decidedly American sportswear look, with some sexy touches here and there. That makes total sense, given her background and her history as a Hollywood actor. Middleton's sartorial choices are classic and more British, as she has favored tartan patterns and brands like Burberry and Topshop. Since she is wed to the future king, she has less freedom to be daring with her attire.
The InStyle video inspired us to dig a little deeper. Here are 8 additional Markle and Middleton ensembles that are of similar sartorial spirit, despite them not not being in one another's orbits when worn.
1. Tan Trench Coats
Markle wore this warm and cozy Sentaler belted and wrapped coat to 2017 Christmas services. She paired it with suede, over-the-knee Stuart Weitzman boots, leather gloves, and a Chloe bag. It was a flawless pairing of neutrals.
Middleton paired a shorter, ruffled, and also belted, Burberry trench in the same hue. She paired her coat with opaque black leggings and a mini black clutch. Overall, it was a similar presentation.
2. Black Turtlenecks & Gold-Accented Belts
Markle wore a long, bone-colored skirt, paired with slouchy black boots, a black turtleneck with three-quarter sleeves, and a black Aritzia belt with gold accent.
Middleton wore her black turtleneck and gold-detailed belt with opaque tights and heels. Separate, yes, but undeniably similar.
3. Embellished Brown Hats
At Christmas Day services, Markle wore an embellished brown hat designed by famed milliner Philip Treacy, who took to Instagram to confirm that it was indeed one of the house's designs.
Middleton's hat, paired with a speckled, mint green coat, was a bit less structured.
4. White Dresses
Markle's wore a mini dress with a peek-a-boo top and which showed off a lot of leg.
Middleton's white outfit was more of a coat dress in an ivory hue, with her hat making the statement. She, too, had legs for days.
5. Going Gray
This clingy, gunmetal frock was simple, but the fabric's sheen gave it a boost.
Middleton's gray dress was of the same length and also fitted, but the fabric was a bit more classic.
6. Red Floral Prints
Markle's floral print dress was bolstered by tones of red.
While Middleton's floral with tones of red was a floor-sweeping gown and sleeveless, they had the same garden spirit.
7. Bold Prints
Check out how utterly cute Markle looks in her sleeveless shift with bold black print, which contrasted wonderfully with the yellow.
New mom (at the time) Middleton also wore an eye-catching black print that popped against a light base.
8. Blue Coats With Boots
To stay warm in frigid London, Markle wrapped herself in this ankle-length, classic navy blue coat.
Middleton's blue coat was a brighter hue and had a shorter hem, but it also showed off her black boots.
9. Teal Twinning
This modern, somewhat geometric fishtail gown got an additional mermaid boost from its teal hue.
While Middleton's belted dress had a black underlay and an off-the-shoulder, princess-y construction, the color was just as stunning.
Expect more instances of Markle and Middleton taking fashion inspo from one another in the coming years.