Three Of Meghan Markle's 'Suits' Co-Stars Finally Revealed They're Going To The Wedding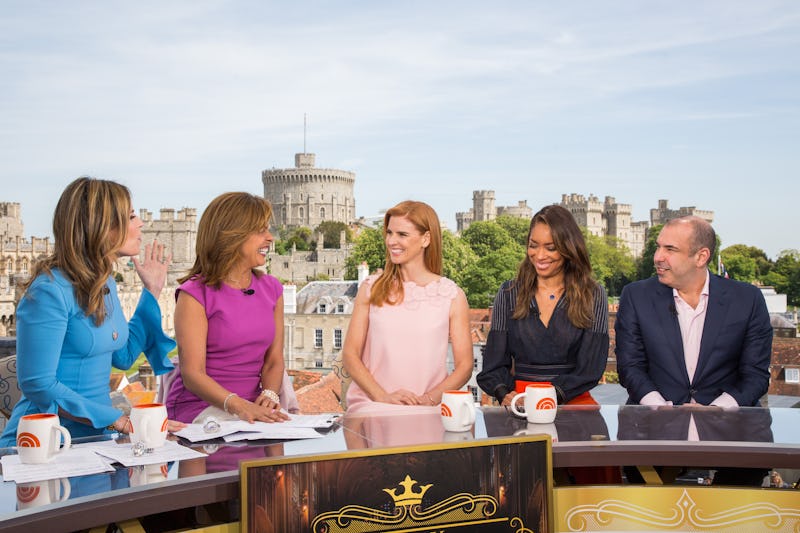 NBC News/NBC'S TODAY
It's official. After much speculation, three of Meghan Markle's Suits co-stars have finally confirmed they will attend Markle and Prince Harry's wedding on Saturday, May 19 at St. George's Chapel at Windsor Castle. While chatting with Today Friday morning, Sarah Rafferty, Gina Torres, and Rick Hoffman opened up about scoring wedding invites and how perfect Markle and Harry are for one another.
They admitted they knew about Markle and Harry way before their relationship became public knowledge in October 2016. That said, the trio still weren't privy to certain details about their romance. After asked how much they knew, Torres dished, "Very little, actually. I mean, we knew she was excited and there was reason to keep it close to the vest."
Rafferty, who seemed hesitant about saying too much, did reveal Markle talked about Harry and said, "That he's lovely, you know." Rafferty also added, "Oh, they're a great match."
Hoffman said he was shocked to hear his dear friend and coworker was dating someone from the British Royal Family. "I had gotten the news early and I was like, 'You've got to be kidding me,'" he said. "It was like both of us in the trailer, just kind of like,' You're dating a prince?'…and then I was just like take it slow, be careful, don't let him hurt you."
And now here they are getting ready to attend Markle's wedding to Harry. Torres still can't believe she was invited. "I'm still reacting," she told Savannah Guthrie and Hoda Kotb about receiving an invitation. "I was [shocked]." The Second City (a Suits spinoff) star also said it's wonderful to be able to see someone she cares about deeply marry the man she loves. "I mean, I think you hope nothing but, as we all do, the best for her. This is an incredible step in her life and so to bear witness to that is extraordinary."
All three of the Suits stars also joked about how they received their invitations to the biggest wedding of the year. Rafferty confirmed her invite came in the mail and then added "doves flew out" as soon as she opened it. Torres teased her invitation came via palace guard, whereas Hoffman's was delivered by MI6 agents.
Overall, you can tell how genuinely happy they are for Markle and to be part of her day in England. Torres and Rafferty have always shared a special bond with Markle. Like Rafferty said, "We called ourselves the sister wives… we were with each other for longer than we went to college or high school with our friends so we became family, we're still family so this is a wonderful family affair."
Markle obviously feels the same way about them based on how she captioned an August 2016 Instagram featuring herself with Rafferty and Torres. In the Instagram, which was re-posted by Rafferty (Markle's Instagram has since been deleted, like her entire account), the soon-to-be royal wrote, "My @suits_usa sisters [heart emoji]️ Celebrating our friendship of six years and counting. So much deep love for these two women and the sage advice, comforting meals and shoulders to cry on they've generously shared with me. Love you both @iamsarahgrafferty #ginatorres."
Markle and Hoffman have a strong bond, as well. He told Today a brief story about how his former co-star accompanied him to a wedding in Paris after breaking up with the person he intended to bring as his date. Markle stepped in and offered to go with him, which speaks to not only the type of person she is, but her friendship with Hoffman.
In addition to Rafferty, Torres, and Hoffman, it appears Markle's other two Suits co-stars, Patrick J. Adams and Gabriel Macht, will also be at the wedding. Not only are Adams and Macht both currently in London with their wives, Troian Bellisario and Jacinda Barrett, respectively, but Access Online reported May 11 Adams, Macht, and 25 other people from Suits will be at the wedding.
However many people from the USA drama are at the royal wedding, fans of the series can definitely expect at least Rafferty, Torres, and Hoffman, which is very exciting.