Meghan Markle's Dress For Her First Royal Christmas Proves She Totally Co-Signs This Winter Trend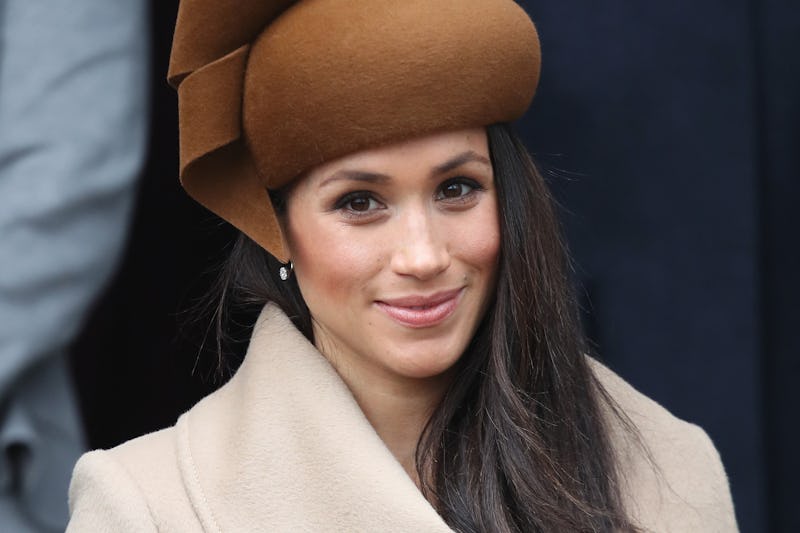 Chris Jackson/Chris Jackson Collection/Getty Images
Meghan Markle has been proving she's a trend-setter since she and Prince Harry first stepped out to announce her engagement. To no surprise, her Christmas outfit was just as gorgeous. But if you thought the jacket was great, just wait until you see what's underneath. According to The Sun, Meghan Markle wore a velvet Club Monaco dress for her first royal Christmas. The look is extremely on-trend and met (almost) all royal guidelines. Because this woman isn't just the newest member off the royal family, she's also bringing brand new fashion trends to the palace.
In the two months that Markle has been in the public eye, the Markle-effect has been in full swing. People have gone crazy over her engagement photo dress and the jacket she wore to announce her engagement. Adding to the fashionable moments, people are equally as interested in what she wore for Christmas. You've probably already seen the gorgeous off-white coat with the over-the-top hat. But what she wore underneath was just as gorgeous.
According to The Sun, Markle wore a "dark cherry" velvet wrap dress from Club Monaco. It had ruffled sleeves, a deep V, and retails for a cool $268.26. She wore the outfits to the holiday service at St. Mary Magdalene church, according to the publication.
Unfortunately, the dress is only currently available in size zero and double-zero. Something tells me that there will a lot of look-a-likes to come though.
Club Monaco Dress in Dark Cherry, $268.26, Club Monaco
If you're shocked that it's still in stock at all, don't be. The only reason that this wrap-style didn't fly off the virtual shelves — like her Strathberry purse that sold on eBay for four times the original price — is because not everyone actually saw it.
Because it was, you know, freezing on Christmas at the St. Mary Magdalene church in the UK, Markle wore a tie-front coat on her way into and out of the church. According to The Sun, Club Monaco were the ones who announced that she was wearing one of their designs.
The only photo showing what was going on underneath Markle's jacket was one that was taken as she was walking into the church. The image shows a tiny little corner or the jacket flapping in the wind, which exposed the dark cherry color underneath. It might have gone completely unnoticed, if the brand didn't pick up on it.
In case you don't know, there are certain rules that members of the royal family must follow when they're in the public. There's everything from only wearing nude nail polish to always carrying an all-black outfit with them when they travel. Markle is known for toeing the line when it comes to the royal fashion rules.
She's only been an official member for a few months now and she's already broken a few rules. The first one she broke was on the day her and Prince Harry announced their engagement. Markle didn't wear tights with her dress, which is a royal no-no. She also toed the line when she carried the wrong purse with her on a public outing.
Her Christmas-day outfit didn't exactly break the rules, but she did push it a bit. Instead of wearing tights with her dress, she opted for knee-high boots. She's proving that no one — royal or non — will make her ditch her signature styles.
If you're looking to get the entire look, you'll need to add a Philip Treacy felt hat, a pair of almost $800 Stuart Weitzman Hiline Suede Boots, and the Chloe Pixie Tote bag for $1,550. Add to that one literally priceless triple-diamond ring and you have an outfit fit for a princess. Tiara not included.
With the royal wedding just months away, something tells me there will be plenty more outfit inspiration to come.