Meghan McCain Wants To Know What Ivanka Has To Say About Trump's Family Separation Policy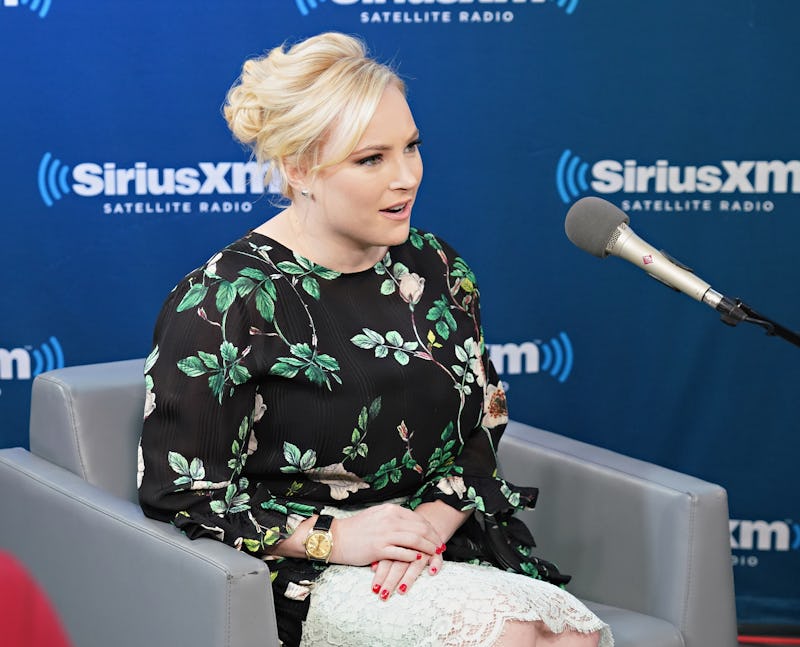 Cindy Ord/Getty Images Entertainment/Getty Images
There's been widespread outrage over President Trump's new policy of separating undocumented children from their parents and putting them in cages. Speaking on The View Tuesday, Meghan McCain asked why Ivanka Trump hasn't denounced the administration's practices, as Ivanka has previously voiced support for policies that promote the wellbeing of families.
"Where is Ivanka in all of this? Because she's all for women, and mothers, and she has a White House role," Meghan said Tuesday. "I'm sort of interested that her whole platform has been women and mothers, and she doesn't seem to have to say anything about this."
Many praised Sen. John McCain, Meghan's father, when he denounced the Trump administration's policies as an "affront" to American values. But it's worth noting that, despite his ostensible opposition to the policy, the Arizona senator refuses to support the Keep Families Together Act, a bill by Senate Democrats that would ban family separation at the border.
But Ivanka, who serves as a senior White House adviser and has long trumpeted family wellbeing as her signature policy issue, hasn't publicly commented on the policy at all, and is coming under increasing pressure to do so.
Attorney General Jeff Sessions announced in May that the administration would begin separating families at the border, ostensibly as a deterrent against illegal immigration. The administration says that as of Monday, it has separated 2,342 children from their parents and detained them. Images of the detention facilities shows undocumented children in cages, while audio that ProPublica obtained from the same facilities features a cacophony of children crying and asking where their parents are.
The administration has addressed the growing opposition to its policies in several ways, some of them contradictory. On Thursday, White House Press Secretary Sarah Huckabee Sanders falsely told reporters that federal law requires immigration agents to split up families (There is no law that mandates this). She then blamed Congressional Democrats for failing to close what she called "loopholes" that allow families to be separated; however, she also defended the administration's decision in May to begin using those "loopholes" to detain families. She didn't cite which "loopholes" she was referring to.
Meanwhile, Homeland Security Secretary Kirstjen Nielsen wrote on Twitter that "we do not have a policy of separating families at the border," suggesting that the policies Sanders defended are not actually happening. The Washington Post gave Nielsen's claim "Four Pinocchios," indicating that it's flatly untrue, and added that "the doublespeak coming from Trump and top administration officials on this issue is breathtaking."
Trump himself has blamed Democrats for his administration's policies, tweeting on Tuesday that Democrats "want illegal immigrants, no matter how bad they may be, to pour into and infest our Country."
"We have to get the Democrats to go ahead and work with us," the president said in a speech Tuesday, "because as a result of Democrat-supported loopholes in our federal laws, most illegal immigrant families and minors from Central American who arrive unlawfully at the border cannot be detained together."
In actuality, Democratic Sen. Dianne Feinstein has released a bill that would ban family separation at the border. Every Senate Democrat supports the proposed law, but all 51 Republican senators oppose it, effectively killing its chances of passing. Two Republican senators say they're working on legislation that would accomplish the same thing, though it's unclear why they refuse to support the Democratic bill.
First lady Melania Trump has denounced the family separation policy, while her own immigration lawyer said on Tuesday that the facilities undocumented children are being kept in are "reminiscent of detention centers of Nazi Germany, of slavery." Every living former first lady has also come out against family separation.