Meghan McCain Called Out A Conservative Conference For How It Name-Dropped Her Dad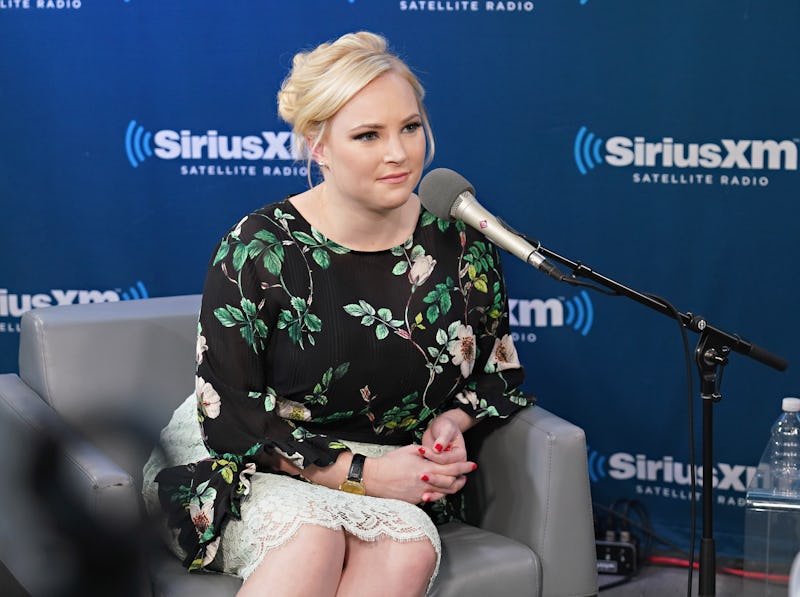 Cindy Ord/Getty Images Entertainment/Getty Images
On Sunday, a late U.S. senator's daughter slammed some of the discussions that took place at an annual conservative political conference. Notably, Meghan McCain criticized CPAC after a speaker appeared to blame "the ghost of" her father, along with other Republicans, for not doing enough to advance certain conservative policies. McCain revealed how she felt about the moment on social media.
As The Hill reported, McCain took to Twitter to condemn the Conservative Political Action Conference on Sunday. As Senator John McCain's daughter wrote:
I care that "the ghost" of my beloved father was used as ghoulish and deeply disturbed political propaganda on CPAC's stage, but hey maybe that's just me.
The Hill noted that McCain's tweet was specifically referring to comments made at CPAC by Michelle Malkin, a conservative author. Malkin mentioned McCain's father when discussing Republicans' approach to U.S. immigration policy. As Malkin asserted (via The Hill):
Sanctuary cities have metastasized and both parties are to blame. And yes, I'm looking at you, retired [Speaker] Paul Ryan; and yes, I'm looking at you, [Senate Majority Leader] Mitch McConnell; and yes, I'm looking at you, Bush family; and yes, I'm looking at you, the ghost of John McCain.
The late Senator McCain's wife, Cindy McCain, also took issue with Malkin's words — and directly addressed Malkin in a tweet on Saturday. "@michellemalkin You never knew @SenJohnMcCain. You should be so lucky," the late senator's wife wrote.
While Cindy's tweet addressed Malkin, McCain's tweet condemning the broader conference came in response to a tweet by Allie Beth Stuckey, a conservative commentator, who had praised CPAC for some of the conversations that took place at the conference. Following McCain's criticism of her tweet, Stuckey and McCain exchanged a series of tweets which ultimately seemed to reveal that there were no hard feelings between the two of them.
"I care about that [the reference made to Senator McCain], too. I'm not sure why my tweet was interpreted to mean anything other than what it says — that I am proud of the conversations I was a part of." Stuckey wrote to McCain in one of several tweets about the matter. Later on Stuckey also tweeted, "Btw for anyone looking for an update, we've [McCain and Stuckey] chatted & everything's all good! Sorry there's not more drama for you."
McCain's follow-up tweets also seemed to reflect a similar resolution. " ... Not a knock at you personally Allie. I wish you nothing but all the best and success. I do however wish there was a convention for conservatives I felt comfortable attending with you," the senator's daughter wrote in one tweet to Stuckey. "I misunderstood your tweet - also a fan of yours. I'm sorry if I invited trolls into your timeline. Send em' back my way ..." she added in another tweet.
Overall, McCain, along with her mom, Cindy, clearly took issue with the way in which the late senator was described at CPAC. In the process, McCain also made it clear that CPAC is not an event that she feels comfortable attending. Indeed, Fox News reported that the late senator's daughter also re-tweeted commentary about the conference from conservative commentator S.E. Cupp, who wrote, "CPAC was once a place to exchange conservative ideas. Now it's just a place for agitprop and mean-spirited garbage."