Meghan McCain Shared A Sweet Throwback Photo Of Her Dad For Veterans Day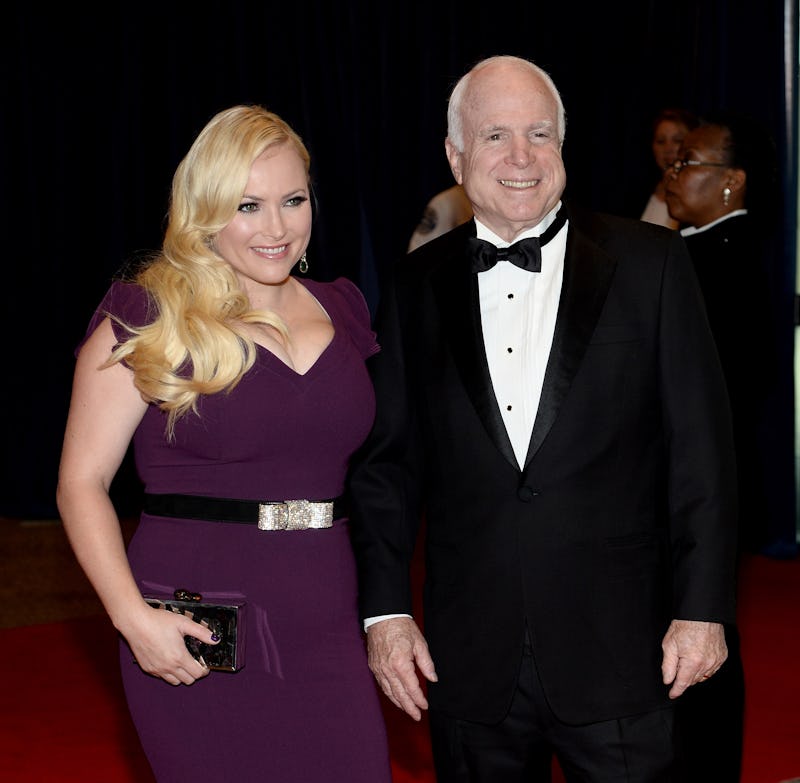 Dimitrios Kambouris/Getty Images Entertainment/Getty Images
On Sunday, The View co-host Meghan McCain's Veterans Day homage to her father reflected on lessons imparted by her late father, former Sen. John McCain, who served in the military during the Vietnam War. In her tribute, McCain described herself as "forever grateful" for sacrifices made by veterans, and specifically spoke about missing her father, who died in August.
"Today on #VeteransDay we remember and honor those who have selflessly served and sacrificed," Meghan wrote in a post shared to Twitter. "Those who have and continue to fight to protect our freedoms -I am forever grateful. I miss you so much Dad, thank you for showing me what fighting for something greater than yourself is."
The post included a photo of her father as a young man, standing next to an airplane. During his service, Meghan's father was a Navy pilot. He is known, particularly, for having been a prisoner of war for five and a half years, between 1967 and 1973.
Though Meghan's tribute to her father on Sunday was straightforward, his service has, at times, come under fire from President Trump. In 2015, the president said that McCain was not a war hero because he was captured during his service.
"He's not a war hero," Trump said of McCain during an Iowa Family Leadership Summit, according to NBC News. "He's a war hero because he was captured. I like people that weren't captured."
Trump dialed back his comments shortly thereafter, saying that McCain was, in fact, a hero because he was captured. Still, his initial statements sparked outrage among both Democrats and Republicans, many of whom said that all veterans deserved respect, regardless of whether or not they were captured during their service.
McCain and President Trump sparred repeatedly during the senator's final term in office, and in the end, Trump was excluded from funeral services, reportedly per McCain's request. But while Trump was not present, Meghan did allude to the president's feud with her father, taking several swipes at Trump during her eulogy.
"The America of John McCain has no need to be made great again, because America was always great," she said, referencing the president's campaign slogan, according to The Washington Post.
He was, she said, the "real thing, not cheap rhetoric from men who will never come near the sacrifice he gave so willingly." She continued, "He was a sailor. He was an aviator. He was a husband. He was a warrior. He was a prisoner. He was a hero. He was a congressman. He was a senator. He was a nominee for president of the United States."
In that way, Meghan's Veterans Day tribute to her father was in keeping with the way that she usually speaks about her father, and especially his military career. This is particularly true in the months since his death. As Veterans Day generally does, the holiday offered an opportunity to consider what life in the armed forces means not only for those who served, but for those closest to them, too.