Meghan McCain Wrote An Honest Instagram Post About How Much She Misses Her Dad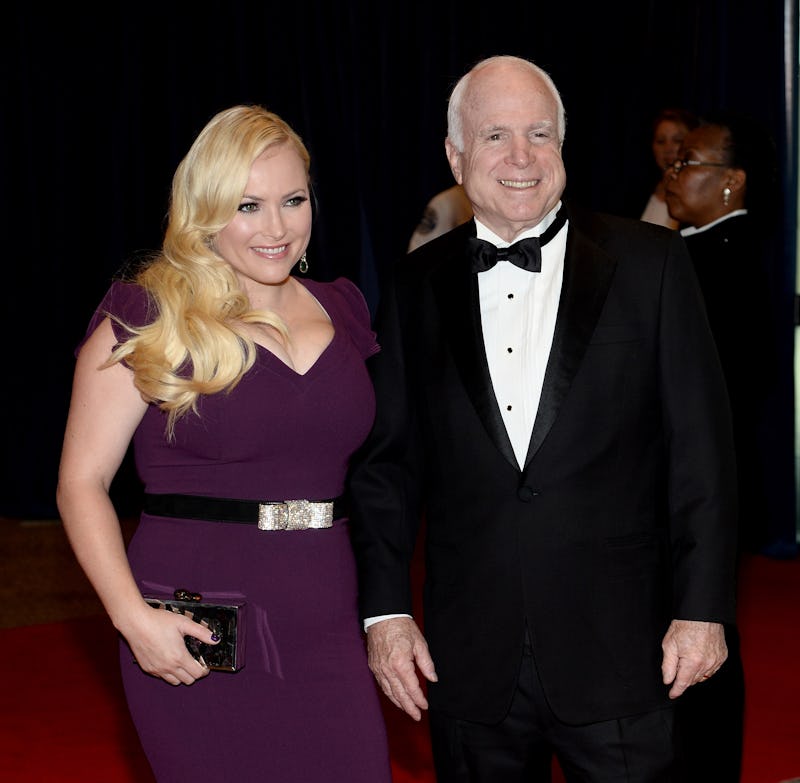 Dimitrios Kambouris/Getty Images Entertainment/Getty Images
Late in the day on Sunday, Meghan McCain posted an Instagram tribute to her father, Sen. John McCain, who died nearly three months ago. In a lengthy photo caption, the talk show co-host reflected on the sadness she's experienced in her father's absence, and offered an empathetic perspective on grief.
"The pain of missing you and the grief that comes with it continues to be sharp and primal," McCain wrote. "Some waves are more intense than others but they come every day relentlessly. Stay with me. Stay with me. Stay with me. I fight on because that is what you told me I had to do and demanded of me."
Sen. McCain died late in August, after suffering from a malignant brain tumor. He was 18 years old.
McCain, a cohost on The View, is well-known for having been very close with her father. "I don't know how you go from talking to someone seven times a day to never," she wrote on Instagram on Sunday. "It is still so indescribably surreal to go through the motions of life without sharing all of it with you — like some awful parallel universe I fell into."
In the photo posted to Instagram, Sen. McCain appears to be frying bacon while holding a cell phone to his ear. He is casually dressed in a collared shirt and baseball hat. According to the caption, this was a common state of being for the senator when he was at home in Arizona.
"You used to get up early in the morning and go get us all Starbucks in town in the Cottonwood Safeway and then come home and make eggs and bacon," McCain wrote. "You always had a giant venti cappuccino."
McCain has eulogized her father several times since his death. Most recently, on Veterans Day, she lauded his military service, specifically. "Those who have and continue to fight to protect our freedoms -I am forever grateful," she wrote on Twitter. "I miss you so much Dad, thank you for showing me what fighting for something greater than yourself is."
Her eulogy at her father's funeral was especially striking, focusing on Sen. McCain's roles as a father, senator, and military man. "My father knew pain and suffering with an intimacy and immediacy most of us are blessed never to have endured," McCain read at his service, according to a transcript published by USA Today. "He was shot down, he was crippled, he was beaten, starved, tortured and humiliated. That pain never left him. The cruelty of his communist captors ensured he would never raise his arms above his head for the rest of his life. Yet he survived. Yet he endured. Yet he triumphed."
Her Instagram caption on Sunday hit notes similar in tune to her previous tributes, but it differed in its unexpectedness. She wasn't marking any known anniversary or a holiday, but instead, reflecting on what grief feels like on a daily basis.
"Thank you for always, always being on my team and for being my best friend," she wrote. "I love you forever."