Megyn Kelly Opens Up About How Roger Ailes Allegedly Sexually Harassed Her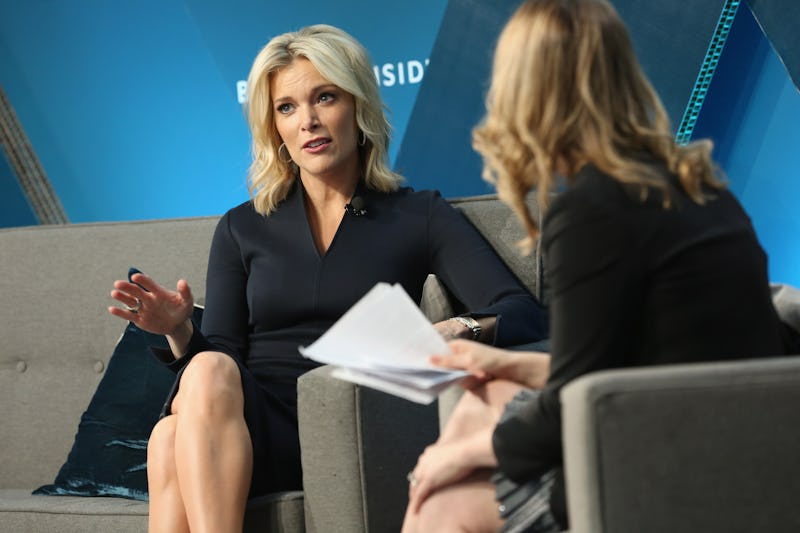 Monica Schipper/Getty Images Entertainment/Getty Images
Before the downfall of movie tycoon Harvey Weinstein, there was Roger Ailes, the former Fox News CEO who was forced out of the company in 2016 amid sexual harassment allegations. Ailes, who died in May 2017, had repeatedly denied all allegations of inappropriate sexual behavior, but his accusers are still speaking up. At Business Insider's Ignition conference on Wednesday, former Fox News host Megyn Kelly detailed the alleged harassment from Ailes, saying: "I had to shove him off of me."
Kelly accused Ailes of sexual misconduct in her 2016 memoir Settle for More, but she went into even more detail while discussing harassment at the conference.
"The harassment I went through wasn't obviously harassment in the beginning, and then it graduated," she said. "It just got worse, and worse, and worse to the point where you couldn't deny it."
The NBC News host explained that it started when she was a young journalist in Fox's D.C. bureau, culminating one day when she went into his office and he locked the door behind her, as she said he often did. "He tried to grab me three times, and make out with me," she alleged. "I had to shove him off of me. And he came back, and I shoved him again. And he came back a third time. When I shoved him off the third time, he asked me when my contract was up."
Kelly said Ailes always had an "inappropriate" sense of humor, so she initially wrote off lewd comments. But, it later became "explicit quid pro quo sexual harassment," Kelly said, when he allegedly tried to sleep with her in exchange for a promotion.
"I was scared when it happened to me," she said Wednesday. "I wasn't the 'me' that I am now. I had no power in the industry, at all, and no power at Fox News."
After the alleged incident in Ailes office, she told a supervisor what happened, but they allegedly told her to just "steer clear of him." In retrospect, Kelly said, it was "terrible, terrible advice."
Kelly made the switch from Fox News to NBC's Today show earlier this year, putting her in the unfortunate position of working for two major news organizations when sexual harassment scandals hit. NBC announced Wednesday that Today co-anchor Matt Lauer was fired following a "detailed complaint" of "inappropriate sexual behavior in the workplace." (Lauer apologized in a statement on Thursday saying there is "truth in these stories.")
When Savannah Guthrie told viewers on-air Wednesday morning, she said she had just learned of his termination, and Kelly confirmed that she also wasn't told ahead of time.
"I had heard rumors about Matt," she said. "But that's all they were, and my feeling was a rumor is not the same as a reportable fact. I've heard a lot of rumors about myself that were completely untrue. And when you're a public figure, people make up things about you and put them in print."
However, she said on the Today show earlier that morning that she was thinking of Lauer's alleged victims.
"When this happens, what we don't see is the pain on the faces of those who found the courage to come forward. And it is a terrifying thing to do," she said. "We don't see the career opportunities women lose because of sexual harassment, or the intense stress it causes a woman dealing with it when she comes to work each day."
Kelly said at the Ignition conference that the culture around workplace harassment is changing in a meaningful way, evidenced by the fact that men such as Ailes and Lauer lost their jobs over allegations. As she put it, "Men now have real skin in the game."