NBC Has Fired Matt Lauer For Alleged "Inappropriate Sexual Behavior"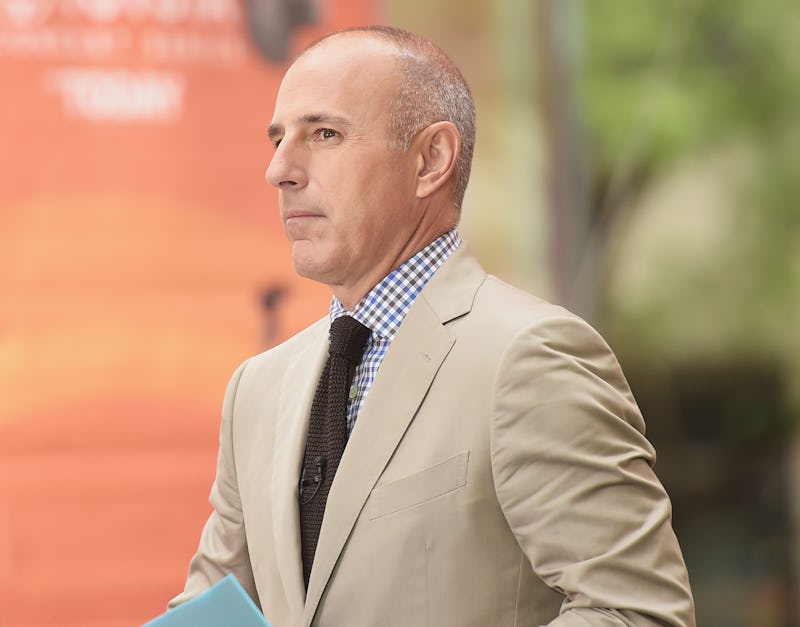 Michael Loccisano/Getty Images Entertainment/Getty Images
Savannah Guthrie announced Wednesday morning her fellow TODAY host Matt Lauer was fired for "inappropriate sexual behavior" in the workplace. In a note sent to NBC staff and read out by Guthrie on air, NBC News chairman Andy Lack said the company received a detailed complaint Monday night from an employee about alleged misconduct by Matt Lauer. "It represented, after serious review, a clear violation of our company's standards," Lack's statement said. (Bustle has reached out to NBC News for additional comment.)
Lauer was the highest-paid TV news host in 2017, making $25 million a year, and worked on TODAY full-time since 1994. Although Lack said Monday's complaint was the first filed against Lauer in more than 20 years at the company, the statement said NBC News was "presented with reason to believe this may not have been an isolated incident." Lack's staff email added:
Our highest priority is to create a workplace environment where everyone feels safe and protected, and to ensure that any actions that run counter to our core values are met with consequences, no matter who the offender.
While announcing the news to the nation, Guthrie said Lauer's coworkers were still processing it, and didn't know more than what was revealed in Lack's statement — "All we can say is, we are heartbroken." Guthrie also called Lauer a "dear friend" and proclaimed that she was "heartbroken for Matt," yet also expressed that she was "heartbroken for the brave colleague who came forward to tell her story."
New York Times reporters have been investigating Lauer, according to CNN, meaning it's likely more details about the allegations of sexual harassment will be made public soon. Guthrie also promised viewers TODAY would continue to report on the allegations.
Lauer has not yet responded to the allegation against him or his termination from NBC News.
According to his TODAY show bio, Lauer first started filling in on the morning show in 1993, before becoming a full-time news anchor the following year, and a co-host in 1997. His annual "Where in the World is Matt Lauer" segment became "one of TODAY's trademark series," according to the page, and he interviewed everyone from former President George W. Bush to Princes William and Harry over the years. Before moving to TODAY, he worked for WNBC and hosted 9 Broadcast Plaza.
President Trump responded to Lauer's alleged sexual misconduct Wednesday morning, writing in a tweet:
Wow, Matt Lauer was just fired from NBC for "inappropriate sexual behavior in the workplace." But when will the top executives at NBC & Comcast be fired for putting out so much Fake News.
The president has also been accused of sexual harassment and assault by multiple women, but has denied all allegations.
Lauer's termination adds to a growing list of powerful media men accused of sexual misconduct and subsequently fired in recent weeks. On Nov. 21, CBS News and PBS fired Charlie Rose after eight women accused him of sexual harassment (he apologized, but ultimately denied any wrongdoing).
NBC News also fired Mark Halperin a month ago following allegations that he sexually harassed multiple women while working at ABC News (Halperin also apologized to the women he "mistreated," but said some of the allegations "are not true").
Other industries have been grappling with sexual harassment and assault allegations, as well. Reports of more than 50 women accusing film executive Harvey Weinstein of sexual misconduct opened the flood gates — Weinstein has denied all allegations of nonconsensual sexual encounters; allegations against comedian Louis C.K. and others followed — C.K. said the allegations against him were true. Multiple congressmen have also been accused of sexually inappropriate behavior, and ethics investigations have been launched in the House and Senate.
The news of Lauer's termination continues the nation's reckoning with men who have allegedly abused their power to harass and assault women.