Megyn Kelly Actually Asked Why Blackface On Halloween Is Racist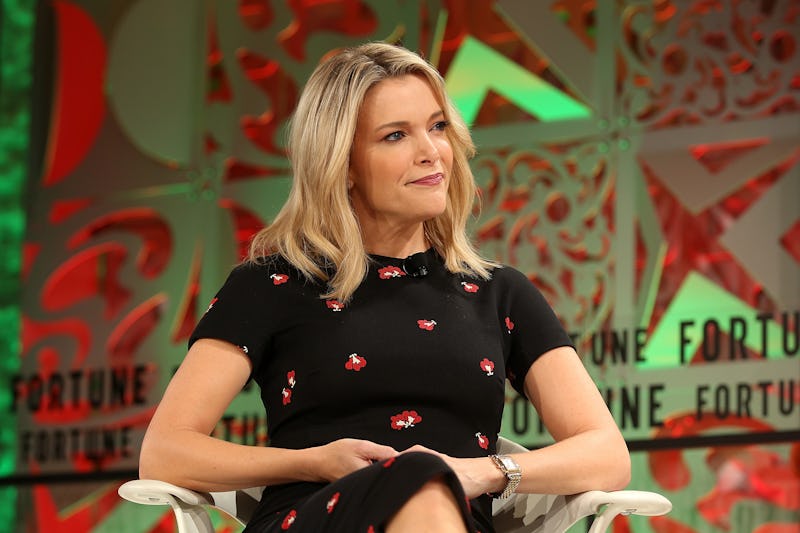 Phillip Faraone/Getty Images Entertainment/Getty Images
With each October arrives another conversation about offensive Halloween costumes. Such was the case on Tuesday's episode of Megyn Kelly Today, wherein the show's host, Megyn Kelly, commented on blackface, suggesting that she didn't know why it was racist when employed as part of a holiday costume.
"What is racist?" Kelly asked a panel discussion with three other people, according to footage of the segment shared on social media. "Truly, you do get in trouble if you're a white person who puts on blackface for Halloween, or a black person puts on whiteface for Halloween. Back when I was a kid, that was OK as long as you were dressing up as, like, a character." Bustle has reached out to NBC for comment.
Later in the afternoon, Kelly apologized to her colleagues for her comments. "One of the wonderful things about my job is that I get the chance to express and hear a lot of opinions," Kelly said in an internal note provided to CNN by an NBC spokesperson. "Today is one of those days where listening carefully to other points of view, including from friends and colleagues, is leading me to rethink my own views."
After the segment aired on Tuesday, Kelly's comments faced a swift and biting backlash on social media. "I thought this might have been an exaggeration, but no, Megyn Kelly is really doing a 'I don't see what's so offensive about blackface,' tweeted Jamelle Bouie, chief political correspondent for Slate.
Kelly also pointed to a semi-recent event in pop culture wherein Luann de Lesseps, of The Real Housewives of New York, faced backlash for seemingly darkening her skin as part of a Halloween costume. "There was a controversy on The Real Housewives of New York with Luann, as she dressed as Diana Ross and she made her skin look darker than it really is," Kelly said. "People said that that was racist. And I don't know, like, I thought, like, 'Who doesn't love Diana Ross?' She wants to look like Diana Ross for one day. I don't know how that got racist on Halloween. It's not like she's walking around [like that] in general."
Some responded Kelly was making ignorant comments, and that she shouldn't have aired such ideas on a network that reaches so many people. "I cannot believe the ignorance on this in 2018. You are on national television," tweeted Padma Lakshmi, host and executive producer of Top Chef. "You have a responsibility to educate yourself on social issues @megynkelly. This is so damaging."
Some people's outrage, however, did not necessarily include surprise, lamenting the fact that discussions about blackface seem to arise at least annually. "Reasons to keep a saved search for the word "blackface" being said on TV: 1. You just never know when Megyn Kelly's going to trip and fall into a bucket of racism," wrote writer Parker Molloy.
Others on Twitter took issue with the discussion more broadly, beyond just Kelly's comments. "Today on Megyn Kelly Today: four white people decide whether or not blackface is racist," tweeted reporter Aura Bogado.
One person even disputed the veracity of her claim that blackface "was OK" when she was a child. "PS I am the same age as Megyn Kelly, and from roughly the same part of the Midwest, and NO IT SURE WAS NOT okay to do blackface 'when we were kids,' 'if we were doing a character,'" wrote editor Dave Holmes. "Jeez Louise."
Halloween costumes draw ire every year, particularly as there remains a market for outfits which make fun of various cultures, ethnicities, and races. For some, the decision to abstain from offensive, or potentially offensive, costumes is an obvious one. For others, the seasonal discussion indicates, the choice is less clear.
This article has been updated.