Mel B's Victoria Beckham Costume Proves The Spice Girls Have The Best Sense Of Humour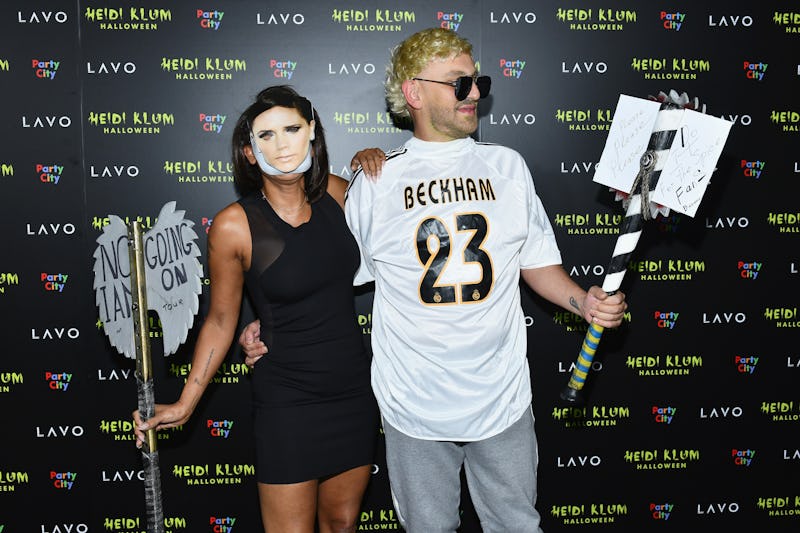 Noam Galai/Getty Images Entertainment/Getty Images
When it comes to Halloween costumes, inventiveness and eccentricity is key for a memorable outfit. And boy, did Scary Spice do just that. While many celebs utilised professional make-up artists and other means to devise incredible creations, Mel B's Victoria Beckham Halloween costume at Heidi Klum's famous Halloween party was pretty simple but still became quite the talking point on social media and TBH, I'm not surprised.
While it may look quite simple — a Posh Spice mask and a signature black dress — Mel B certainly made sure that her costume made a statement, accompanied by her hairdresser Gary Madatyan, who dressed as David Beckham. Both held mock battle axes with two important messages that related to the rumoured Spice Girls reunion.
Mel held an imposing axe, with the message "No I am (not) going on tour", while Madatyan held a similar weapon covered by a message that read, "Please please please, do it for the Spice fans".
The shade is definitely strong, but I can totally see the humour in all of this. I'm sure Mel meant no harm with this costume, I mean it seems like she's poking fun more at the situation regarding rumours of the girls getting back together and touring, which seems to constantly be hanging in the balance, rather than the Beckhams themselves.
There were a few fans that disagreed with Mel's costume, though. One in particular pointed out how this might actually hurt the chance of Victoria actually agreeing to go on a reunion tour with the girls. Commenting under the picture, "I can see why she doesn't want to tour if this is how you act." Eek.
Maybe I'm just being too optimistic, but Victoria seems on pretty good terms with her former bandmates anyway. Remember when Spice Girls fans across the world collectively went into melt-down at the mini-reunion early this year thanks to this Insta post courtesy of Posh Spice herself?
However, thanks to a recently released line-up for The Jonathon Ross Show that will air on Nov. 10, my optimism has dampened a little. While Mel C, Mel B, Emma Bunton, and Geri Horner will take their place on the sofa, it looks like Posh Spice will be absent according OK! magazine. But who's to say that Victoria's not busy? I'm almost certain her absence will be brought up in the chat anyway.
And about that tour — there hasn't actually been any solid confirmation that it will be happening. It's mostly been based on comments from the girls where they have expressed interest in performing together again, but maybe that's what they'll be chatting about with Ross next weekend.
But, Mel B did say on Loose Women that the girls are "in the works of figuring the stuff out," and that the reunion "is going to be a bit of everything," Mel B told the panel. "If it was up to me we'd go on tour immediately. Maybe we will soon ... Hopefully."
Please, please, please make it happen. I totally need to spice up my dreary adult life; it's what I really really want.