Mel Gibson Scores Oscar Nom For Best Director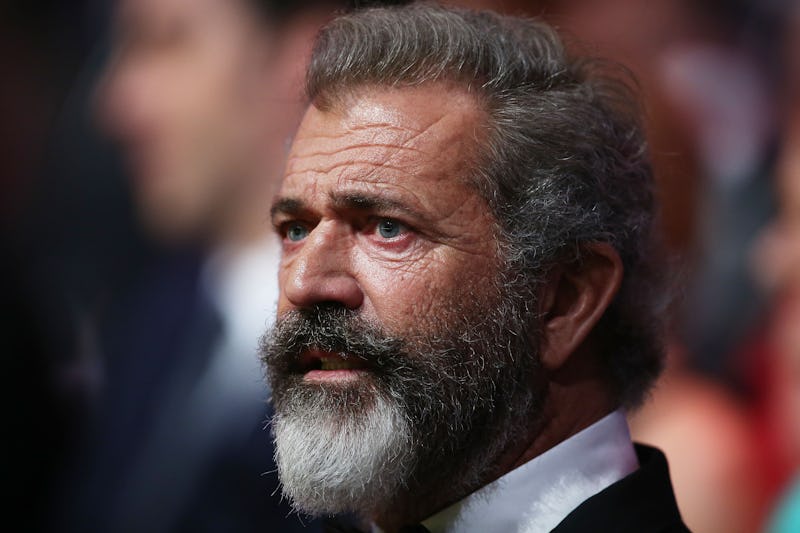 Mark Metcalfe/Getty Images Entertainment/Getty Images
It's a new year, which means it's finally award show season again, and next month, the academy will honor the best films and actors of the last year. On Tuesday, the 2017 Oscar nominations were announced, and although every year comes with a few surprises, this time, one of those surprises came in the form of a pretty controversial nominee. Mel Gibson was nominated for Best Director for Hacksaw Ridge, and it's something a lot of people didn't see coming.
Since Hacksaw Ridge, which stars Andrew Garfield and Sam Worthington, has received a considerable amount of buzz since its release in November, the surprise here isn't that the movie was recognized; it's more about its director. He's been trying to make a comeback for years as an actor, with movies like Get The Gringo and The Expendables 3. But directing might be what finally accomplishes that comeback for him, especially if he does end up winning on Oscar night.
Still, it's hard to forget what made Gibson such a controversial choice in the first place, and although it wasn't enough to keep the Academy from giving him that nom, it might be enough to keep him from winning come February 26.
Back in July 2006, Gibson was arrested for DUI, and recordings were released of him making anti-semitic remarks. Since then, many people have felt that they shouldn't support his work, and it ended up hurting his career in a massive way. In October, Gibson spoke out about his arrest more than ten years later, and told Variety during a podcast interview that he's doing better these days and that it upsets him that event is something people still bring up — despite the fact that he apologized right after the incident happened.
He said:
"Ten years have gone by. I'm feeling good. I'm sober, all of that kind of stuff, and for me it's a dim thing in the past. But others bring it up, which kind of I find annoying, because I don't understand why after 10 years it's any kind of issue. Surely if I was really what they say I was, some kind of hater, there'd be evidence of actions somewhere. There never has been . . . I've never discriminated against anyone or done anything that sort of supports that reputation. And for one episode in the back of a police car on eight double tequilas to sort of dictate all the work, life's work and beliefs and everything else that I have and maintain for my life is really unfair."
Whether or not Gibson does manage to snag this Oscar — and how the public reacts to it — will be a big tell on whether or not that incident is something that Hollywood is willing to forgive. And if Gibson does want to win this one, he's up against some tough competition. Also nominated in the Best Director category are filmmakers like Damien Chazelle for La La Land and Barry Jenkins for Moonlight, both of whom will be tough to beat.
It'll definitely be interesting to see how this plays out on Oscar night — and if this nomination does really end up signaling Gibson's comeback.