Melania Celebrated One Year In The White House By Totally Snubbing Trump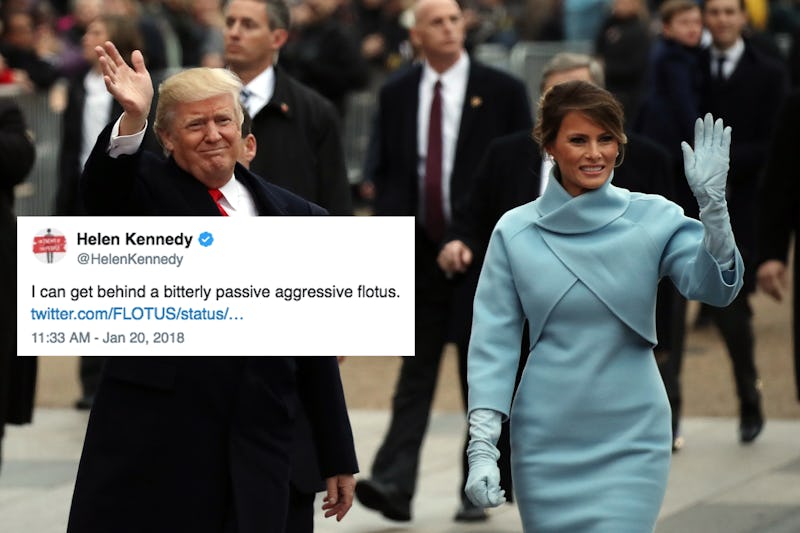 Drew Angerer/Getty Images News/Getty Images
It has been a year since Donald Trump entered the White House, and though new details about the president's personality emerge each day, his wife remains an enigma. One thing seems clear, though: The First Lady manages just fine without her husband by her side. On Sunday, Melania tweeted an image without Trump to celebrate their first year in the White House.
Melania's decision to post a picture of herself holding onto the arm of a strapping military officer, rather than the president, immediately had the internet asking whether this was FLOTUS's latest sly attempt to distance herself from Trump. Since Trump's inauguration, Melania has remained relatively under-the-radar as first lady.
There are a few things we know about Melania. She waited until June to move to Washington, D.C., preferring to remain in New York City until the couple's son, Barron, finished school. She has expressed her intent to focus on combating cyberbullying during her time in the White House — an interest that, given her husband's record on Twitter, many people think reeks of irony. She has visited schools, accompanied the president on trips abroad, like going to Texas to visit victims of Hurricane Harvey.
But more than anything, it's one thing the internet doesn't know that they're constantly wondering: Does she even like her husband?
Whether or not Melania is on good terms with the president, it's clear that she didn't deem him necessary for the tweet she sent Saturday, which celebrated one year since the inauguration. FLOTUS chose a picture of herself on inauguration day, dressed in her classy powder blue Hervé Pierre dress, and flanked by a military officer — but not her husband.
Melania declined to even mention the president in her tweet. Rather than speak about Trump's work in the White House, FLOTUS went for a general statement about what she's been up to since coming to Washington, writing, "I've enjoyed the people I've been lucky enough to meet throughout our great country & the world!"
After the first lady sent the tweet, the internet immediately started wondering whether the omission of her husband was purposeful; a sly knock at the president. As one Twitter user wondered — was she subtweeting Trump here?
Trump has, after all, seen better days. The one-year anniversary of his inauguration is marked by a government shutdown, which occurred after Republicans failed to reach a deal with Democrats on the Deferred Action for Childhood Arrivals (DACA) program.
Trump has a record low one-year approval rating, but that doesn't mean he has to bring Melania (who has the highest favorability rating of all the Trump family right now) down with him. Journalist Helen Kennedy applauded the First Lady's decision to leave Trump out of her message, tweeting, "I can get behind a bitterly passive aggressive flotus."
The First Lady has been mocked for her tweets in the past. Most recently, her message commemorating Martin Luther King day fell flat among many readers, who found it puzzling that Melania would boast about being part of a "nation that continually strives for equality & justice for all" just days after he husband reportedly denigrated immigrants from "sh*thole countries" in a meeting.
Perhaps Melania has realized that the safest bet is to steer clear of her husband at all costs. Given Trump's divisive nature, this probably isn't easy. She is still his wife, and every message she sends will be measured against his rhetoric and actions. On Twitter, though, few can blame Melania for slyly omitting the president from the picture.
As journalist Luke Appleby reminded readers, FLOTUS has little reason to stand by Trump's side these days, given the reports swirling about the president's alleged extramarital affairs, which he denies. Is divorce looming on the horizon, Twitter wonders? It's hard to say for now, but time moves fast in the Trump White House. By the two-year anniversary of the inauguration, anything could happen.