Melania Trump Wants To Get The Heck Out Of Here For The Holidays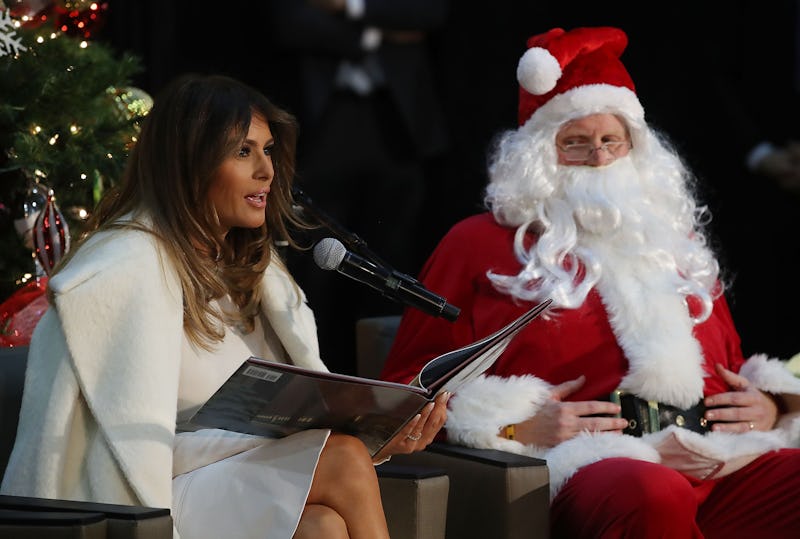 Mark Wilson/Getty Images News/Getty Images
The world doesn't have to wonder any longer. If she could go anywhere for the holidays, Melania Trump would choose a deserted island. After a Vanity Fair profile reported that Melania supposedly didn't want to be the first lady "come hell or high water" (her communications director has insisted in the past that she is happy in her role), the public couldn't help but wonder if she's sick of being in the spotlight. Now, her latest "deserted island" comment suggests that might just be the case.
The first lady revealed her wish during her visit to the Children's National Hospital in Washington, D.C., a tradition created by former First Lady Bess Truman. Melania first took a tour of the neuroscience center, and then sat next to Santa, fielding questions from the crowd of children and patients. Andy, one of the hospital's patients, asked her where she would go for the holidays if she could go anywhere in the world.
"I would spend my holidays on a deserted island, a tropical island, with my family," Melania said.
She has in the past, however, insisted that she loves living in the White House as first lady. After Trump's first wife, Ivana, claimed to be the true first lady, Melania's communications director released a statement:
Mrs. Trump has made the White House a home for Barron and the President. She loves living in Washington, D.C., and is honored by her role as First Lady of the United States. She plans to use her title and role to help children, not sell books.
And after the Vanity Fair piece was published, Trump called Melania "our great and very hard working First Lady" on Twitter the next day, adding that she "loves what she is doing." Still, ever since it took five months for Melania to relocate from New York to the nation's capital, the public hasn't stopped questioning whether she truly wanted her husband to win the election, and as a result, uproot their family.
Despite all of the chatter, though, Melania has said that she's "very strong" and doesn't want anyone to feel sorry for her. As many have pointed out, Melania is a privileged white woman, who willingly married Trump and encouraged him to run for president. The first lady has also addressed being "misrepresented" as meek.
"I'm not shy. I know what I want, and I'm selective," she told DuJour.
But, as you might imagine, the public's speculation on what goes on inside of Melania's head isn't her main concern right now. Instead, she and Trump have begun celebrating the holiday season at the White House — and to much fanfare. Last week, Melania unveiled White House Christmas decorations, which included a nativity scene, inciting users on Twitter to respond with the debunked rumors last year that former President Barack Obama had banned all nativity scenes from the White House.
In fact, Trump had incorporated Christmas into his campaign platform, claiming that "political correctness" has prevented people from celebrating the holiday. Back in October, he said he was reigniting the war on Christmas, and that "we're saying Merry Christmas again," now that he's president.
"We're getting near that beautiful Christmas season that people don't talk about anymore," Trump said. "They don't use the word Christmas because it's not politically correct. You go to department stores and they'll say 'Happy New Year,' or they'll say other things and it'll be red, they'll have it painted. But they don't say — well, guess what? We're saying merry Christmas again."
Whether you call it "Christmas" or "the holidays," though, Melania doesn't want to spend it in D.C.