Pelosi's Flight Was Canceled "Due To The Shutdown" — Then Melania Flew To Mar-A-Lago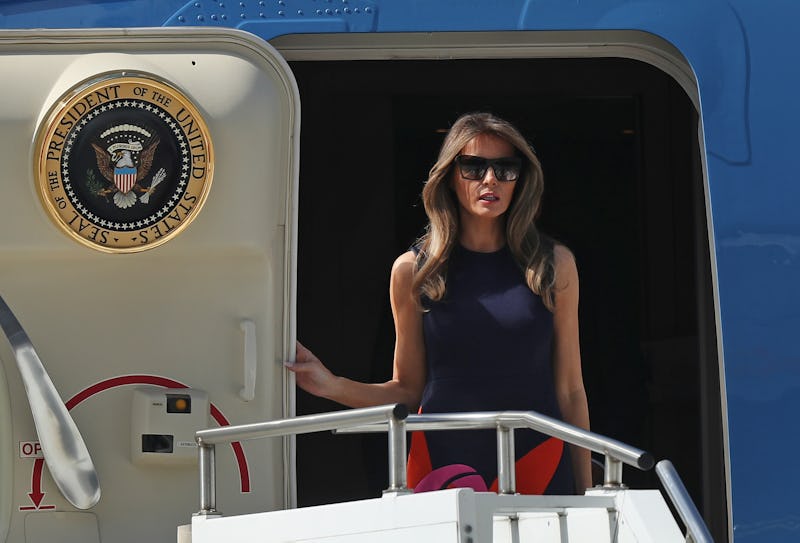 Sean Gallup/Getty Images News/Getty Images
Tensions between House Democrats and the president hit a new high on Thursday when the president grounded House Speaker Nancy Pelosi's planned visit to troops in Afghanistan, barring her and other representatives from using a military plane. That afternoon, though, First Lady Melania Trump flew to Mar-a-Lago on a government jet, NBC News confirmed.
Politico's Jake Sherman identified her plane from air traffic control records, a government flight labeled EXEC1F heading to Palm Beach. "EXEC1F is typically the callsign for a plane with the first lady on it," Sherman wrote on Twitter. CNN's Betsy Klein later confirmed that Melania's "pre-scheduled" flight had landed. Bustle has reached out to the first lady's spokeswoman for comment.
CNBC reported that the first lady is expected to spend the Martin Luther King Jr. holiday at the Trumps' Florida resort, though the president will remain in Washington.
The government shutdown has so far boiled down to a stalemate between President Trump and House Democrats over funding for a border wall. On Wednesday, Pelosi asked the president to either delay or deliver in writing his State of the Union address, given the difficulties of organizing and securing the event with so many federal employees on furlough. The event, which places the president directly in a national spotlight, requires "weeks of detailed planning with dozens of agencies working together to prepare for the safety of all participants," Pelosi wrote.
Apparently, that request did not come without consequences. Trump sent Pelosi a letter in return, canceling her plans to take a military jet to Brussels and Afghanistan that same afternoon. Without addressing the State of the Union, Trump wrote, "In light of the 800,000 great American workers not receiving pay, I am sure you would agree that postponing this public relations event is totally appropriate." According to Trump, Pelosi needed to stay in Washington to figure out the shutdown, though he added that she was "obviously" still free to fly commercial if she wanted.
Pelosi's office released a statement shortly after clarifying that the trip was not a "public relations event," but a diplomatic opportunity to meet with NATO leaders and an opportunity to "express appreciation and thanks to our men and women in uniform."
The AP reported that it's rare for presidents to withhold access to military aircraft for high-ranking members of Congress flying to combat zones. However, it's not the only trip the White House has canceled recently. Trump also canceled the U.S. delegation's trip to the World Economic Forum in Davos, Switzerland "out of consideration for the 800,000 great American workers not receiving pay and to ensure his team can assist as needed," according to Press Secretary Sarah Sanders.
White House officials told CNBC that the president's letter was not meant as an act of retaliatory one-upmanship, but members of Congress — even some Republicans — saw the action as unnecessary. "One sophomoric response does not deserve another," Sen. Lindsey Graham tweeted on Thursday, calling Pelosi's State of the Union request "irresponsible and blatantly political," and adding that Trump's subsequent plane grounding was "also inappropriate."