There Were Glaring Differences Between Melania & Michelle Obama's 1st Solo Trips Abroad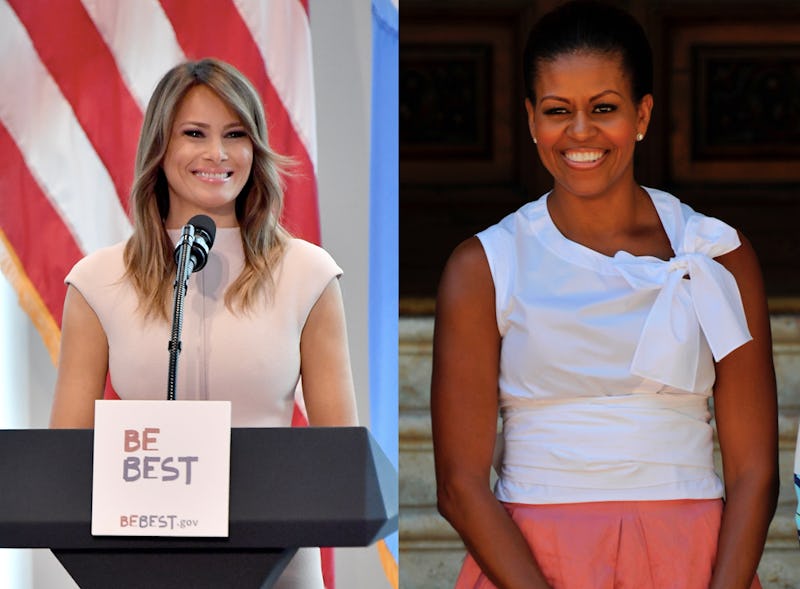 Michael Loccisano/Getty Images News; Carlos Alvarez/Getty Images Entertainment/Getty Images
Solo trips for first ladies may tell us a lot about their diplomacy skills, as well as how public opinion on them weighs abroad, without their husbands' presence dominating the conversation. Given her recent trip to Africa, some may be interested in comparing how Melania Trump's solo trip fared to Michelle Obama's first international trip as first lady, without her husband.
Trump wrapped up her Africa trip in early October, traveling to Kenya, Egypt, Malawi, and Ghana. Before heading to the continent, the current first lady described all four countries as "very different" and "beautiful." She also noted that her visit, which began on Oct. 1, would focus on promoting her youth-centered campaign called "Be Best."
At the time, Trump said:
Whether it is education, drug addiction, hunger, online safety or bullying, poverty or disease, it is too often children who are hit first, and hardest, across the globe. Each of us hails from a country with its own unique challenges, but I know in my heart we are united by our commitment to raising the next generation to be happy, healthy and morally responsible adults.
While the first lady emphasized education in her pre-trip remarks, she also took time to unwind and dance with young ones at a Kenyan orphanage during her visit.
In 2010, during her own solo trip, Obama went to Mexico City to promote bilateral ties between the United States and Mexico. During her visit, among other things, she took the time to enjoy a bit of dancing with local children, too. According to Reuters, Obama said:
That was beautiful, everything you did, I loved the singing, I loved the dancing. I love to see you all moving and exercising. Everyone here got to see the best of Mexico's young people.
While both first ladies have had similar experiences on their individual visits, Obama and Trump's trips have had their own distinct differences as well. For instance, prior to landing in Mexico City, Obama made an unannounced visit to Port-au-Prince, Haiti. At the time, the city was still attempting to recover from a horrific earthquake in 2010, which killed 230,000 people, according to The Guardian.
The former first lady was also joined by then-Vice President Joe Biden's wife, Jill Biden. According to The Guardian, Biden spoke of the earthquake and said, "It's powerful. The devastation is definitely powerful."
For Trump, her sartorial choices sparked some controversy. During her visit to Kenya, the first lady donned a white pith hat, a symbol of colonialism for many in Africa and Asia. In spite of the criticism, Trump told reporters that she wanted people to "focus on what I do, not what I wear."
She also commented on the #MeToo movement toward the end of her trip in an interview with ABC News that was set air after. "I do stand with women, but we need to show the evidence," Trump said, adding that while women "need to be heard," men must be supported, too. Her remarks drew backlash; Maiysha Kai, for example, wrote for The Root that the first lady's comments appeared to seek a middle ground when it came to #MeToo, remarking that it was "gross."
When placed side by side, some people may notice that while, yes, there were similarities between both first ladies' trips — like dancing and promoting diplomacy — there were still unmistakable differences. In the comparison between Obama and Trump, it seems as if the latter attracted far more controversy for the verbal and apparel choices she made.