Melania Trump's Latest Comments On Social Media Came At An Awkward Time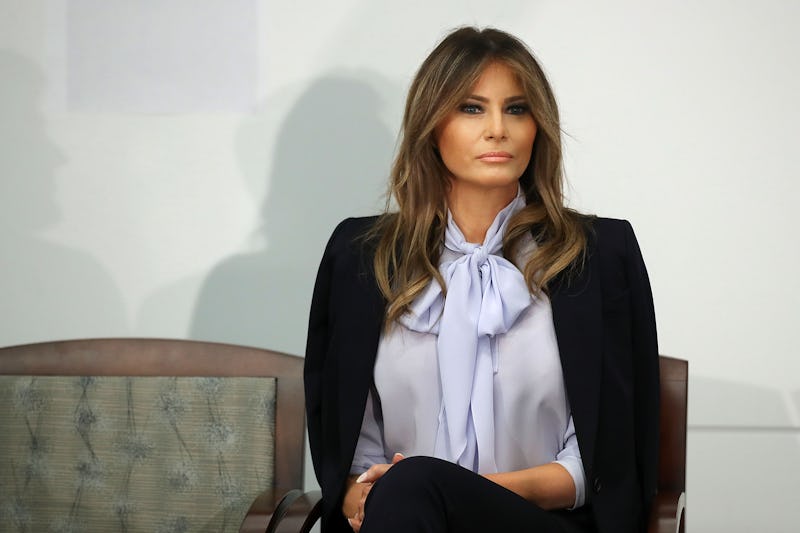 Chip Somodevilla/Getty Images News/Getty Images
As her husband spent the morning attacking his critics on Twitter, first lady Melania Trump warned social media could be "destructive and harmful" when used incorrectly while speaking out against cyberbullying as part of her Be Best campaign. The first lady stressed the importance of educating children on how to use social media in positive and responsible ways in a speech given at a cyberbullying summit in Rockville, Maryland, on Monday, Aug. 20.
"In today's global society, social media is an inevitable part of our children's daily lives," Trump said. "It can be used in many positive ways, but can also be destructive and harmful when used incorrectly. This is why Be Best chooses to focus on the importance of teaching our next generation how to conduct themselves safely and in a positive manner in an online setting."
Trump's remarks were particularly awkward given her husband's penchant for using his Twitter account to lash out and hurl insults at people. On Monday, for example, as the first lady condemned cyberbullying in Rockville, President Donald Trump was attacking a number of people in a series of morning tweets. In one tweet, the president called former CIA Director John Brennan "a political 'hack.'" In another he claimed Special Counsel Robert Mueller was "disgraced and discredited" while his team of investigators are "Angry Democrat Thugs."
Last week, President Trump took to Twitter to call ousted White House aide Omarosa Manigault Newman a "dog" in a tweet some felt was racially insensitive, if not racist. "When you give a crazed, crying lowlife a break, and give her a job at the White House, I guess it just didn't work out," he tweeted about Manigault Newman on Aug. 14. "Good work by General Kelly for quickly firing that dog!"
Back in Rockville, Melania Trump said she'd been inspired by the teens she'd recently met who comprise Microsoft's Council for Digital Good. "I was impressed by their deep understanding of how important it is to be safe, and was inspired by their sincere commitment to reducing peer-to-peer bullying through kindness and open communication," she said.
But the first lady's office has pushed back on claims that the message of her Be Best campaign conflicts with the rhetoric and messaging being put out by her husband. "She is well aware of the criticism, but that will not deter her from doing what she feels is right," Stephanie Grisham, the first lady's communications director, said in a statement to CNN. "I would hope most people in this country are proud that they have a strong and independent First Lady who only has the best interests of children at heart."
Trump launched Be Best earlier this year as a youth-focused campaign that, among other things, aims to help children "learn positive online behaviors." Specifically, the White House has noted that the first lady believes it is adults' responsibility "to educate and reinforce" to children that "they must choose their words wisely and speak with respect and compassion" whether they're speaking verbally or online.
According to a recent report from The New York Times, President Trump was well aware of the potential issues his wife's anti-bullying campaign could cause. In fact, The Times claims the president even suggested his wife opt to take on a different topic with her public advocacy campaign. The first lady, however, remained dedicated to speaking out against cyberbullying and advocating for responsible social media use.