Melania Trump Dumped One Of Her Besties For A Pretty Awkward Reason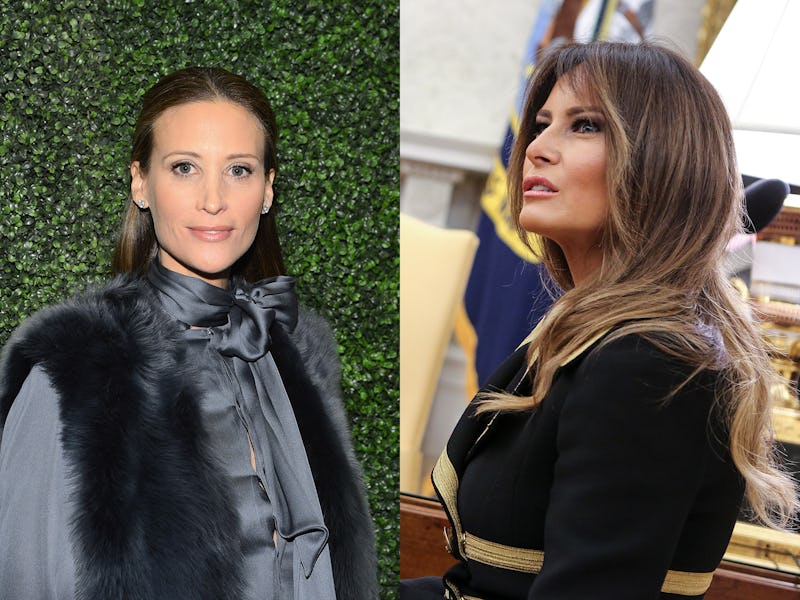 Larry Busacca/Getty Images Entertainment; Pool/Getty Images News/Getty Images
Members of the Trump administration have made a habit of bringing their friends and family with them into other high-ranking government positions, but this hasn't always meant that those people manage to stay in those jobs. Most recently, First Lady Melania Trump and friend Stephanie Winston Wolkoff went their separate ways after reports emerged about Winston Wolkoff's company profiting significantly off of President Trump's inauguration. Winston Wolkoff also stepped into an East Wing post as an unpaid senior adviser to Melania Trump as the First Lady's first hire in January 2017.
Winston Wolkoff was the first person who Melania Trump hired as an adviser; the two of them moved in the same circles in New York City and have been friends for years. An event planner by profession, Winston Wolkoff founded a company, WIS Media Partners, only weeks before President Trump's inauguration. Last week, more than a year after the inauguration, The New York Times reported that the 58th Presidential Inaugural Committee eventually paid Winston Wolkoff's company $26 million for its role in planning the inauguration — that was the biggest payment that any of the firms involved received, according to the report.
After the report of the payment surfaced, the president reportedly got angry that Winston Wolkoff's company had received such a hefty payment for its event planning work.
Winston Wolkoff defended her work and corresponding payment for the inauguration, saying that most of the $26 million had been spent on organizational costs, including setting up satellite feeds.
"I am proud of the work that we did to support the inauguration," she wrote, in an email to The New York Times.
The Times also reports that Winston Wolkoff told them that of the $26 million that her firm was paid, they only kept $1.62 million "for all of its consulting and creative services, which was divided among our staff of 15 members," Winston Wolkoff added.
If that sum was divided evenly, it would mean that each member of the staff received $108,000 for the work that they did between the inauguration and the founding of the company six weeks prior to the inauguration.
"The Office of the First Lady severed the gratuitous services contract with Ms. Wolkoff," said Melania Trump spokeswoman Stephanie Grisham when reached for comment. "We thank her for her hard work and wish her all the best."
Even before her company's big profit from the inauguration became public knowledge, Winston Wolkoff had already become an unpopular figure in the White House because of her high level of access but low level of responsibility. POLITICO reported that even though she was only technically a "contracted volunteer" and still lived in New York City, she had received a government-issued computer and phone and a badge that allowed her to access the entire White House.
"One thing that grates at people is she is supposed to work at the White House, but she still gets to live in New York City," a White House official told POLITICO. Members of the administration said that she only came to D.C. every couple of weeks to offer consultation to the First Lady on her projects, and one source told POLITICO that the reports about how much money her company had gotten for the inauguration was also a point of negative focus.
"The fact that so much was given to her company has really raised eyebrows," the official said. "That's a whole lot of money, especially when a bunch of that could have been donated to charity."
The Times reported that the First Lady, however, was not involved with the allocation of funds for the inauguration and that she "had no knowledge of how funds were spent."
Winston Wolkoff also told the Times that she did not expect this matter to interfere in her friendship with the First Lady — "I expect to remain a trusted source for advice and support on an informal basis," she wrote in an email.