Melania Made It 3 Days In Africa Before Being Reminded Of Trump's "Sh*thole" Comment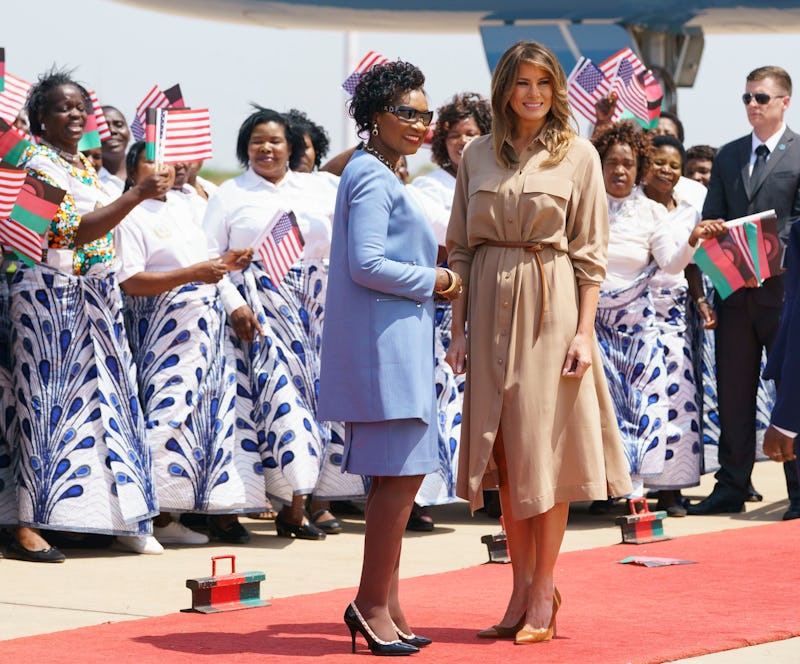 Carolyn Kaster/AP/Shutterstock
Sometimes a simple sign does all the talking. As she landed at the Kamuzu International Airport on Thursday, The Associated Press reported that first lady Melania Trump's Malawi visit involved protests, too. In one case, the news agency reported that a couple held a "Welcome to Malawi. #NOTASH*THOLE!" sign in what appeared to be a reference to reports of President Donald Trump calling various African nations, Haiti, and El Salvador "sh*thole countries" early this year.
In January, following reports that Trump used the vulgar term to describe these countries, the White House did not issue an official denial that he said that word. Days later, Trump said in a tweet, "The language used by me at the [Deferred Action for Childhood Arrivals] meeting was tough, but this was not the language used. What was really tough was the outlandish proposal made — a big setback for DACA!"
On Thursday, according to The Associated Press, several white people carried signs to protest Melania's arrival. In one case, a protester held a "#MelaniaToo" sign — ostensibly a spin on the #MeToo hashtag. The news agency reported that the "Me" in the sign had been bolded in black.
In another instance, a protester held a sign that said, "69 Days Past the Deadline to Reunite Families." The statement referred to the administration's now-defunct family separation policy at the U.S.-Mexico border. According to the Department of Homeland Security, more than 2,000 children were forcibly taken from their parents as a result of the policy; many have yet to be reunited with their loved ones as of this writing.
The first lady's Africa trip began on Oct. 1 and has focused on countries like Kenya, Ghana, Egypt, and of course, Malawi. It's also worth mentioning that Melania has been traveling through Africa without her husband at her side — prior to this, she visited Canada on her own and attended the Invictus Games.
In September, the first lady spoke at the United Nations headquarters in New York and said that she was excited to visit the "four beautiful and very different" nations in autumn. The emphasis of her trip would be on promoting her "Be Best" campaign.
During that speech, Melania said,
Whether it is education, drug addiction, hunger, online safety or bullying, poverty or disease, it is too often children who are hit first, and hardest, across the globe. Each of us hails from a country with its own unique challenges, but I know in my heart we are united by our commitment to raising the next generation to be happy, healthy, and morally responsible adults.
During Melania's visit to Malawi, the Associated Press reported that 1.4 million books had been given to the Chipala Primary School in Lilongwe. The books came through the United States Agency for International Development. At the time, Melania said, "I wanted to be here to see the successful programs that [the] United States is providing to children and thank you for everything you've done." Her next two stops will be Kenya and Egypt.