Melania Wants Kids To Be Kind Online, But Says Sometimes You "Need To Fight Back"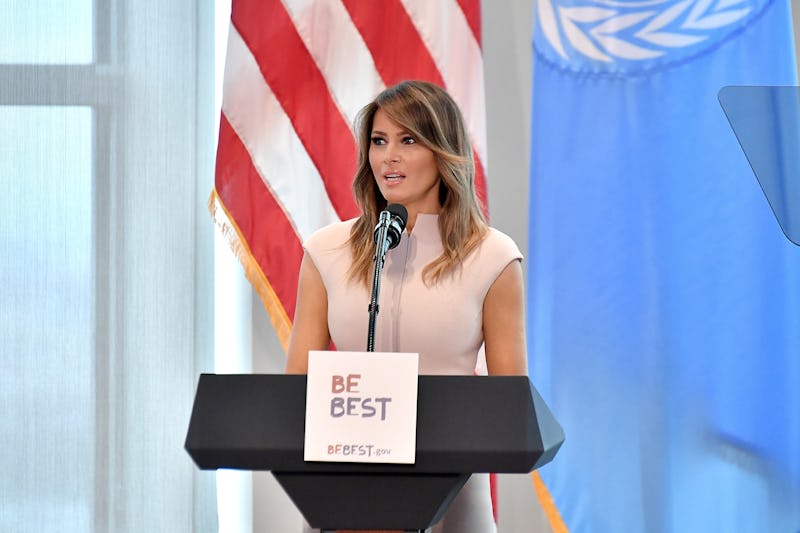 Michael Loccisano/Getty Images News/Getty Images
While speaking at an event at Liberty University in Virginia on Wednesday, the first lady fielded several questions about her "Be Best" initiative. In discussing the campaign, Melania Trump's comments about "fighting back" on social media suggested that the first lady has a nuanced view of social media etiquette.
"I knew when I started Be Best and the social media initiative that I will be criticized, but I will do what is right for the next generation," Trump said. She added that she will remain "focused on helping how to use it and how much to use it," explaining, "That's very important for me so [the] next generation can be respectful and kind. And also, sometimes you need to fight back, I'm sorry."
Trump announced her Be Best initiative back in May. At the time, she said that it would focus on children in three ways: well-being, social media abuse, and opioid addiction prevention. On Wednesday, it was not immediately clear what Trump meant when she said there was sometimes a need to "fight back" online, or whether that fit into her platform. Bustle has reached out to the White House for comment.
"As a mother and as first lady, it concerns me that in today's fast-paced and ever-connected world, children can be less prepared to express or manage their emotions and oftentimes turn to forms of destructive or addictive behavior such as bullying, drug addiction or even suicide," she said at the time, per CNN.
At the time, and several times afterward, the first lady has faced criticism for promoting healthy social media use while her husband, President Donald Trump, maintains his reputation for using Twitter to directly attack his critics and opponents. Though if her Wednesday remarks are any indication, it sounds like she anticipated that criticism from the start.
During her appearance in Virginia, Trump addressed the various pillars of her Be Best platform, but focused especially on preventing opioid addiction. Specifically, she said she felt it was important to stand by people who are suffering from addiction.
"While you may never personally become addicted, the chances of you knowing someone who struggles with it are very high," she said, according to WTVR, a CBS affiliate. "And if you, or someone you know needs help, you need to be brave enough to ask, or strong enough to stand with them as they fight through the disease."
She also warned those in the audience — especially those who were young adults — to make healthy choices as they enter "a critical stage" in their lives. She warned that addiction can develop in the aftermath of a seemingly innocuous injury.
"The independence that comes with being a young adult is exciting but overwhelming. ... I know college is a time of independence," she said, per the Richmond-Times Dispatch. "I am here to remind you some of those decisions, though they may seem minor at the time, could negatively impact you for the rest of your lives."
Trump has intermittently promoted her platform since its announcement. Most recently, she decorated White House Christmas trees with Be Best ornaments, as seen in a video shared online. Though some people on Twitter criticized the ornaments, in Virginia, the first lady defended her choice to include them.
"We are in 21st century and everybody has a different taste," she said, according to The Hill. "I think they look fantastic."