Melania Is Taking Her "Be Best" Campaign To The U.K. — Here's What We Know So Far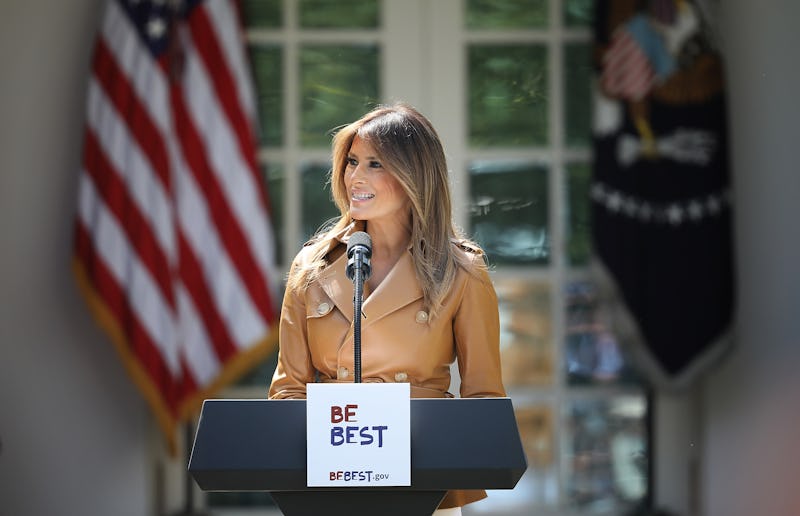 Win McNamee/Getty Images News/Getty Images
In the time that has lapsed since first lady Melania Trump first introduced her formal, first lady platform, she has had scant time to promote it. Only days after the big reveal, she was hospitalized for a kidney condition, and then remained out of the public eye for several weeks. However, according to her spokesperson, Melania will bring her "Be Best" campaign to London, where she will publicly discuss the initiative during a solo event.
"In London, one of her solo events will be tied to Be Best, but it is not the focus of the visit," Melania's spokesperson, Stephanie Grisham, tells Bustle. "She'll be meeting with veterans and also school children." It's likely that Melania will make the trip to London alone. The London Evening Standard reports that Trump is scheduled to leave the city as soon as he flies in, partially to avoid massive protests planned around his visit.
Grisham adds that Melania is "looking forward to representing the United States, and also exchanging ideas around issues facing children with her counterparts."
The New York Times reported on Monday that Melania will participate in at least two public events while she and her husband visit Europe. However, few specific details pertaining to the trip have been publicly released. What is known for certain is that Melania will meet with the Queen, and will also spend some time with British Prime Minister Theresa May's husband, Philip May.
"He's looking forward to meeting Melania," May told The Sunday Times of Philip. "He has been out and bought a new suit."
When the first lady announced her Be Best initiative in May, she said that it would focus on children in three ways: their well-being, social media abuse, and opioid addiction prevention.
"As a mother and as first lady, it concerns me that in today's fast-paced and ever-connected world, children can be less prepared to express or manage their emotions and oftentimes turn to forms of destructive or addictive behavior such as bullying, drug addiction or even suicide," Melania said at the time.
Critics argued that the initiative was a bit tone deaf when considered adjacent to her husband's propensity for utilizing social media to go after his own enemies and opponents. The White House rejected those criticisms.
White House Press Secretary Sarah Huckabee Sanders bristled at the idea that the president had somehow contributed to the prevalence of cyberbullying on the internet. "I think the idea that you're trying to blame cyberbullying on the President — when it comes to kids this is something that has been problematic and something that we have seen over the last decade," Sanders told reporters, according to CNN.
Some believe that the onus may be on Melania to ensure that Trump's visit to the U.K. is ultimately viewed as a success. Trump, himself, has sparred with several European leaders. His relationship with May, in particular, has also been difficult to pin down, even though May was the first world leader to invite him for an official visit, shortly after he was inaugurated.
How, exactly, Melania would smooth over those tensions is not clear, though she has experienced some success on other international trips. According to CNN, the Saudi Arabian press praised Melania after her first formal overseas visit. This was considered particularly significant, according to CNN, because Melania opted not to wear a customary headscarf during her visit.
Similarly, Melania made headlines in May of 2017 for engaging in a lighthearted discussion with the Pope. This would grow increasingly significant as the Pope has gone on to criticize some Trump administration policies, including the now-canceled family separation policy that triggered international outrage in May and June.
It would be a lot to ask Melania to smooth over a multi-country visit to Europe, but it certainly wouldn't be impossible. The Be Best initiative might be a way to test the proverbial waters.