Melania Trump's New Wax Figure At Madame Tussauds Is Here & You NEED To See It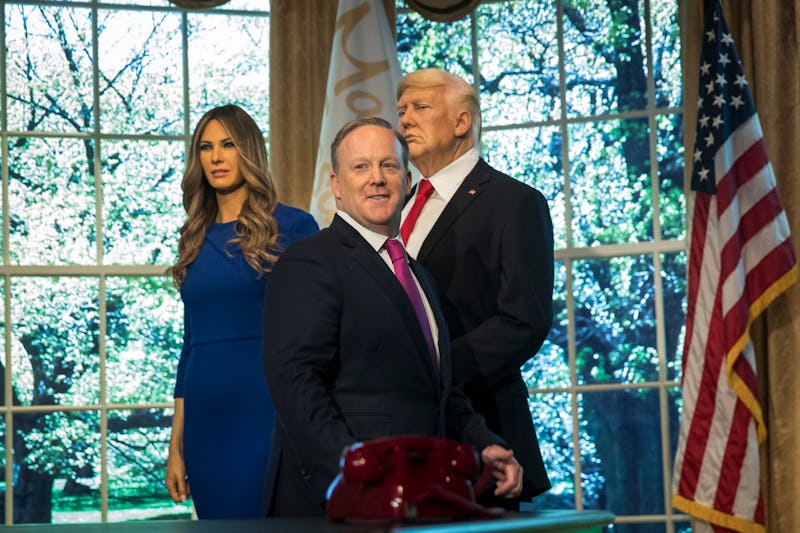 Drew Angerer/Getty Images News/Getty Images
On Wednesday, with former White House press secretary Sean Spicer on hand for its debut, first lady Melania Trump had her wax figure at Madame Tussauds officially unveiled. And as wax figures go, it actually looked pretty realistic!
Of course, there's an elephant in the room in this story: why was Spicer there? It's hard to say, since only he knows what his schedule looks like nowadays. Obviously, he has a lot more free time since he resigned from his job as press secretary last year, however, so presiding over the unveiling might be as good a use of his time as any.
The display, which includes a wax figure of President Donald Trump in an Oval Office set, is reportedly part of a larger exhibit called "Give Melania a Voice," in which visitors can tweet as the first lady from the Madame Tussauds "@MTMelaniaMoment" Twitter account.
According to NBC News, Spicer praised the quality of the new wax figure, calling it "remarkable" just how much it resembled her.
"I'm not kidding, I looked at a photo I had with the first lady before I left and I mean — it's pretty remarkable how lifelike it is, and the same thing with the president. It's impressive," Spicer reportedly said. He also called her a "very gracious and fashionable woman," and claimed she has more "political savviness" than she's generally given credit for.
"She's gracious and caring," he said, according to The New York Times. "Very interested in who you are and the issues you have in your life. And I think, you know, that's kind of who she is. She's a very supportive — she's very well-read and always interested in what's happening and, to the extent possible, willing to share her thoughts and ideas about what's going on.
If you're not familiar with Madame Tussauds, this is basically what it's all about. It's an international, decades-old chain of wax museums, with 24 locations around the world. The big Melania unveiling took place at the New York City museum, one of seven Madame Tussauds locations in the United States.
It's extremely common for major celebrities, pop cultural sensations, and especially political leaders to be immortalized in wax by Madame Tussauds. The Trumps are just the latest, and whatever you want to say about the outcome, you'd have a hard time denying the president's figure looks more lifelike than, say, the Walt Disney World robot that was unveiled last year.
If you've ever been curious to see the wax figures of the previous president and first lady, they had their figures unveiled at the Washington, D.C. Madame Tussauds back in 2009. Similarly, George W. Bush has a wax figure, as do Hillary Clinton and Bill Clinton.
It's a long-running tradition for presidents and their spouses, even though some of them definitely end up looking better than others. While it's obviously in the eye of the beholder, the Donald and Melania wax figures look a little closer to their subjects than the Bush one does.
Judging by some of the images embedded above, it sure looks like Spicer enjoyed his time in the wax museum spotlight. The former press secretary resigned in July of last year following the hiring of Wall Street financier Anthony Scaramucci to take over the job of White House communications director; Scaramucci was subsequently fired ten days later, the shortest tenure ever for somebody in that job.
According to The New York Times, Madame Tussauds reached out to Melania herself to see if she wanted to attend the unveiling, which would have undeniably made a lot more sense than a former press secretary being there. However, the museum reportedly did not hear back from the first lady, meaning nobody knows just yet how she feels about her wax doppelganger.