Melania Trump Used To Spell Her Name Differently & The Change Is So Subtle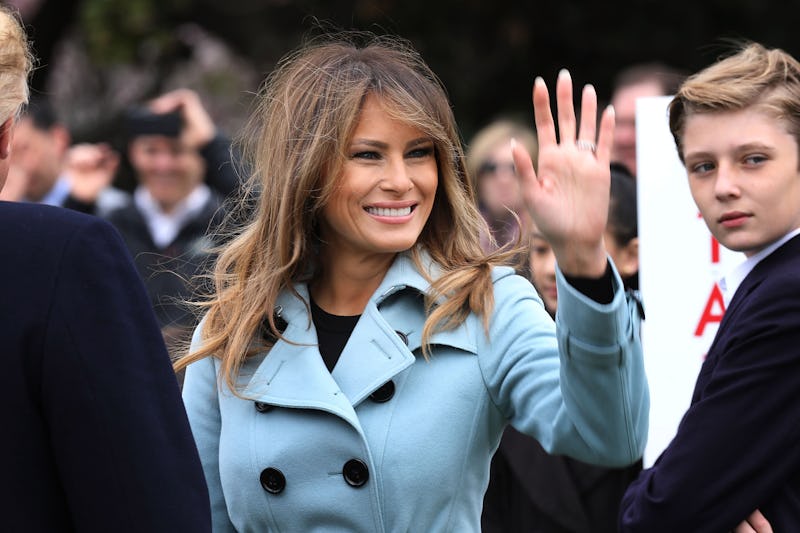 Chip Somodevilla/Getty Images News/Getty Images
Perhaps the most private — certainly the most mysterious — member of the Trump family, the first lady does not reveal much about herself to the public. One thing we know for sure that's not often talked about is that the spelling of Melania Trump's first name is actually Melanija. In case you didn't know, the first lady was born Melanija Knavs in Slovenia in the 1970s, and her name continues to spark curiosity among the American public.
The timeline on when or even why the first lady decided to Germanize her name isn't clear, but Trump initially spelled her maiden surname as Knavs, then later on Knauss. After dating Donald Trump during the late 1990s and early 2000s, she eventually became Mrs. Trump — wife to one of New York City's most prominent business tycoons.
Trump hasn't publicly spoken about her name or its eventual Germanization. But there is one possible explanation for why she went from Melanija to Melania and Knavs to Knauss, and that takes us to her former profession: modeling.
In 1996, she moved to New York City and signed with the now-defunct modeling agency Metropolitan International Management. You might already know that altering one's name in the fashion industry is nothing new and often done to brand identities as more approachable and marketable, but it could very well be that Trump changed her name to better assimilate into Western culture.
Given how her name went through different changes to become more acceptable in a foreign culture, her husband Donald Trump's virulently anti-immigrant rhetoric stands out even more so. While he was on the campaign trail, Donald touted plenty of aggressive anti-immigrant stances. In 2015, while announcing his presidential bid, Donald went on a rant against Mexicans and said,
When Mexico sends its people, they're not sending the best. They're sending people that have lots of problems and they're bringing those problems. They're bringing drugs, they're bringing crime. They're rapists and some, I assume, are good people, but I speak to border guards and they're telling us what we're getting.
As president of the United States, Donald Trump continued to stand against undocumented people and called on the Congress to take a more aggressive stand on immigration.
During his State of the Union address in 2018, the president said the "United States is a compassionate nation" but that his "highest loyalty, my greatest compassion, and my constant concern is for America's children, America's struggling workers, and America's forgotten communities. I want our youth to grow up to achieve great things. I want our poor to have their chance to rise."
Yet in spite of her husband's extremely anti-immigrant sentiment, Trump reportedly worked in the United States while she was legally not allowed to. In fact, Roll Call noted that there was once speculation that Trump's initial time in the country was spent as an undocumented immigrant. The first lady, however, has denied this. In 2016, the official account for Melania Trump released a statement on behalf of Trump. "Let me set the record straight: I have at all times been in full compliance with the immigration laws of the country. Period."
Observers say that it's important to explore Trump's background especially considering the extremity of her husband's views on immigration. Former Homeland Security immigration official, Theresa Cardinal Brown, told Roll Call, "I just don't think [Donald Trump] believes she was ever undocumented or here illegally. If he doesn't think that, there's no inconsistency in his mind. That's how the president thinks: The lawyers they paid to handle this signed off, so any questions have been answered. End of story."
As people continue to wonder about the first lady's own immigrant background, it's hard to look away from the irony of how her own name's history points to a common struggle for immigrants in America.